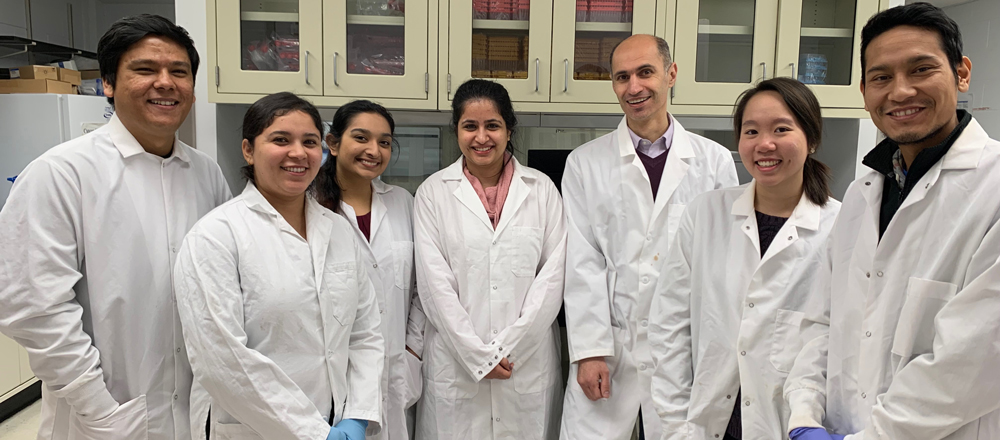 Graduate Studies in Biomedical Engineering
Our engineering graduate programs prepare you for careers in industry, government or academia with unique applications in healthcare and medicine. Faculty engages with you in basic and translational research to improve health outcomes through interdisciplinary scientific discovery.
THE GRADUATE DEGREES
Master of Science (M.S.) in Biomedical Engineering
The Master of Science (M.S.) in Biomedical Engineering degree offers you the opportunity to develop your biomedical engineering fundamentals through advanced applications and research.
Evening and online study options are available.
Doctor of Philosophy (Ph.D.) in Engineering
Our interdisciplinary Doctor of Philosophy (Ph.D.) in Engineering allows you to have a specific research focus completely customized to your interest. Students with backgrounds in other areas can perform research with BME faculty through the Integrated Biosciences Doctoral Program or can take courses in engineering at the undergraduate level to bridge to the Ph.D. in Engineering.
If you have undergraduate or graduate degrees in other engineering disciplines you can apply directly to the doctoral degree program in engineering.
Why UA?
Our Biomedical Engineering graduate program
Is flexible
Accommodates varied educational backgrounds
Provides options for research-based and coursework-based degrees
Our faculty members
Have strong research programs
Are active in research and clinical collaborations locally, within the region, and across the country
Hold joint appointments in other departments to support the research goals of their students
Opportunities for you
Access to the latest equipment and software that is used in companies and academia
Participate in entrepreneurship programs and gain clinical experience alongside physicians
Our program has led to many BME graduate students receiving financial support for their entrepreneurial ideas – including additional support from the State of Ohio
RESEARCH
Research
Our faculty members have diverse research interests focused on establishing engineering principles and developing cutting-edge technologies to solve a host of life-science problems. Faculty, in partnership with graduate students, have developed new models for studying and treating cancer, cardiovascular disease, and nerve regeneration. As a graduate student, you can become involved in innovation and translation through National Science Foundation sponsored I-Corp programs. Some gradates have started companies based on their technologies.
The department also conducts a number of research initiatives focused on connecting basic science and engineering research with clinical applications. These efforts are bolstered by the department's partnerships with local area hospitals and other biomedical and medical institutes in Ohio and beyond.
Specific research interests include:
Nanotechnology and Nanomedicine
Biofluids Laboratory
Bone Biomechanics and Mechanobiology Lab
CAREER PATHS
Biomedical engineers utilize advanced technologies to better understand or improve the human condition. Through coursework, students develop competencies in regulatory, project management, and biostatistics while performing research in broad areas of bioimaging, drug-delivery systems, or tissue engineering. Students may work alongside doctors, nurses, and laboratory scientists during their degrees, and get jobs in companies ranging from start-ups to international pharmaceutical companies.
Employment:
Recent graduates have obtained positions at Lubrizol, Cleveland Clinic, STERIS, Arteriocyte, Manhattan College, the Naval Medical Research Unit, and Novartis Pharmaceuticals.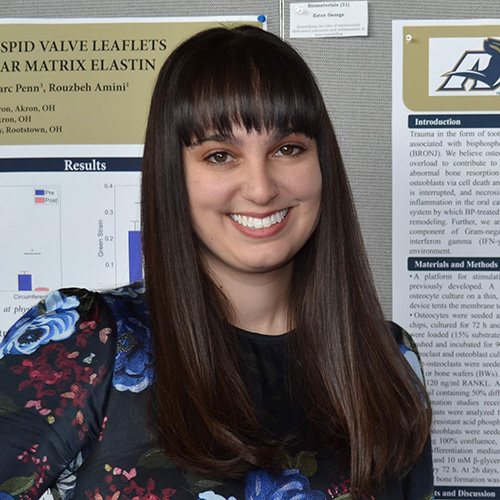 Student spotlight
"UA's graduate program gave me the skills I need to design experiments, develop protocols, hone lab techniques, and analyze data. I am well positioned for a career in academics, medical research, industry, or public policy."
—Estee George, pursuing Ph.D. in Engineering
TUITION & GRADUATE ASSISTANTSHIPS
Tuition & Fees
Current graduate student tuition and fees can be found in the Office of Student Accounts.
Graduate Assistantships & Financial Aid
Graduate assistantships help pay for school. They are available for doctoral students on a competitive basis. The deadline for receipt of assistantship applications is February 1 for Fall admission and three letters of recommendation are required.
It is important to be informed of the many sources of aid available. Student loans are available to degree-seeking graduate students. Information on student loans can be found through the Office of Student Financial Aid.
The Office of Student Financial Aid is located in Simmons Hall.
Also, visit the The Graduate School for more information and to apply.
For more information
Direct questions to:
Esther Wain-Weiss
Director, Graduate Programs and Administration
330-972-5690
erw3@uakron.edu