The Mary C. and David S. Corbin Foundation Finance Lab
#videoPlayer("/cba/video/Corbin_video.flv")
Conceived by students seeking to simultaneously visually analyze comparable data, and supported by the Mary C. and David S. Corbin Foundation, the Corbin Finance Lab has emerged as a unique learning opportunity. The facility provides five student-based work stations and projection screens, and one station and screen for the instructor.
"The lab was a great place to present cases. We could put everything up on the screens and not have to flip back and forth. It also really helped in following complex financial problems.
Mr. David A. Redle,
Professor of Business Law
Features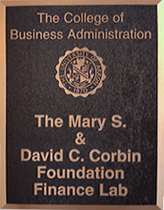 Five student stations of four students each; an additional ten non-station seats with plug-in capability. Sympodium® on screen writing ability.
Instructor station with computer integration capability along with access to all systems controls.
Six projection screens
Current operating system, presentation, and MS Office 2010 capability
Access to:

CBA housed data bases e.g. Research Insight®
Internet
TV: CNBC, Bloomberg, C-SPAN
Stock quotes and data
"The lab made my teaching more effective. Students could follow the progression of solution developments. With cases, multiple group projection of solutions resulted in student exchange of ideas--the students teach themselves."
Dr. Melinda L. Newman, Associate Professor of Finance
"I think the Corbin Lab is a great addition to the finance department. It enables each student to participate, and also allows students to compare analyses and see the different approaches and perspectives of fellow students."
Alanna Eibel, 2009
The Educational Experience
An investments class can simultaneously examine performance characteristics for multiple proposed investment opportunities.
Students in a corporate finance class can trace the effect of variable changes throughout the financial statements of an organization.
Sectors in a personal financial plan can be seen at the same time.
Various problem and case solutions can be presented allowing students to observe and discuss alternative approaches and solutions.
Students can hone their presentations skills through use of the multiple screens.
"The room inspires students. Once, when I began an International Finance class by introducing Iceland as an example of country illiquidity, I was amazed as students identified and added other troubled financial countries to enhance the discussion."
Dr. Douglas R. Kahl, Professor of Finance and International Business
"The Corbin Lab combines technology and teamwork to create a unique, hands-on learning experience."
Ken Adamo, Financial Strategy, 2009
"The Corbin Lab provides the technology and business atmosphere that can help students improve their business presentations through the use of case projects and other interesting assignments."
Vakeeshan Periyathamby, Financial Strategy, 2009