Meet Nina Barnes
At UA, you get all the benefits of city living (think nearby internships) along with a great campus atmosphere, Nina says.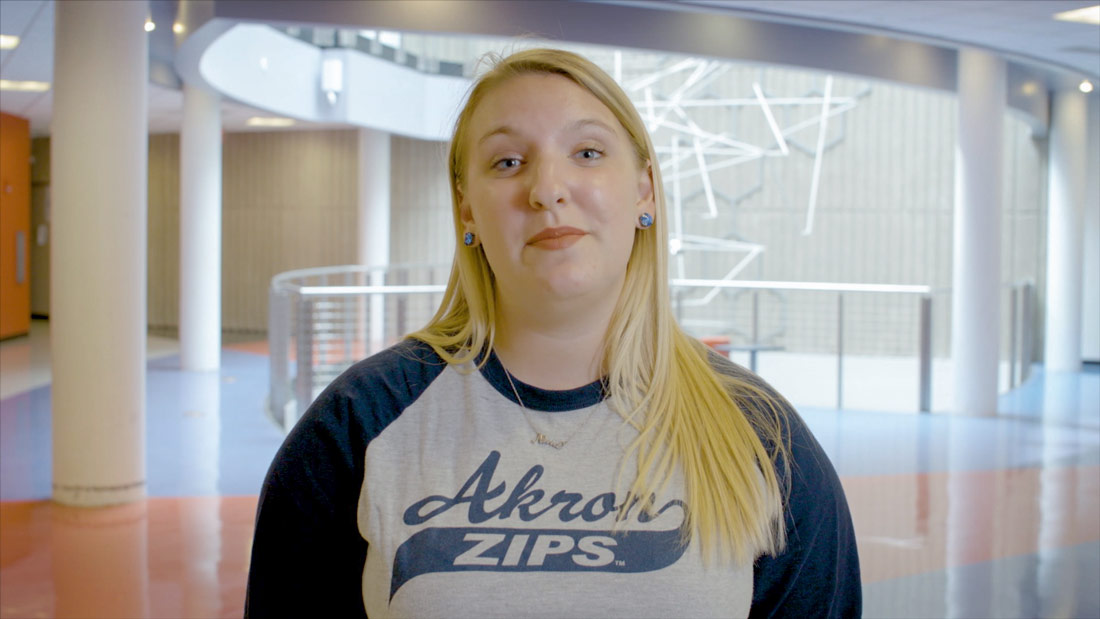 Hometown
Sharpsville, Pa.
High School
Sharpsville High School
Why did you choose The University of Akron?
The LeBron James Family Foundation College of Education is one with a good name in the education field. The state of Ohio has such high standards for education, so I knew I wanted to attend school in this state, but UA's college has done such a wonderful job training their students to be amazing teachers.
Another key factor in choosing UA was the city-campus environment. While we are an urban school and the city is within walking distance, I fell in love with the way campus feels like a bubble. When I want to have a small-campus feel with a tight-knit community, I have that option, but I can still go downtown and enjoy all the amazing things the city of Akron has to offer.
'Attending The University of Akron was the best decision I have ever made in my life. I was unsure at first if this school would be the right place for me, but I have truly made a home here and feel as though I am a part of the UA family.'
How would you describe your Akron experience?
I have had the most amazing experience so far at UA. I have made so many friends that I know will last a lifetime and memories that will live on in my heart forever. One of the best experiences I have had yet is through the AK-Rowdies. I joined as a freshman and became the vice president of internal operations my sophomore year. Every weekend at football, soccer or basketball games we all come together and have so much fun cheering on the Zips. My fondest memory so far has been going to the 2017 College Cup in Philadelphia. The Rowdies worked with Akron Athletics and the Alumni Association to put together a bus trip for students and alumni to go to Philadelphia to watch the men's soccer team in the Final Four of the College Cup. Going there with my best friends and watching my favorite team leave it all on the field is something I will never forget.
Also, since attending UA, I have most definitely grown to be a more confident and independent person. I studied abroad for five weeks in Italy during the summer of 2017, and I got to experience a new part of the world on my own. I've also tried new things such as writing for Her Campus Akron. In high school, I never strayed from the status quo, but now I feel confident in trying something new and exploring all the possibilities out there in the world.
Overall, my favorite part of being a student at UA is knowing how much everyone cares for everyone else. I have never felt as though I had nobody to turn to for anything. We all – students, professors, faculty and administration – want to see each other succeed. UA may be a large campus with thousands of people on it, but it really is a small, tight-knit community that loves and supports one another no matter what.
Have you participated in experiential learning?
Through the College of Education, I had the chance to get into the classroom my very first year. That was a great experience as a freshman to go to a local school and observe professional teachers. Getting the opportunity to see teachers practicing my future career taught me a lot about what I want to do and what type of teacher I want to be.
I also had an amazing experience during the summer of 2017. I spent five weeks studying abroad in Sorrento, Italy, at the Sant'Anna Institute. One of my classes included a field trip exploring Naples, and the other included a field trip to Pompeii and the National Museum of History in Naples. I got to learn so much about the culture of a different country and travel and eat my way through the beautiful land of pasta and pizza. Not only did I learn intellectually, but I also got to learn about the world and even myself and how capable I am of being on my own.
Are you involved in any extracurricular activities?
In addition to being the vice president of internal operations for the AK-Rowdies, I also write for and am the director of events for Her Campus Akron. This is an online magazine that is on an international level with chapters on different college campuses around the world. This has been a great experience because it has allowed me to be a published writer, as well as to plan and attend a trip to New York City for Her Conference, the national convention. I am also the historian for Akron Council of Education Students (ACES), which is a student organization for education majors here at UA. I am a Williams Honors College delegate, acted as an orientation leader and New Roo Weekend leader for the Office of New Student Orientation, and am a student assistant in the Office of Admissions, which allows me to work on my professional social skills whether I am working in the office or giving campus tours.
What are your goals?
Upon graduation, I plan to teach high school English at a local school here in the Akron area, and hopefully come back to UA to get my master's degree eventually. Only going into my junior year here, I already feel prepared for this future thanks to the amazing work of the faculty and staff of the college of education. They have given me so much experience in and out of our college classrooms. I am more prepared to use technology, to plan lessons for the entire school year, and to interact with my future students and coworkers.
What advice would you give to prospective students?
Be excited and be open to anything. There are so many different opportunities here at UA, and not everything is for everyone, but there is at least something for every person. Try something new and embrace it if that new thing is for you. Overall, though, just be ready to have the best time of your life and to make lasting memories.
Attending The University of Akron was the best decision I have ever made in my life. I was unsure at first if this school would be the right place for me, but I have truly made a home here and feel as though I am a part of the UA family.