About Zip Card
The Zip Card is your official University of Akron ID card and should be carried at all times.
The ID card is your tool to access your accounts and/or privileges. Presentation of the card may be required to access some University services such as; dining plans, library services, admission to athletic events, access to buildings, etc. Copies or digital images of the card will not be accepted as identification. Access to facilities or account funds may be denied if your account has been suspended by the University for administrative reasons, if you have deactivated your card or if your card is damaged and will not scan.
The card is the property of the University of Akron and is non-transferable. Only the card owner may present the ID card for purchases and other privileges. Zip Cards will be confiscated if presented by someone other than the individual photographed on the card or if the card is involved in inappropriate or illegal use. Fraudulent use of the card will result in disciplinary action.
Information about the cardholder's account will be disclosed to third parties only for the following reasons: (1) in order to complete a transaction (2) in order to comply with court orders or other applicable laws or (3) with the cardholder's written permission.
Please reference our Disclosure Statement
An initial Zip Card is issued at no cost to students who are scheduled for classes during the current semester, and to all Faculty and Staff of the University of Akron.
You receive your First Zip Card at the New Student Orientation event, or you may bring in a photo ID and receive your Zip Card.
The following items are allowable using the Zip Card
| | | |
| --- | --- | --- |
| | All Campus | Dining Dollars |
| Accepted on Campus | YES | YES |
| Accepted at Off Campus Merchants | YES | NO |
| Food | YES | YES |
| Non-Edibles | YES | NO |
| Personal Items | YES | NO |
| Gift Cards | YES | NO |
| Alcohol | NO | NO |
| Tobacco Products | YES | NO |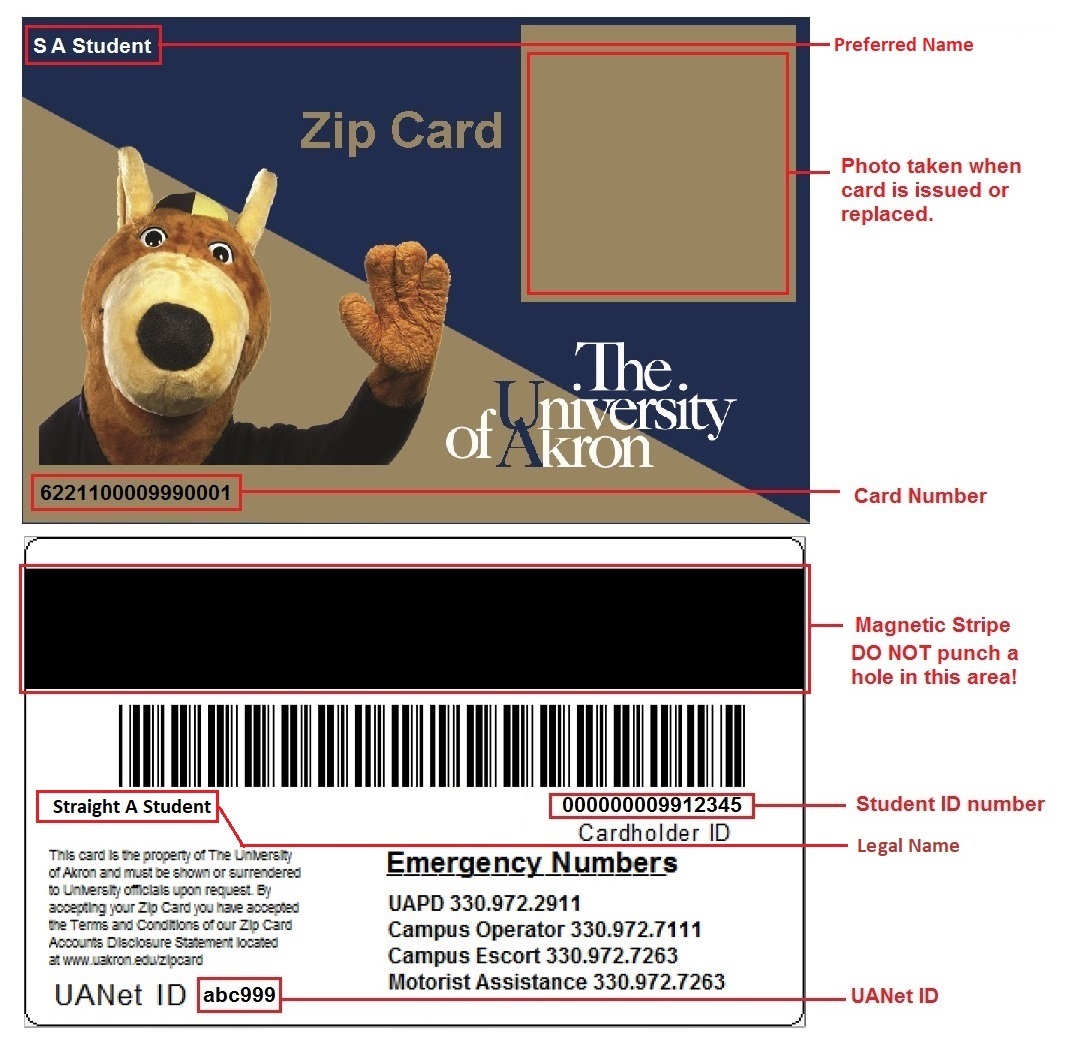 ---
Zip Print
Zip Print, the print management system developed by Pharos Systems, interfaces with the Zip Card system for accounting and authentication. The system requires that users have a valid Zip Card to obtain their printouts.
During the Fall, Spring and Summer semesters each student that is registered will have $3.75 deposited in their Zip Print account. This will allow for up to 75 free prints @ $0.05/page for black and white prints. These free prints may be used at any Zip Print Location.