MILITARY SERVICES CENTER
Providing comprehensive enrollment and referral services to new and returning Veterans and their families.
For veterans
Musson Veterans Lounge
Located on the third floor of InfoCision Stadium, the lounge is a place to study and socialize. Ask us about swipe card access. Learn more
Student Veterans of America
Providing the resources, support, and advocacy needed for Military Veterans to succeed in higher education and beyond. Learn more.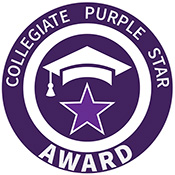 Contact us
Simmons Hall 305 (as you exit the elevator)
Akron, OH 44325-2001
Phone: 330-972-7838
Open 8 a.m. to 5 p.m., semester weekdays
8 a.m. 4:30 p.m. summer weekdays
Email: veterans@uakron.edu
Title 38 USC COMPLIANCE 3679(E) The University of Akron allows individuals to attend and participate in a program of education if the Chapter 31 or Chapter 33 beneficiary provides the school with a Certificate of Eligibility (COE).