Sheau-Huey Chiu, PhD, RN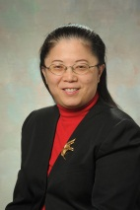 Title: Associate Professor
Dept/Program: School of Nursing
Office: Mary Gladwin Hall 206G
Phone: 330-972-7563
Email: schiu@uakron.edu

---
Biography
Education
PhD - Case Western Reserve University – January 2001
MS - Arizona State University – May 1997
BSN - Arizona State University – December 1994
Diploma- Deh-Yu Junior Nursing College,Taiwan – June 1986
Specialty
Pediatrics
Recent Publications
Chiu, S.H, Dimarco, M.A., & Prokop, J.L. (2013). Childhood obesity and dental caries in
homeless children. Journal of Pediatric Health Care, 27(4), 278-283.
doi:10.1016/j.pedhc.2011.11.007
Chiu, S.H. & Fitzgerald, K. (2013). Electronic medical/health record and pediatric
behavioral health providers: Progress and problems. Archives of Psychiatric Nursing,
24(2), 140–141.
Recent Presentations
Chiu, S.H., Kreidler, M., & Fitzgerald, K. (2015). APN care delivery to non-offending
caregivers of child sexual abuse victims. Midwestern Nursing Research Society,
Indianapolis, IN, April 2015.
Cobb, M. & Chiu, S.H. (2013). Breastfeeding frequency during the first twenty-four hours of life
for the normal newborn. Association of Woman, Obstetric, & Neonatal Nursing, TN, June
19, 2013.
---