Welcome from the School Director
As you browse our information, I encourage you to look critically at our programs, our people and our philosophy; I hope you find answers to the questions you have about why this School provides a unique and special environment for student nurses. Across our curriculum the School of Nursing is committed to our mission of transforming lives.
At The University of Akron School of Nursing, we understand that nursing is a special vocation. Nursing combines an in-depth knowledge of science with an understanding of the humanities to create the art of nursing, and the opportunity to change lives.
Thanks for taking the time to learn more about the School of Nursing at the University of Akron.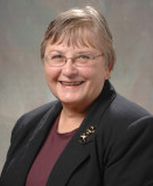 Director/Chief Nurse Administrator
Marlene Huff, Ph.D., RN
School of Nursing
Contact Us
School of Nursing
209 Carroll Street (show on map)
Akron, OH 44325-3701
Phone: 330.972.6674
Fax: 330.972.5445
E-mail: nursinginfo@uakron.edu
---
Request more information
More information about our undergraduate and graduate programs is available.
Accreditation
Accreditation for the School of Nursing
SCHOOL OF NURSING
Scholarships
The School of Nursing awards nearly $150,000 in scholarship support annually.
School of Nursing scholarships are awarded once each year for fall and spring semesters.
Students must be in the College of Health Professions either as prenursing students or students admitted to the nursing major in order to be eligible. Eligibility criteria is unique to each scholarship.

School of Nursing scholarships (graduate and undergraduate)

Scholarships available to all UA students
Faculty and Staff Profiles
Contact information for individual faculty and staff is located on their profile pages.
Commitment to Diversity
The School of Nursing prepares nurses to be culturally competent in accord with the core values of the profession. Nursing values diversity in all forms, including national origin, race, color, religion, sex, age, sexual orientation, gender identity, disability, or veteran status; and seeks to recruit, retain and graduate a diverse student population. The School of Nursing advances excellence in student learning, collaborative clinical service delivery, community service, and the scholarship of practice, integration, application, and discovery.
Non-Smoking Policy
Smoking, in any form, is harmful. The College of Health Professions, as part of its mission, was created to support human well-being and smoking runs contrary to this mission.

The College of Health Professions and each of its Schools, prohibits smoking in any form including cigarettes, electronic cigarettes, cigars, pipes and any similar devices – in its classrooms, labs, common areas, and buildings both inside and within 25 feet of the structure.