Intellectual Property, Trial Advocacy programs recognized by U.S. News
03/17/2020
The latest U.S. News & World Report Best Law Schools Ranking released today rates The University of Akron School of Law Trial Advocacy program No. 25 in the country out of the 187 rated programs. Akron Law tied for the spot with four other schools, including the University of Notre Dame and the University of Georgia, and was the highest ranked among Ohio law schools in this category.

Akron Law's programs in Intellectual Property and Part-time Studies were also recognized by U.S. News. The IP program ranked No. 51, while Part-time Studies was No. 46. The law school specialty rankings are based solely on peer assessments by law school faculty who teach in the respective specialty areas.

"We are pleased to be recognized by U.S. News for our long-standing strength in trial advocacy and IP law and for our part-time JD program," said Christopher J. (C.J.) Peters, dean of the law school. "While prospective law students should avoid overreliance on U.S. News or any other ranking system, we believe the specialty rankings are of some value, as they are voted on by experts in those fields who only rate programs they are familiar with."

In the overall U.S. News law school ranking, Akron Law moved up two spots to tie for No. 141.

"We're glad to be moving in the right direction," said Peters. "However, the overall U.S. News rankings do not capture important aspects of law school, such as teaching quality, hands-on experiential learning opportunities, academic and career support services, and affordability – areas in which Akron really excels. For example, we are the only IP program in the top 100 with tuition and fees less than $25,000 a year for all students."

The Trial Advocacy program's consistent high ranking is likely due in part to the outstanding performance of the school's legal-skills competition teams, Peters said.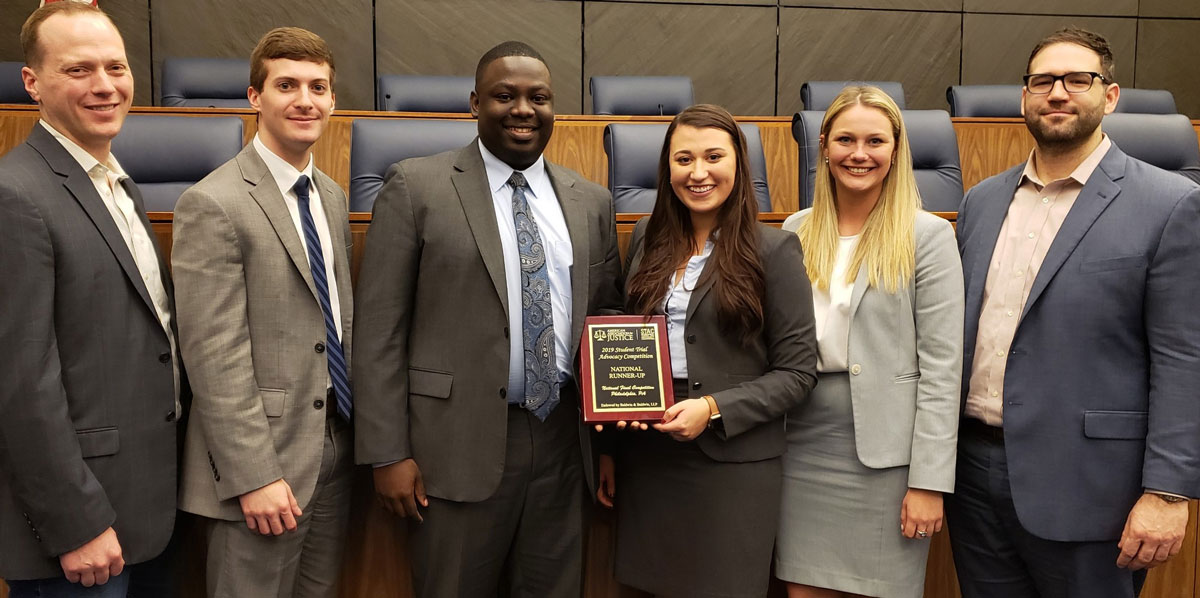 The Akron Law mock trial team advanced through a field of 226 teams from across the country to reach the finals at the 2019 Student Trial Advocacy Competition.

The Akron Law mock trial team was national runner-up in 2018 and again in 2019 in the American Association of Justice (AAJ) Student Trial Advocacy Competition (STAC). The team finished the 2018-19 season tied for No. 5 nationally in the Fordham Law Trial Competition Performance Ranking.

Meanwhile, the moot court and client counseling teams combined to tie for No. 8 nationally in the American Bar Association 2018-19 Competitions Champion ranking.
---
For more information about our programs, see these pages: