President leads study-abroad trip to Asia
07/20/2017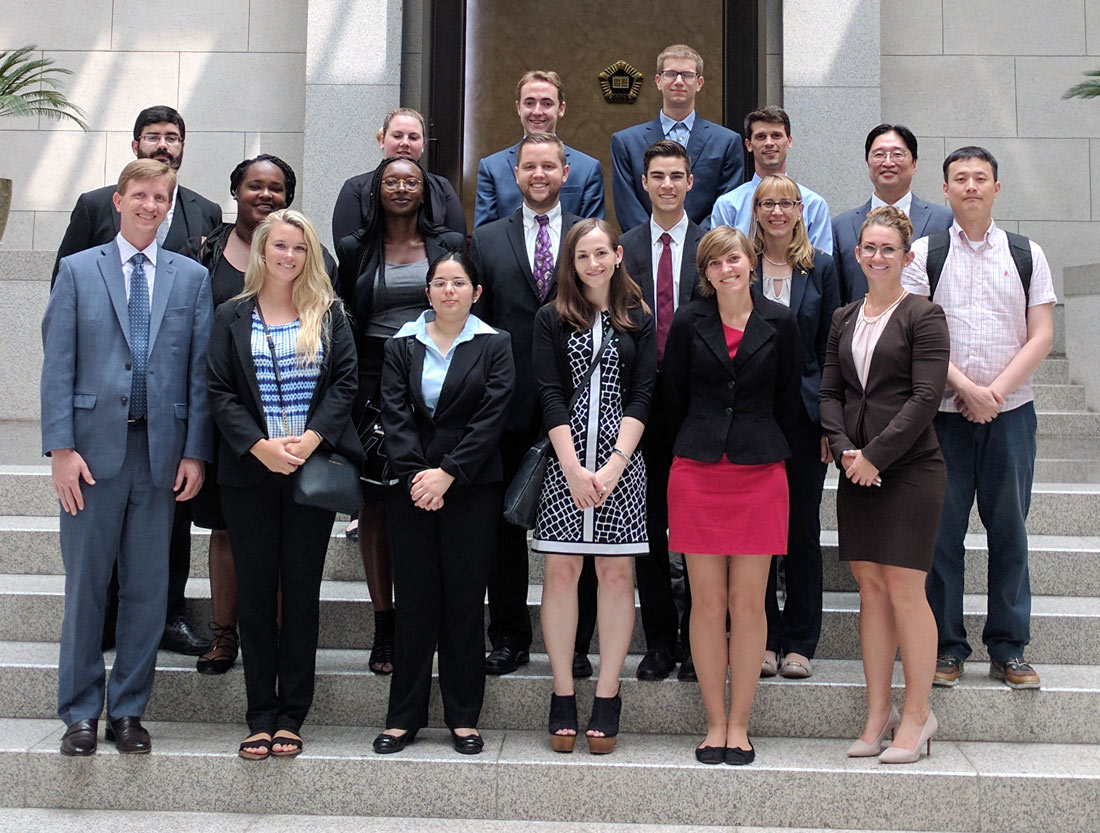 UA President Matthew Wilson (first row, far left) and Vice Provost Sarah Cravens (second row, second from right) pose at the Supreme Court of Korea with UA and other law students in the two-country, three-city, four-week study abroad program.
FOR A SECOND CONSECUTIVE YEAR, The University of Akron School of Law is participating in a two-country, three-city, four-week Study Abroad program in South Korea and Japan. Participants were off to an outstanding start July 20 with a visit to the Supreme Court of Korea.
Students from Akron Law and five other law schools around the country are attending skills-oriented classes on international law topics at host institution Kyung Hee University Law School in Seoul, South Korea.
UA President Matthew J. Wilson and Vice Provost Sarah M.R. Cravens are teaching a course on Cross-Border Practice, while a practicing attorney from a major firm in Seoul is teaching International Commercial Arbitration. Additional students will join the program as it moves to Japan for two more classes at Nagoya University during the first two weeks of August.
Wilson signed agreements with representatives of Kyung Hee and Nagoya universities to establish the tripartite program while he was dean of Akron Law in 2015. In July 2016 Wilson was appointed UA president but fulfilled both his teaching obligations with the study abroad program as well as his new duties as leader of the institution. An international attorney and Asian law expert, Wilson recognizes the potential benefit the program offers to U.S. students.
"Not only do companies from Japan and South Korea have extensive ties to Ohio and the surrounding region, but local companies are increasingly finding themselves engaged in business in Asia," asserts Wilson.
"At Akron Law, we believe in providing our students with the practical training, hands-on experiences and education necessary to enable them to supply valuable legal services within the global economy," Wilson said. "Through this new program, Akron Law will be training its students to handle the complexities and competitiveness of the world."
RELATED:
UA LAW STUDENTS GRADUATE WITH LESS DEBT
In 2015, Akron Law grads owed nearly $20,000 in loans below the average debt of graduates at the nine law schools in Ohio.