Monetizing Data is focus of Business Analytics Summit
08/03/2022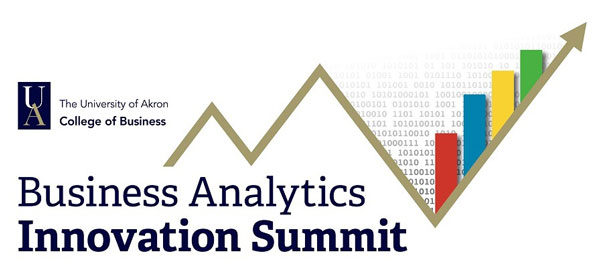 Enterprises, small businesses, and non-governmental organizations are monetizing data everywhere you look. By engaging in digital transformation, they are using the data to streamline and improve operations to ultimately drive a variety of business functions. In response to the ever-changing world of data and analytics, the University of Akron's (UA) Center for Information Technologies and Analytics (CITA) will host its fifth-annual Business Analytics Innovation Summit (BAIS) on Sept. 30 to focus on exposing analytics everywhere.
This year's agenda is filled with relevant topics to help companies prepare for these innovative changes and trends. Speakers will present case studies with real examples of organizations that are effectively investing in data and delivering meaningful insights to provide the greatest value to their companies and the customers they serve.
Headlining the summit as part of the keynote session is University of Akron College of Business Dean, R.J. Nemer, and Chief Information Officer/Senior Vice President for the Cleveland Cavaliers, Mike Conley. Titled Sports Analytics: A View from Both Sides, Nemer and Conley will share their perspectives as consumers and producers of the data that is now the lifeblood of any professional sports organization.
Additional presenters include:
Mark Ruffing, Assistant Director in Enterprise Analytics, Cleveland Clinic
Transforming Self-Service Analytics at the Cleveland Clinic through Enablement
Nate Turner, Data Scientist and Matt Fernandez, Innovation Center Business Analyst for FirstEnergy Corp.
Tree-Outage Predictive Model
Sean Mancini, Director Digital Supply Chain Analytics, Signet Jewelers
Journey to a Smarter Supply Chain: Using a Data Ecosystem to Create an End-to-End Supplier Lifecycle Evaluation
Registration for the Summit and workshops is open to business professionals, UA faculty, staff and students. Information and a full schedule can be found on the Business Analytics Innovation Summit website.
UA graduate and undergraduate students are also encouraged to attend. Students who register and attend the BAIS will be included in a drawing for a Dell 27" gaming monitor and a Dell Precision laptop.
To register for the event, visit www.uakron.edu/cba/bais/2022.
Corporate sponsorships are also available. For more information, contact Lisa Sabol at lsabol@uakron.edu.
About CITA
The Center for Information Technologies and Analytics (CITA) is a multi–disciplinary Center within the College of Business. CITA was created in 2000 with the mission to teach students and develop faculty in the principles and practices of the related disciplines of Information Technology. CITA accomplishes its mission by providing scholarships, mentoring, internships & co-op opportunities to students in the information systems and business analytics disciplines, providing resources to conduct research to faculty, and conducting several outreach activities that promote IT and analytics among local companies.
CITA is made up of an advisory board of Information Technology leaders from the Northeast Ohio region and the College of Business faculty, staff and students. For further information, visit the Center for Information Technologies and Analytics (CITA) website.
Share