UA alumnus painting unveiled by College of Business Administration for Professional Development Center
12/14/2020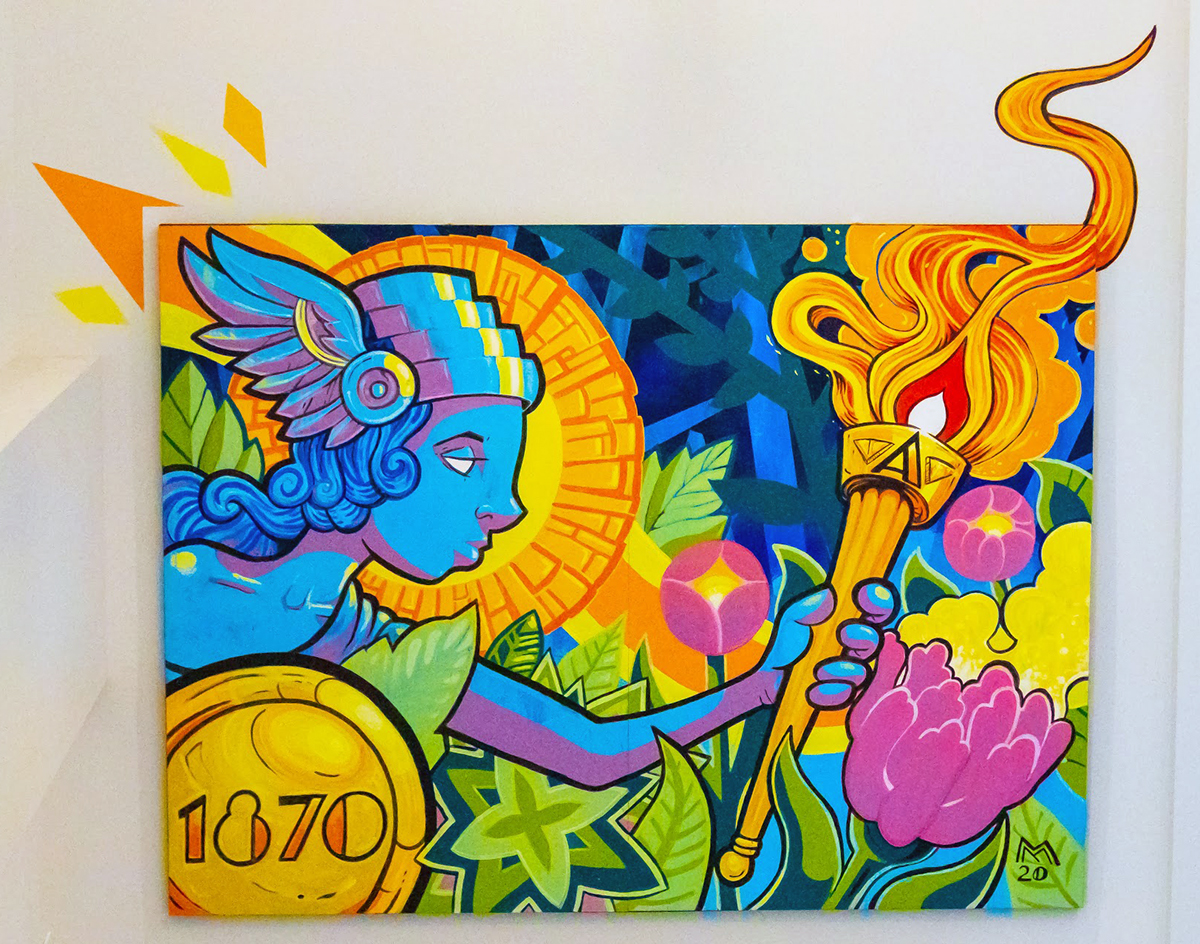 The College of Business (CBA) at The University of Akron (UA) celebrated the unveiling on Dec. 11 of a commissioned painting that will be permanently displayed in the Anthony J. Alexander Professional Development Center. Celebrating success and connectivity, UA alumnus Matt Miller brought his design, aptly named "Fiat Lux" after the University's motto, to his painting that adorns the new building's interior wall above the stairway.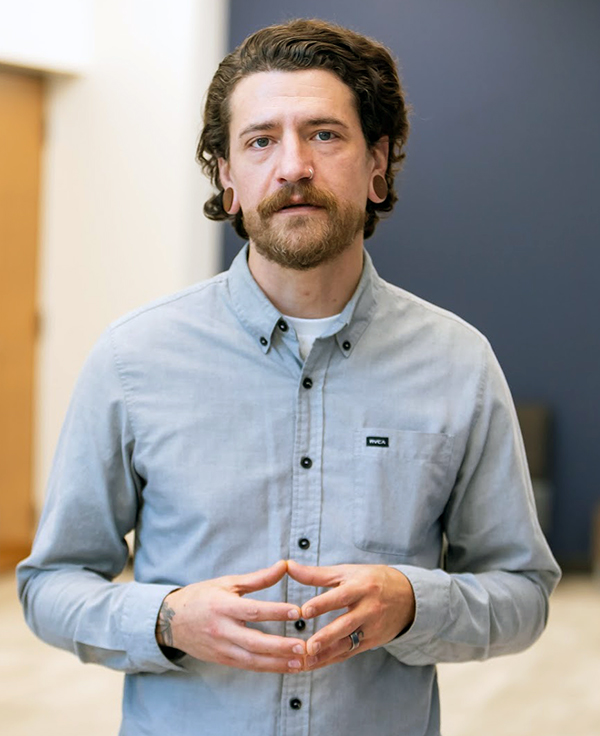 Artist Matt Miller
"Matt's proposal was selected because we thought students would be attracted to the whimsy and vibrancy of his art," said Dean Susan Hanlon, who worked with a panel of experts from UA's Myers School of Art in reviewing submissions. "I feel the youthful tone to the design is a nod to the future of the University and that it will stand the test of time. The painting includes symbolism of UA's origins and symbolism of hope and inclusiveness for the future."
The winged foot of Mercury was also adopted by The Goodyear Tire & Rubber Co. for its logo, which ties into the University's connection to the Akron rubber industry. Similarly, the side embellishment of Mercury's helmet in this image is a tire to further connect to the shared history.
Representation and inclusivity were also important themes for Miller to incorporate into his design. "In the painting, Mercury is presented as an androgynous and racially ambiguous figure so that all UA students, regardless of gender, race and ethnicity, will feel represented by and connected with the work of art," explained Miller.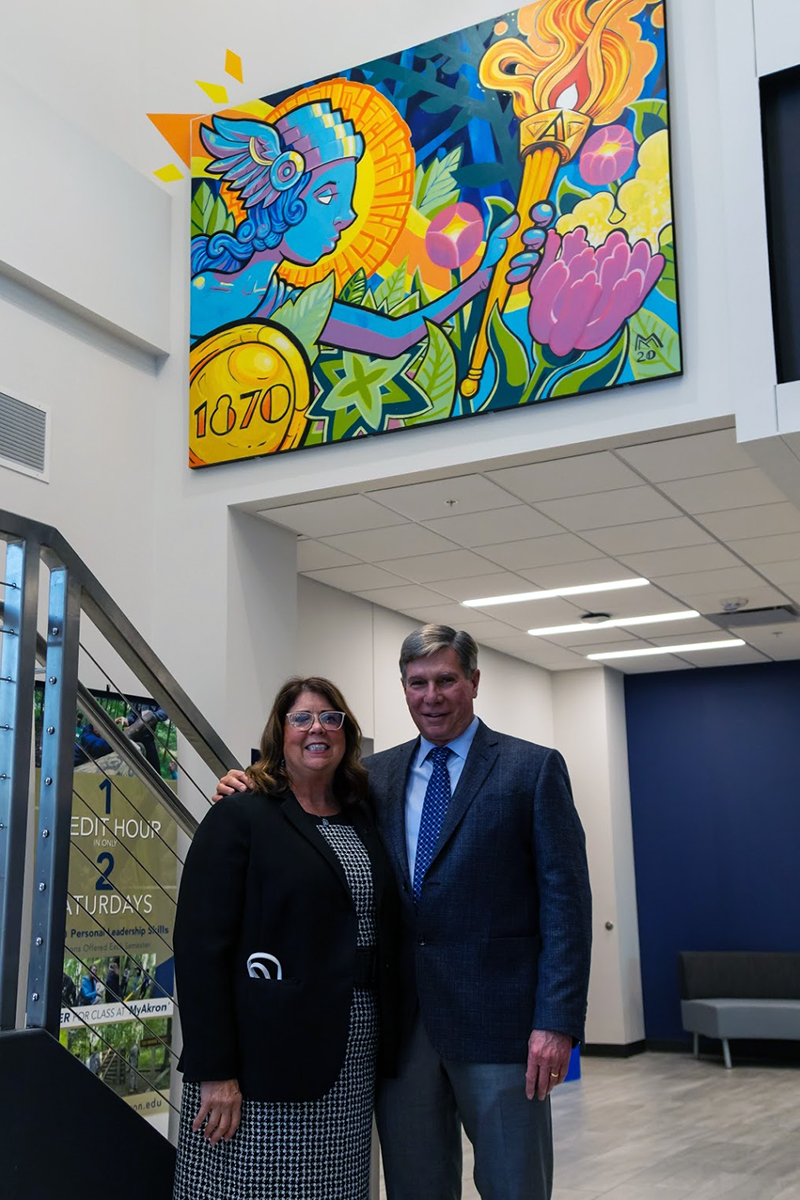 Dean Susan Hanlon and her husband Bill Hanlon donated the painting done by Matt Miller.
The 8' x 6' painting showcases the Greek god Mercury. The torch represents the University's motto of "Fiat Lux" (Let There be Light). Also incorporated into the design of the flame is a nod to the emblem of the Unitarian Universalists who founded the University in 1870. Miller incorporated the torch and flame as they are traditionally symbolic of truth and knowledge and can be connected to the lamp of knowledge present on the University's crest.
Miller, an Akron native, was a UA Myers School of Art graduate ('07) and currently works as a painter, illustrator and printmaker. His work is inspired by his passion for mythology, American superhero comics and vintage rock n' roll poster art and can be seen at Art of Matt Miller.
The painting was a gift from Dean Susan Hanlon and her husband Bill Hanlon, who graciously donated private funds specified for this purpose, as a way to both celebrate the 150th anniversary of UA and to give back to the college.
"We hope to begin a tradition of bringing art into the college to designate other meaningful events in our history," remarked Dean Hanlon.
---
Media contact: Lisa Craig, 330-972-7429 or lmc91@uakron.edu.
Share