Dr. Suzanne Bausch named to top research role
05/11/2022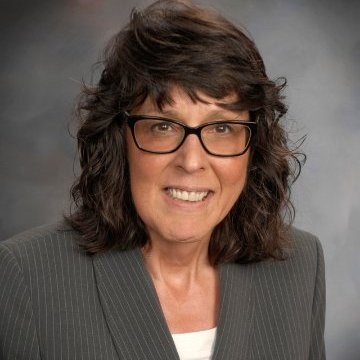 The University of Akron (UA) has named Suzanne B. Bausch, Ph.D., as vice president for research and business engagement and dean of the graduate school. She begins the role Aug. 1, pending UA Board of Trustees approval.
In this new role, Bausch will serve as the University's chief research officer where she will be responsible for growing the University's research enterprise including grants, contracts and sponsored programs; intellectual property administration, patent marketing and licensing; and oversight of programs to encourage basic, applied and funded research among faculty, staff and students. She will also oversee technology commercialization of University intellectual property and economic development; outreach to build relationships between the business community and the research enterprise; and provide general academic supervision of graduate education within the University.
Bausch currently serves as vice dean for the College of Science & Mathematics at Rowan University in Glassboro, N.J., and a professor in the Department of Molecular & Cellular Biosciences. Her efforts at Rowan have resulted in a more than doubling of external research awards and a tripling of submitted proposals. She also leads the graduate programs in her college, where she facilitated a multiyear expansion of college research-based master's and doctoral programs.
"We are very pleased that Sue is joining us as her background and experience are an ideal fit for this newly defined role," said John Wiencek, executive vice president and provost. "Sue has proven herself to be a clear and strong advocate who provides insight and leadership in funding areas supported by the National Institutes of Health (NIH), the largest federal agency supporting university research efforts.&rdquo
"I am very excited for the opportunity to work with The University of Akron community to advance its graduate education and research agenda as well as to facilitate partnerships between the University and the broader business community," said Bausch.
Prior to her work at Rowan, Bausch served as a professor and vice chair of the Department of Pharmacology at Uniformed Services University of the Health Sciences in Bethesda, Md., where she oversaw a very active research program within the School of Medicine. She also served as a guest scientist for the Henry M. Jackson Foundation for Military Medicine in Rockville, Md., and previously worked as a research associate at the University of Seattle.
Bausch earned a Bachelor of Arts in Chemistry from Metropolitan State College in Denver, Colo., and a Doctor of Philosophy in Pharmacology from the University of Washington, Seattle before completing her postdoctoral studies in Neuroscience at Duke University Medical Center. She also was the recipient of many honors, including the Epilepsy Foundation of American Research Training Fellowship, NIH/NINDS (National Institute of Neurological Disorders and Stroke) Individual Postdoctoral Fellowship, Molecular Pharmacology Institutional Predoctoral Training Fellowship and the Pharmaceutical Sciences Institutional Predoctoral Training Fellowship.
---
Media contact: Cristine Boyd, 330-972-6476 or cboyd@uakron.edu
Share