UA honored again as one of top universities for patents
11/03/2022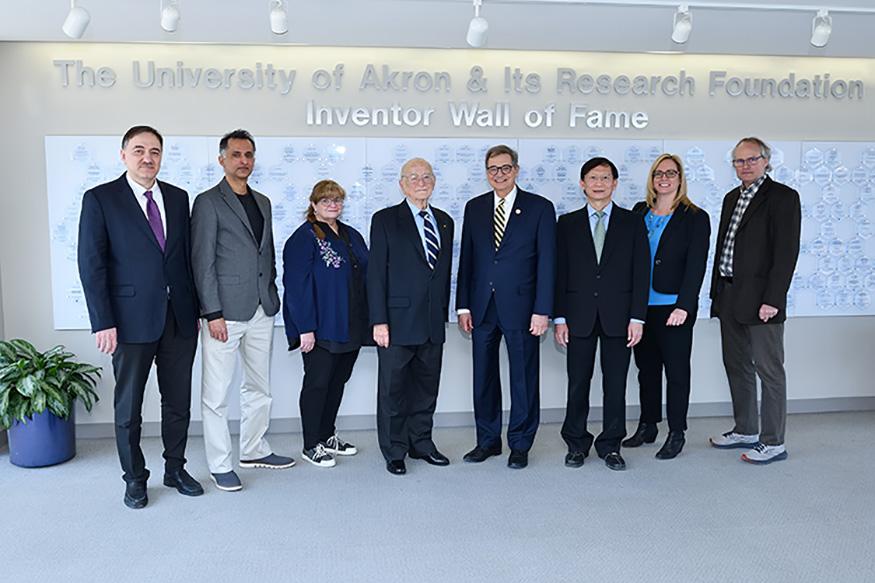 UA faculty are pictured here with President Gary L. Miller celebrating new patents. (l to r) Dr. Yilmaz Sozer, Dr. Abraham Joy, Dr. Marnie Saunders, Dr. Joseph P. Kennedy, Miller, Dr. Lu-Kwang Ju, Kelly Bialak and Dr. Phil Allen.
In September, the National Academy of Inventors (NAI), in conjunction with the Intellectual Property Owners Association (IPO), issued its 10th annual report on top ranked U.S. and international universities receiving the highest issuance of U.S. utility patents by the United States Patent and Trademark Office in 2021.
The University of Akron (UA), one of the nine founding NAI charter members, has been ranked in the top 100 every year since 2017.
"To see UA recognized among the top 100 is again confirmation that UA's faculty and students are not only inventive, but that together we can take that research and transform it into innovation," said Dr. Suzanne Bausch, vice president for research and business engagement.
The latest round of recognition would not be possible without UA's research faculty and students and the efforts of the Office of Technology Transfer (OTT) and the University of Akron Research Foundation (UARF).
By supporting development and commercialization of UA's intellectual property, OTT helps to bring faculty and student research from the lab to the market by facilitating the discussion of ideas and disclosure of inventions.
To accomplish this, OTT reviews technologies for marketability, with the inventor's involvement, then applies for and maintains patents on technologies that may have potential economic benefit. It also provides researchers with support to seek out funding opportunities, both with federal and industrial partners, assists startup companies and arranges for the licensing of University technologies in collaboration with UARF.
"Faculty and students may be unsure if they have something tangible, and we work to help assess and partner with them to take their research to the next level," said Kelly Bialek, acting director, technology transfer. "We provide guidance, evaluation and implement a pathway in finding partners to transform their ideas."
Meanwhile, UARF provides training in innovation and entrepreneurship, assists faculty and students in exploring commercial applications for their technology, mentors startup companies, and identifies collaborators for testing and scale up.
UARF runs a nationally recognized NSF I-Corps Site that teaches faculty and students how to interact with potential customers, provides prototyping and testing dollars through Spark Fund, helps startup companies secure federal small business research grants, and helps entrepreneurs develop new business skills through the STRIDE Accelerator.
"Faculty and students are encouraged to apply for funding opportunities and seek additional entrepreneurial support from our University of Akron Research Foundation," said Elyse Ball, executive director of UARF. "Our mission is to help identify customer problems and needs, so that UA innovations can be applied in ways that really make an impact."
"These projects show that UA, indeed, is on the cutting edge of innovation," said Bausch. "Together, OTT and UARF work in symmetry to advance our reputation and continue our legacy of research excellence."
A mark of excellence
Whether developing oil condition monitoring technology, breathing new life into spent tires or analyzing sweat, UA researchers and technology licensees continue to break ground on creating innovative products and companies.
Take perspiration, for example. SweatID, which analyzes an athlete's sweat during exercise so they can plan their hydration to enhance performance and recovery, is based on technology developed at UA. Chelsea Monty-Bromer, former associate professor of chemical and biomolecular engineering, created the technology, which was then tested by Ronald Otterstetter, professor of exercise physiology and adult fitness.
The company recently closed an investment round of $500,000, including funds from JumpStart Ventures, Northeast Ohio Innovation Fund, and other investment firms and individuals.
This is just one example of the many cutting-edge ideas that have helped UA receive global recognition for its research and patented innovations.
---
Learn more about The University of Akron Research Foundation
Check out the work of The University of Akron Office of Technology Transfer
---
Media contact: Cristine Boyd, 330-972-6476 or cboyd@uakron.edu.
Share