UA Offering New Certificate in Esports Business
05/05/2021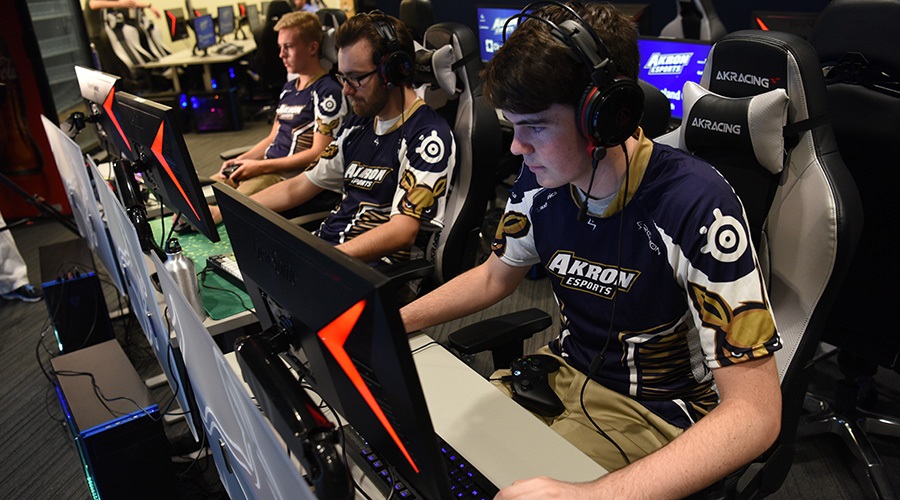 Akron Esports student-gamers engage in competition. (Photo taken in August 2019.)
The growing popularity of esports isn't new anymore for many, especially as the industry's worldwide revenue is projected to grow to nearly $3 billion by 2022 with viewership reaching 300 million people by then. And as the esports industry continues to grow, so does its job market.
As a result of this increased following for competitive video gaming, UA is establishing a new Esports Business certificate. This 12-credit interdisciplinary certificate is prepared to respond to the industry's need for properly trained college graduates to fill such esports-related positions as team manager, tournament manager, event coordinator, marketing specialist, social media specialist, sales manager, content creator and more.
Dr. Seungbum Lee, professor of management in UA's College of Business, who developed the certificate, says the new credential will deliver value to UA students aspiring to enter the gaming industry.
"I can confidently say that UA is one of few institutions in the country that can provide a platform where our students can learn about global esports business landscape while they will have unique opportunities to gain resume building experience in classes by working with nationally-recognized UA esports programs and UA esports facilities," says Lee. "UA provides excellent learning environment for fast-growing esports ecosystem for students."
Certificate now available to students
The esports industry's impact will soon get worldwide attention. The International Olympic Committee recently announced a collaboration with five International Sports Federations and video game publishers to present the Olympic Virtual Series — the first-ever, Olympic-licensed event for physical and non-physical virtual sports — ahead of this yearrsquo;s Tokyo Olympics so that it can create digital engagement with audiences.
Three courses are required to earn the new certificate: Global Esports Business Management, Esports Event Management and Marketing Principles. Additionally, students will have opportunities to network with advisory board members, some of whom represent organizations in the industry, such as Gen.G and Esports Engine.
"The Esports Business Certificate will give students at UA the opportunity to get hands on experience operating an esports event from start to finish while building skills that are valuable to employers in the field," says Nate Meeker, director of esports at UA, who will teach Esports Event Management during spring semesters. "In addition, they will gain valuable knowledge in the classroom that can be transferable to many different career paths."
Any students who want to declare this certificate will need to meet with a College of Business adviser. Global Esports Business Management will be the first course offered this Fall 2021 semester.
---
Share