Zips rise in 2021: A year of achievements and accomplishments at The University of Akron
12/20/2021
For a world in the throes of a global pandemic, the University of Akron students, faculty and alumni were certainly busy in 2021. Zips have made a difference this year from the laboratories in the Goodyear Polymer Center to the classrooms in the Polsky Building.
Here are just a few of the incredible achievements and bold accomplishments from 2021 that had their origins right here on the UA campus and have the potential to impact our community, our country and the world.
---
Polymer scientist develops new method to solve plastics sustainability problem
We use synthetic polymers, including rubber and plastics, every day. But because these polymers are hard to break down, they have accumulated in the land and oceans, causing serious concerns for the ecosystem.
Dr. Junpeng Wang, assistant professor in UA's School of Science and Polymer Engineering, published research this year with a promising solution that both reduces waste and appeals to the rubber, tire, automobile and electronics industries. Weng's research found that replacing current polymers with recyclable ones that he has developed – polymers that are unique in their superior thermal stability and versatile in their mechanical properties – may achieve a circular use of materials.
---
Zips esports certificate among nation's top programs of its kind
In the fast-growing esports industry, UA has become a national leader thanks to a new certificate program. One of the few higher ed institutions in the country offering the certificate, which is available through the UA College of Business, the program provides a platform for students to learn about the global esports business while working in UA's nationally recognized esports programs and facilities. The certificate also offers UA students access to industry knowledge that is transferable to several career paths.
---
UA technology development program recognized nationally, helping researchers locally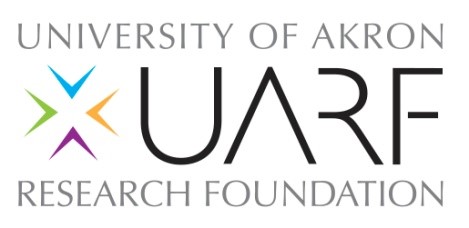 Northeast Ohio residents with business, product or technology ideas have been receiving vital training through The University of Akron Research Foundation's (UARF) I-Corps program for assistance. I-Corps, which received the Exemplary Practice in Technology Commercialization Award at the Deshpande Symposium in June 2021, has provided intensive experiential education in what it takes to launch a business for more than 400 Northeast Ohio students, 200 university faculty members, 300 business mentors and 100 community entrepreneurs – those affiliated with UA and many others in other communities and on other college and university campuses in Northeast Ohio.
I-Corps site participants have launched successful businesses in a wide range of industries, including software for water treatment facilities, next generation adhesives, and hair and beauty products.
---
AkronArts leading a new era of art and culture at UA, in Akron and beyond
The University of Akron announced in May 2021 that it is developing a national model for how an urban research university and its legacy city work together to create a special place for education, work and entrepreneurship.
The AkronArts initiative aspires to present Akron as a national model of creativity, expression, authenticity, diversity and collaboration. It will serve to increase enrollment, increase the number of downtown visitors, create commercial opportunities, and strengthen our relationships with important regional partner institutions.
One key aspect of the plan is the reimagining of the landmark Polsky Building to bring together UA and the downtown arts scene.
---
Innovative UA center prepares students for careers in critical fields of intelligence and security
Biosecurity. Espionage. Domestic terrorism. There is so much unknown in the world around us right now, but UA's Center for Intelligence and Security Studies, which was launched in March 2021, seeks to gather scholars and students in an interdisciplinary setting to address these issues and more. The Center is the first of its kind in Ohio and will focus on security topics including cyber-conflict, disinformation, policing, human trafficking, climate change, and conflicts in our own country and around the world. Not only will the Center look at these issues through an academic lens, but it will prepare students for careers in the growing fields of security and intelligence.
---
Polymer scientist develops new technique for large-scale energy storage
Need a car to get around, but want to reduce your environmental footprint? An electric vehicle (EV) is a great start. However, these vehicles have their challenges – EVs require power to be available, but solar and wind are intermittent energy sources that are not available on demand. And the electricity they generate needs to be stored, and not wasted.
Dr. Yu Zhu, a professor in UA's School of Polymer Science and Polymer Engineering, and his graduate students have developed a more stable way to store energy. Their research was published earlier this year and they've applied for a patent for their technology.
---
UA aerospace engineering plays key role in renewed airship aviation technology investment
When LTA Research, an aerospace research and development company announced in March 2021 it had reached an agreement to sublease space in Akron to house manufacturing and flight operations, UA's College of Engineering and Polymer Science celebrated its role in LTA's investment.
LTA and UA have partnered for several years to design, develop, and test small unpiloted airships and have received certification from the Federal Aviation Administration for previous test flights. The innovative team includes graduate and undergraduate students who are proud to be reviving this legacy of aviation and renewing manufacturing innovation in Akron, where it all started. UA engineering students on the team are studying design principles including propulsion, controls, aerodynamics, and advanced manufacturing techniques.
---
UA marketing faculty members are the first to study fake online reviews
Disinformation is rapidly becoming a major societal issue, especially when many of us are consuming goods purchased online – and making decisions about what to buy based on online reviews.
Associate Professor Dr. Federico de Gregorio and Assistant Professor Dr. Alexa K. Fox in UA's Department of Marketing, along with a third researcher at the University of Georgia, are the first to conceptualize and investigate the effects of a new type of online user-generated content called pseudo-reviews. The researchers concluded that these reviews have the potential to damage consumers' decision-making processes.
The research was published in Computers in Human Behavior.
Pictured above left to right: Federico de Gregorio and Alexa Fox
---
Engineer develops revolutionary 3D sensor to improve a runner's performance
Dr. Jae-Won Choi, an associate professor in the Department of Mechanical Engineering, developed a 3D printed smart sensor that can provide real-time data for runners to improve their performance. His research was supported by a $1 million grant from the National Science Foundation.
The research can be also extended to the other fields in the future. The sensor may help diabetic patients by measuring offload foot pressure and when used in smart tires may detect in real-time road conditions.
---
Media contact: Cristine Boyd, 330-972-6476 or cboyd@uakron.edu
Share