Zippy receives spirited endowed scholarship
01/02/2019

A university mascot is the epitome of school spirit. A mascot brings fans to their feet to cheer on athletic teams, acts as a goodwill ambassador in the community, and simply makes everyone smile. And at The University of Akron, everyone loves its mascot, Zippy.

Zippy is a 65-year old marsupial with a pouch; one of only about eight collegiate female mascots in the United States. She is positive and popular, winning the 2007 Capital One Bowl Mascot of the Year.

But Zippy is more than a mascot. She is the spirit of the 15 men and women who make her character come to life. And those students, and Zippy, are being recognized by the family of Phyllis and James Berry, with an endowed scholarship.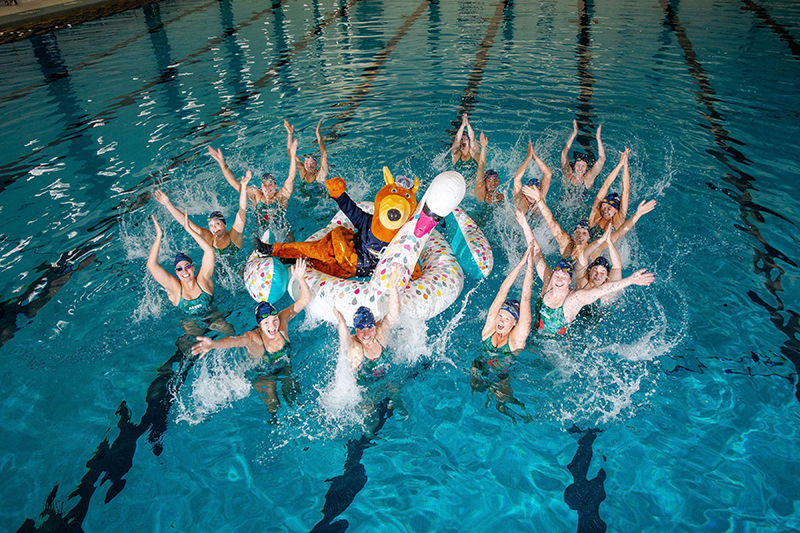 Zippy has fun with members of the women's swimming and diving team in the Ocasek Natatorium pool.
The James R. and Phyllis C. Berry "Zippy" Endowed Scholarship will help provide scholarships for UA students who bring Zippy to life. While details on the number of scholarships to be distributed each year and their amounts are still being determined, there is no doubt that it will add a new dimension for students who portray her.
Zippy = smiles
Phyllis Rowland Berry and her husband, Jim, were born in Akron and remained part of the University community. Phyllis, a former school teacher, was active in the Women's Committee, and Jim, vice president of Acme, was involved with ticket sales for the annual Acme Zip Game. They saw the value that Zippy brought to the game day experience, and the smiles that it brought to everyone's faces.
Fast forward to last year, when Zippy delivered a birthday cake to Phyllis on the occasion of her 102nd birthday, and children (of all ages) were jumping up and down with the excitement of seeing the mascot. It was then that Phyllis' family knew that establishing an endowed scholarship for Zippy was the way to honor Jim and Phyllis' legacy.
"We are so thankful to the Berry family for understanding that Zippy's value lies in the people that she impacts," said Kim Cole, vice president of development and executive director of the UA Foundation. "Not only is Zippy a great ambassador, but she comes to life because of the energy and athleticism of our students. An endowed scholarship is a wonderful way to thank them for their service to our community."
Students value opportunity
While Zippy is known for her appearances at athletic games and campus events, she can also be requested for community appearances, parties and weddings. Details are available at gozips.com.
"Being Zippy is an amazing honor," said Kayla, a senior at UA. (Kayla's full identity is withheld to honor the tradition of not revealing the personality behind the mascot.) "Personifying her allows me to promote school spirit, 'meet' new people, and be a varsity athlete at the university I love so much."
In addition to being a beloved, award-winning mascot, Zippy has also been honored with her own 2019 calendar. The calendar is available online at the UA Alumni Store for $20.19. Proceeds benefit scholarships for UA students.
---
Media contact: Cristine Boyd, 330-972-6476 or cboyd @uakron.edu.