Williams Honors Scholar explores world of opportunities
02/21/2018

When it comes to new opportunities, Kristina Aiad-Toss was never one to merely dip her toe into the water.

"Whatever environment I'm in, I jump right in," she says.

And when she jumps, she jumps – oftentimes into a different continent.

From Columbus to Spain, Toronto and Rome, Aiad-Toss, a senior at The University of Akron, has bounded from one life-changing experience to the next – launching, each time, from the same springboard: the Drs. Gary B. and Pamela S. Williams Honors College.

"The Williams Honors College has really put me in the place where I can have all of these opportunities," says Aiad-Toss, a philosophy, political science and economics (PPE) major whose resume includes stints as a diplomat to United Nations' agencies in Rome, a legislative assistant in the Legislative Assembly of Ontario, an intern at the Ohio Environmental Council, and various positions on campus and in the community.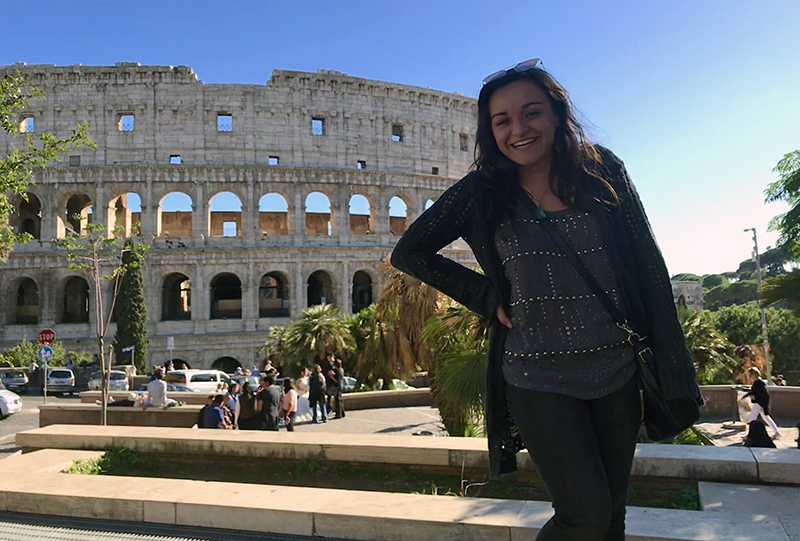 Kristina Aiad-Toss at the Colosseum in Rome.
"Kristina exemplifies the qualities that the Williams Honors College holds in the highest esteem," says Sarah Cravens, interim dean. "She has taken hold of every opportunity in order to make the most of her time here, both in Akron and around the globe."
Aiad-Toss says that, upon arriving at UA, she found in the Williams Honors College a community of "like-minded people" – high-achieving and self-motivated students – who inspired her to get involved in campus life.
She quickly began to work as a photographer and events planner for the Residence Hall Council, and later for the Zips Programming Networking – spurring an interest in photojournalism that would lead to her becoming the news and photo editor at our student newspaper, The Buchtelite, as well as a freelance writer and photographer for The Devil Strip, an Akron-based arts and culture magazine.
Classes led to a career destination
In the classroom, Aiad-Toss skipped from one subject to another – from biology to marketing and communication, philosophy to international politics – each a stepping stone to a PPE degree and to a final destination that, for the moment, remained to be seen.
"When I started college, I was unsure of what I wanted to do," she says. "But all of the experiences I've had built upon each other, and each one has brought me one step closer to figuring out what my true passions were."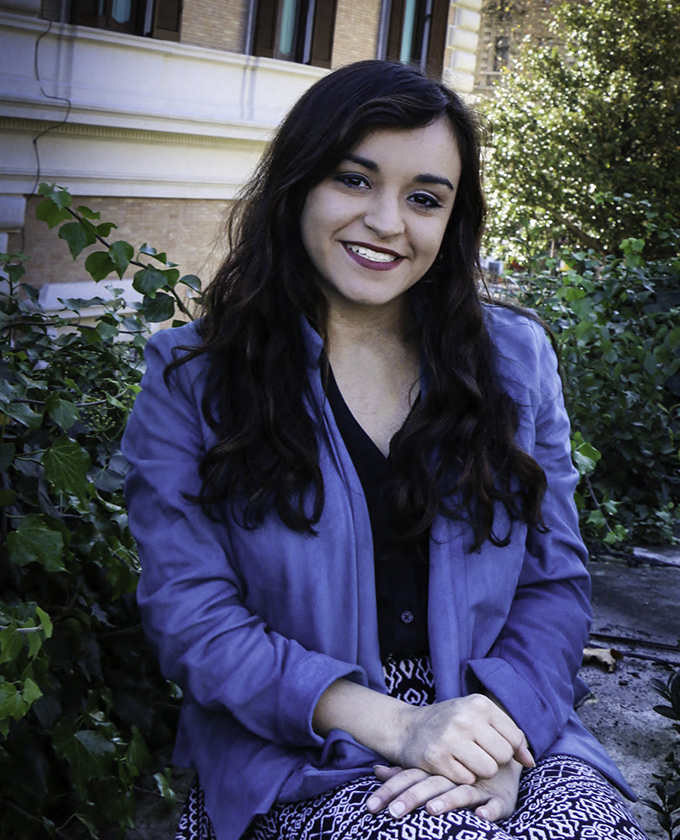 Kristina Aiad-Toss will graduate in May and plans on law school.
Through the Ray C. Bliss Institute of Applied Politics, Aiad-Toss landed an internship with the Ohio Environmental Council, where she assisted with the council's communications, marketing and lobbying of Ohio's state legislation. Through the same institute she spent last spring in Toronto, where she served as a legislative intern for politician Cheri DiNovo.
Jenni Fitzgerald, the internship manager at the Bliss Institute, says she was impressed with Aiad-Toss' "sense of adventure and free spirit," her willingness to "immerse herself into new cultures."
Indeed, UA places a strong emphasis on education abroad – which allows students to gain skills and experiences that set them apart from their competitors, says Michael Kulick, associate director of cooperative education and internships and the study abroad liaison in the Career Center.
Focus on needs of others
"I'm really happy that there's such an international focus here," says Aiad-Toss, who also has interned with the International Institute of Akron and is a board member for the Leti Resource Center, a nonprofit organization dedicated to aiding the poor of Uganda, with which she has been involved since her days at Cardinal Mooney High School in Youngstown.
This past fall, she went to Rome as a public diplomacy intern for the U.S. Department of State, where she worked as a liaison with the United Nations agencies in Italy in its efforts to alleviate world hunger. For 10 weeks, she promoted U.S. foreign policy objectives in meetings with agencies such as the Food and Agriculture Organization, wrote briefings and conducted research for the Department of State, and contributed to social media campaigns for the United States Mission to the United Nations.
It was during this time that the destination toward which all her experiences were leading became clear.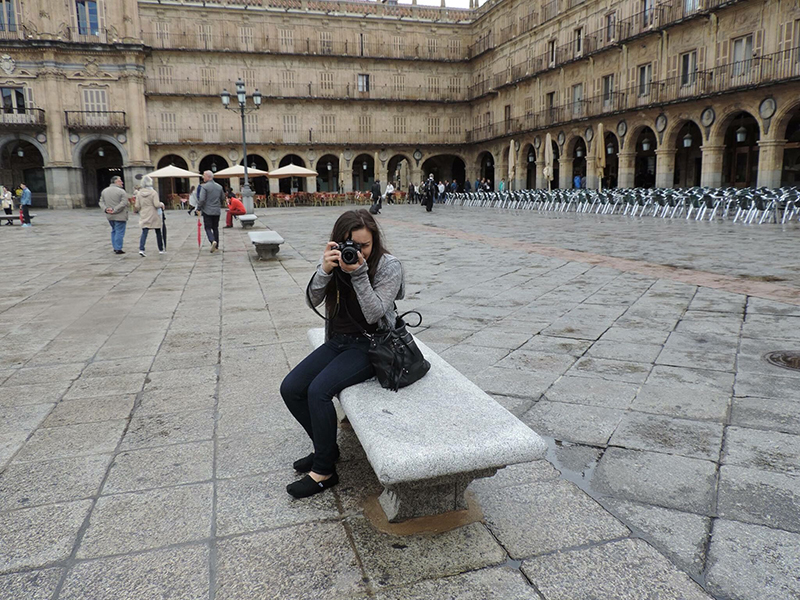 A keen photographer, Kristina Aiad-Toss is seldom without her camera. This time, she became the subject of a friend's lens in the Plaza Mayor in Madrid during a summer study abroad trip in Spain.
"Even though I already had a strong interest in global politics, working in Rome led me to realize the specific field I wanted to work in – international development," Aiad-Toss says. "I want to go into third-world countries and help the world's poorest create sustainable incomes for themselves and their families."
She is currently working on her Honors Research Project – the capstone project for Williams Honors Scholars – with Dr. Karl Kaltenthaler, professor of political science, to examine the economic reasons for emigration from Mexico to the U.S.
More travel ahead
After finishing the project and graduating this spring, Aiad-Toss – who in the summer before her junior year studied abroad at the University of Valladolid in Spain – hopes to travel to Central or South America to sharpen her Spanish.
After that, she plans to go to law school to study international human rights and business law, with the aim of eventually creating legislation that will improve the welfare of the world's poor.
But none of this would have been possible, she says, if it were not for UA – and specifically for the Williams Honors College, which provided an environment that fostered her globe-trotting ambitions.
"I think Akron was the best place for me to be, because I had the opportunity to get involved in a wide variety of activities and learn about different subjects to discover what I really wanted to do and where I wanted to be," Aiad-Toss says. "If I was at a bigger school, I would not have had as many opportunities to try all of these things and never would have realized my passion."
Involvement = opportunities
Aiad-Toss, who is currently working as an intern with the Akron City Council, encourages incoming students to take advantage of these opportunities.
"Get involved," she says. "Don't worry if you don't have all the answers right now. If you are unsure about what you are passionate about, join a new student organization or take a class on a subject you find interesting. Be relentless. Take advantage of as many opportunities as you can until you figure it out."
Especially, Aiad-Toss recommends joining the Williams Honors College.
"You are part of a group of students who are driven, high-achieving people that really want to do well," she says. "Being immersed in this environment pushes you to take advantage of opportunities and to excel during your time at The University of Akron."