Verderico scholarship helps student in need
09/22/2019

Patrick and Roberta Verderico have been ardent supporters of The University of Akron and its students for years. In 2009, through The Mary C. Verderico Family Endowed Scholarship, the Verdericos and their family created a lasting legacy in honor of their mother Mary, who worked tirelessly to makes sure that all of her seven children (all UA graduates) understood the importance of education. Gifts to this scholarship have helped UA students reach their goal of pursuing and completing their first undergraduate degree.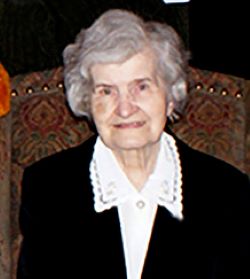 Mary C. Verderico in 2009 when her family created a scholarship in her honor
Recently, a student in her last semester had exhausted all of her general academic scholarship money. She had a 3.560 cumulative GPA, was working four jobs, and her husband recently returned home from Kuwait (four years active military) and had been having trouble finding a job. An advisor suggested she reach out to financial aid. The Mary C. Verderico Family Scholarship was able to help ease the student's financial burden.