Vehicle is human powered from concept to competition
05/08/2018

The term human powered vehicle (HPV) generally brings to mind thoughts of a bicycle or skateboard. For student engineers at The University of Akron, it is the sleek, highly engineered vehicle they have created to be the best in design, innovation and human-powered speed.

Our Human Powered Vehicle student design team placed second in the 2018 HPV North America East Collegiate Competition, hosted last month at Penn State University. After a first-place ranking at HPV East in 2017, our team lost by two points this year in a neck-and-neck competition with South Dakota State University (SDSU).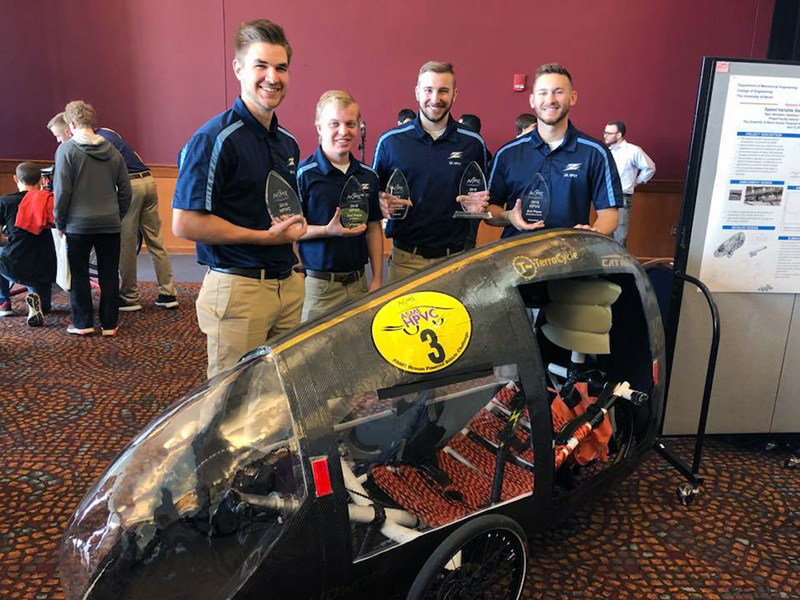 Seniors, from left, Eric Miller, Kole Williams, Chris Reed and Matt Kraml, with their car.
The American Society of Mechanical Engineers (ASME) hosts HPV competitions at Engineering Festivals (E-Fests), held each spring on the regional level at locations around the world. UA competes at the North America East regional event.
This year, 44 student teams designed and built efficient, pedal-powered, pod-like vehicles to compete in a number of categories, including innovation, design, short-distance sprints (divided into men's and women's categories), and a 1.275-kilometer endurance race. The scores from each of these events are then combined to give teams a final overall ranking.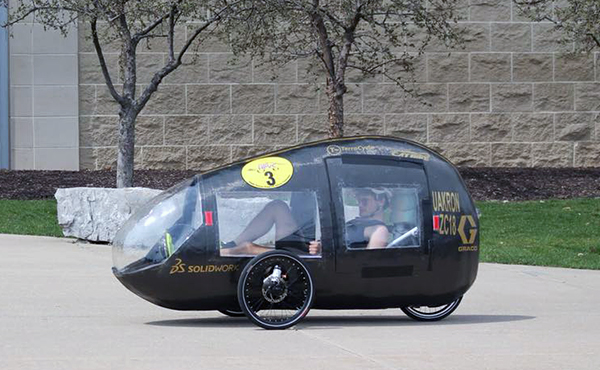 The 2018 Human Powered Vehicle created by our students is seen here being powered by a team member.
In the innovation category, UA placed third, with SDSU in fourth. In the sprint competition, UA women placed second to SDSU, while the UA men placed first. In design, SDSU gained an edge, placing first while UA placed seventh, giving UA a five-point disadvantage overall upon entering the endurance race: a 2.5-hour event on a 1.275-kilometer course in one of the parking lots of Penn State's Beaver Stadium.
In the endurance race, the team that completes the most laps around the course in 2.5 hours wins. The course includes parcel pickups, hairpin turns, speed bumps and rumble strips. UA placed second with 40 laps, while SDSU was fifth with 36 laps.
"We were on the edge of our seats waiting for them to announce the winner," says Leland Hoffman, fourth year mechanical engineering major and HPV team co-captain, alongside Chris Reed, a fifth year mechanical engineering student.
Scoring in the design competition placed the UA team two points behind first in the final tally. The members are undeterred and already working toward next year by testing changes and upgrades to their vehicle.
---
► Story by Erica Rymer
► Media contact: Lisa Craig, 330-972-7429 or lmc91@uakron.edu.
---
Related
---