UA's National Corrosion Center celebrating expansion at open house
06/17/2016

U.S. Department of Defense and University of Akron officials will join representatives from business and industry at an open house to mark the expansion of facilities and capabilities at the National Center for Education and Research on Corrosion and Materials Performance (NCERCAMP).

"The Fight Against Corrosion" is the theme of the event on Tuesday, June 21, open to corporate and government representatives who want to improve the performance of materials and lessen the effects of corrosion in their respective fields. NCERCAMP combats a costly worldwide problem, with estimates of annual corrosion damage in North America alone totaling $423 billion.

Some of NCERCAMP's new labs and expanded capabilities include:
An X-ray Diffraction Lab that is unique in the U.S., offering a variety of capabilities with easy switching from one type of experiment to another. The lab focuses on thin films, surface structure and materials at high humidity and high temperature.
A Fatigue Lab featuring two different-sized load frames that allows researchers to determine how fatigue and corrosion impact a wide variety of materials
A doubling of the number of Q-Fog salt spray test chambers so that larger numbers of material samples can be tested for corrosion under 'natural' conditions.
---
VIDEO: CORROSION EXPERTS AND LABS IN ONE PLACE
---
"What businesses and government agencies will find at NCERCAMP is a focus on corrosion — and a corresponding level of expertise — available nowhere else," said Dr. Rex Ramsier, NCERCAMP principal investigator and University of Akron interim senior vice president and provost. "And while it's possible to find pieces of what we offer elsewhere, only at NCERCAMP is everything — from the leading experts in corrosion to research to diagnostics to training capabilities — all in one place."
The tours and open house on June 21 will be kicked off by a ribbon-cutting ceremony at approximately 9:45 a.m. at Akron Engineering Research Center on the UA campus. Buses will arrive and depart from UA's Quaker Station throughout the morning and mid to late afternoon to shuttle participants to the tours of NCERCAMP facilities around campus.
Some of the companies and agencies participating in the event — which includes presentations and a dinner with speeches by several officials, along with University of Akron corrosion engineering students — include Bendix Commercial Vehicle Systems, Parker Hannifin, the U.S. Army Corps of Engineers and Wright-Patterson Air Force Base.
---
Media contacts: Dan Minnich, 330-972-6476 or dminnich@uakron.edu, or Lisa Craig, 330-972-7429 or lmc91@uakron.edu.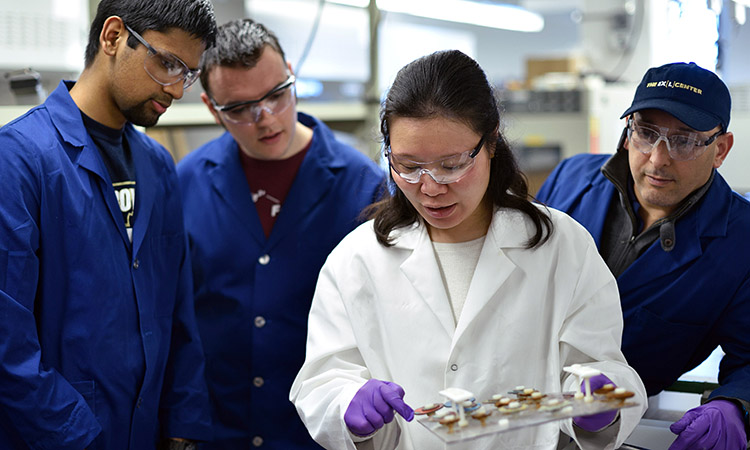 Our on-campus corrosion center will host representatitves from business and industry at an open house June 21. Attendees will tour the building that houses a series of new labs dedicated to improving materials performance.