UA voted 'Best Local College'
05/17/2019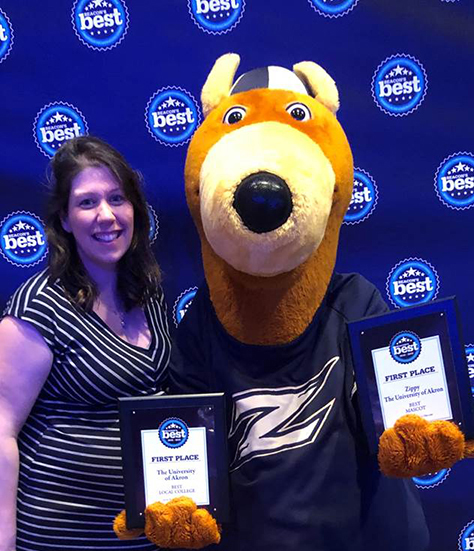 There were many area winners announced last night at the 2019 Akron Beacon Journal's Beacon Best Awards for Akron-area businesses dinner, held at the John S. Knight Center. Businesses are nominated by, and then voted on, by the public.
The University of Akron won "Best Local College" and Zippy was once again voted "Best Mascot," beating out Brutus from The Ohio State University and Slider from the Cleveland Indians. Of course, Zippy was on hand to accept the plaques for both honors. With her is Kristi Reese, associate director of alumni relations and manager of the Zippy Program.
In addition to these awards, our Audiology and Speech Center was recognized in the top three in the category of Hearing/Audiology Services.
There's a special section in today's ABJ that showcases all of the winners.
---
Media contact: Cristine Boyd, 330-972-6476 or cboyd @uakron.edu.