UA ranked in top 5 in national recycling initiative
02/13/2017

When Akron Zips football season comes around, game days typically consist of tailgating, hot dogs, popcorn, bottled beverages and of course, cheering on the team. However, during the game, the physical facilities staff is focusing on another component of game day – how to recycle and reuse the waste that builds up throughout the day.

For the 2016 football season, The University of Akron finished fifth out of 47 universities nationwide for the "2016 GameDay Recycling Challenge," where universities compete to recycle and reuse as much waste as possible during a football game. UA reached a 90 percent diversion ratio, which means the physical facilities staff was able to recycle and reuse 90 percent of the waste collected during the game. This was the first time the staff reached this lofty ratio from tailgate to postgame.

"Our staff worked really hard to achieve this diversion rate and we want to continue to reduce waste during football games and across campus," said Andrew Henry, manager of recycling, grounds, special services, parking and athletic maintenance at UA. "We found a way to recycle everything we possibly could during game day, including waste from food prep to the trash left behind from fans during tailgating."

Zips fans have three options when disposing of waste – a bin for food scraps or compost, a bin for bottles or other recyclable material and a bin for trash that cannot be recycled. The key to successful game-day recycling is to make it easy and convenient for fans. So the physical facilities staff has "recycling ambassadors" standing by to help them make the right choice. These recycling ambassadors also hand-sort the trash afterward to ensure waste is in the proper containers. The efforts paid off. UA recycled nearly 4,000 pounds of waste this past football season.

UA has participated in this competition since 2013. For all four years, UA finished in the top five nationally and in the top two in the Mid-American Conference. The GameDay Recycling Challenge is a national competition administered by the College and University Recycling Coalition (CURC), RecycleMania, Keep America Beautiful and the U.S. Environmental Protection Agency's WasteWise.
Story by Courtney Bosetti
---
Media contact: Lisa Craig, 330-972-7429 or lmc91@uakron.edu.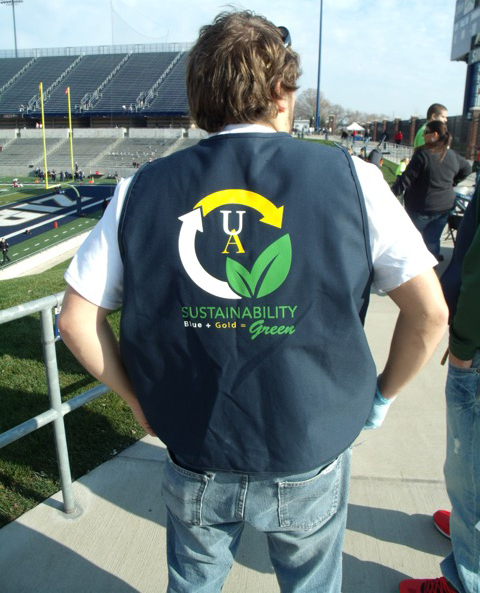 One of UA's recycling ambassadors prepares to help clean up waste after an Akron Zips football game.
---