UA professors to perform at New York's Carnegie Hall
01/23/2018

They're not music teachers, and they don't make a living as musicians. They're University of Akron law and communication professors, and they'll be performing at the world-famous Carnegie Hall with The Cleveland Orchestra Chorus.

Julie Cajigas, an associate professor of practice in the School of Communication, and Carolyn Dessin, the Aileen McMurray Trusler Professor of Law, will be singing in the alto section with The Cleveland Orchestra Chorus when the group tours New York City this week. Cajigas and Dessin will sing with the 150-member chorus on Wednesday, Jan. 24, performing "The Seasons " by Franz Joseph Haydn.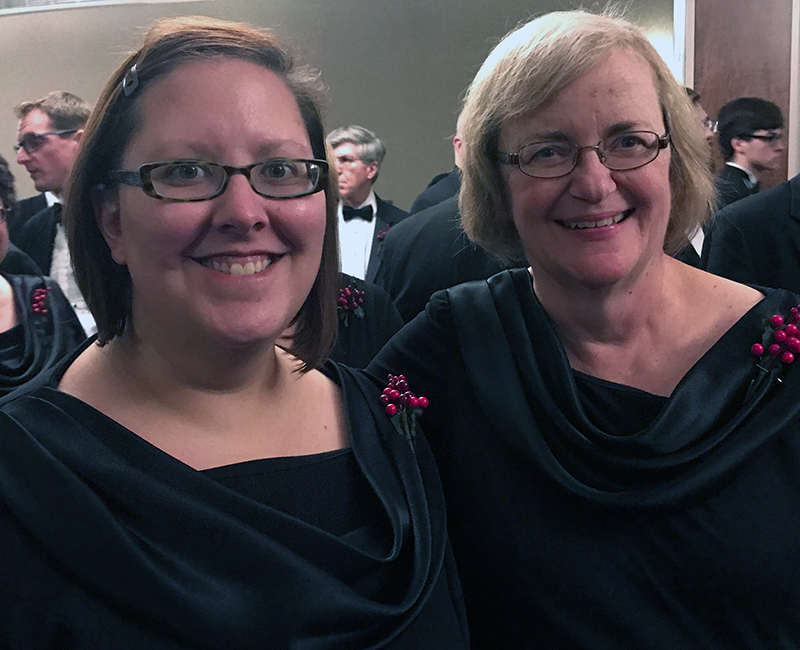 Julie Cajigas, left, and Carolyn Dessin are pictured here at a Christmas concert last year.
Dessin and Cajigas, 19-year and 13-year members of the chorus, respectively, previously performed with the group at Carnegie Hall in 2009. This marks Dessin's third performance at the hall and Cajigas' second. As members of the chorus, the pair have performed at venues in New York City and Miami, Fla., and concert halls across Europe, including a performance for the Proms Classical Music Festival at The Royal Albert Hall in London.
Sharing love of music
"I've always been a choral person, and when I came to The University of Akron in 1999 as a professor in the law school, I looked for a chorus to join," said Dessin. "Performing at Carnegie Hall is always exciting, and I am grateful for another opportunity to look out at that hall full of people who are delighted to hear the music you're making."
The professors' academic titles give no indication to their vocal talents. Cajigas teaches public relations and social media, and serves as advisor to The Buchtelite, the University's student-run newspaper. As a law professor, Dessin teaches contracts, elder law and taxation.
But, they are trained in music.
Among their various degrees, Cajigas holds a bachelor's degree in music from Cleveland State University, where she attended on a violin scholarship. Dessin earned a bachelor's degree in music education from Temple University and a master's degree in music (specifically choral conducting) from Westminster Choir College.
"Having the chance to perform at Carnegie Hall for a second time is incredible," said Cajigas. "Growing up a musician, I was very aware of its prestige, and it was a surreal experience the first time. This time, I'm excited about representing Cleveland and Northeast Ohio in New York City, and bringing a high level of choral artistry and professionalism to the stage there."
---
Media contact: Alex Knisely, 330-972-7429 or aknisely@uakron.edu.