UA Named a Collegiate Purple Star Campus
05/27/2022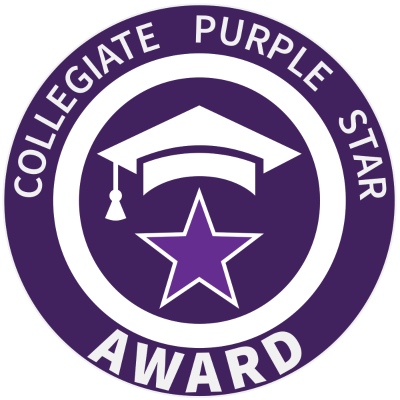 Ohio Governor Mike DeWine has designated The University of Akron (UA) as a Collegiate Purple Star Campus.
The Collegiate Purple Star recognizes those public and independent colleges and universities in Ohio that are supportive and inclusive of military-connected students. Designations are determined by a Collegiate Purple Star Advisory Committee after evaluation and recommendation. The advisory committee is appointed by the chancellor of the Ohio Department of Higher Education (ODHE) and composed of members from organizations that include, but aren't limited to, ODHE, the Ohio Veterans Education Council (with representation from two-year colleges, four-year universities, and independent institutions), the Ohio Department of Veterans Services, the Ohio Adjutant General's Department and the Military Interstate Children's Compact Commission K-12 Purple Star Committee.
Ohio Department of Higher Education Chancellor Randy Gardner lauded UA for the support the institution and its staff provide to student veterans.
"The University of Akron's Military Services Center provides veterans, service members and their families with comprehensive support ranging from tutoring and scheduling assistance to its Musson Veterans Lounge. UA exemplifies a Collegiate Purple Star campus," Gardner said.
Criteria for being chosen as a Purple Star Campus include having a dedicated military/veteran point of contact and/or office on campus, establishing priority registration for veterans and service members, surveying student veterans and servicemembers – along with spouses and dependents – about needs and challenges, and allowing for the establishment of student-led groups and organizations for veterans and service members. Colleges and universities that earn the Collegiate Purple Star designation will receive permission from the advisory committee to utilize a logo or badge signifying the designation.
"We are always developing ways for Ohio to become the best place for military members and their families to live, work and raise a family," said DeWine. "Purple Star Schools are great examples of how Ohioans can come together to support, encourage and recognize the sacrifices our service men and women and their loved ones make."
More information is available online at the Collegiate Purple Star program.
UA and Military Service
UA has a deep history of supporting military students. Following World War I, the U.S. government established one of its first Reserve Officers Training Corps (ROTC) units at the University in 1919. In fact, until 1968, all UA freshman and sophomore male students were required to participate, receiving instruction in field fortifications, hippology (the study of horses), field sanitation, map reading and infantry tactics.
The University continues to support current members of ROTC as well as other active and retired military members as they earn a degree on the UA campus. The Military Services Center at UA is located in Simmons Hall 305. To reach Mary Rossett, email veterans@uakron.edu or call 330-972-7838.
---
Media contact: Cristine Boyd, 330-972-6476 or cboyd@uakron.edu
Share