This UA student and mom of two is succeeding with the help of Adult Focus
10/21/2019
Before enrolling as a student at The University of Akron, 24-year-old Marisa Peterson was working a factory job and raising her first child.
"If the day care hadn't supplied food for my son, we would have gone hungry," says Peterson. She enjoyed working in the factory but knew she couldn't make a living off of it. That's when she decided to go to college.
Peterson, now a mother of a 6-year-old boy and a nearly 2-year-old girl, is a mechanical engineering major at UA. Before delving into her engineering courses, she first sought guidance and assistance from a department called Adult Focus.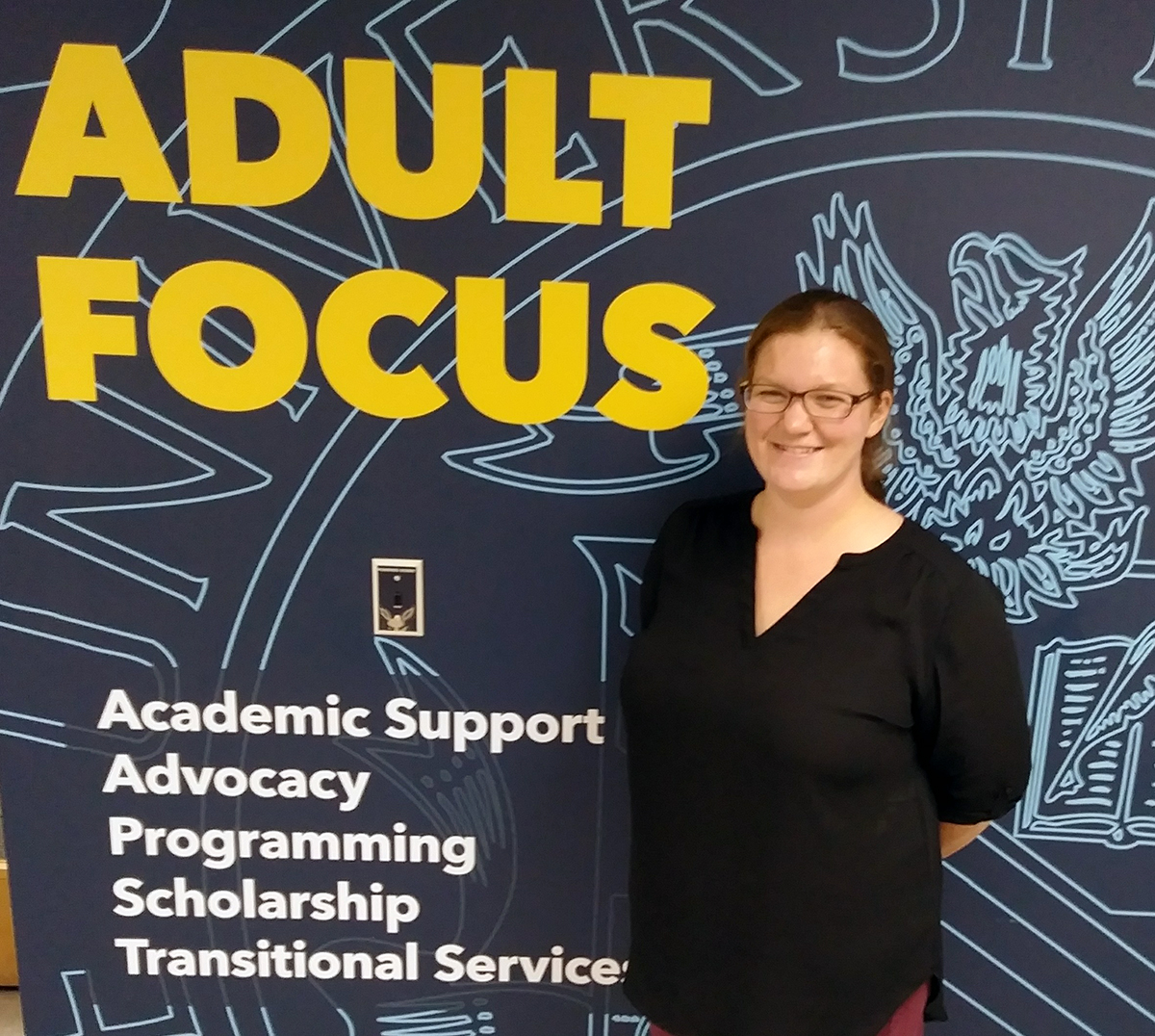 Future engineer Marisa Peterson is seen here in the UA Adult Focus office, where she also works as a student assistant.
"Without Adult Focus, I wouldn't have come back to college because I wouldn't have known where to start," says Peterson.
Adult Focus is an academic support center at UA for students "whose primary life roles and responsibilities exist independent of the University and take precedence over the role of student in times of crisis or stress." The center is dedicated to outreach, retention and financial advocacy.
On track for a diploma
With the help of Adult Focus, Peterson was able to obtain enough financial aid and scholarship money to avoid loans this coming academic year. Adult Focus also helped set Peterson onto a track that will leave her graduating right on time in May of 2023.
"When I first came to Adult Focus in spring [of 2018], they told me they needed to test my math skills because engineering is heavily centered in math. At that point, it had been five years since I'd been in high school," recalls Peterson, who realized that her math might not be up to par.
That's how Peterson became involved in Adult Focus' enrichment program, or College Access Bridge Program, which allows students to take free classes in developmental math before enrolling in for-credit courses.
"It's a great program," says Peterson, "especially for adult students like me who have been out of school for so long. It's good just to get back into a classroom so you know what to expect when you go back to a full-time course load. It helps you ease back into it."
Getting a jumpstart
The program requires students to take two sets of placement tests. The first is taken before the program begins to determine which math class a student should take. The second test is taken after class completion. Peterson first placed into a developmental or noncredit course to prepare her for college math, but with the help of the Adult Focus College Access Program, she was able to later test into Calculus 1. Without the program, Peterson would have been a year behind in math courses.
Peterson is grateful for all Adult Focus has done for her and now enjoys helping other students as a student worker in the Adult Focus office.
"There isn't a single person who calls the Adult Focus office who won't receive help in some way," says Peterson.
The UA student wants adults considering college to know that the time spent away from school can be a strength, not a weakness. The skills developed during their time away from education can help them succeed in college.
"The biggest piece of advice I can give someone looking to further their education is this: Don't give up on yourself even when things seem like they're impossible. There will always be somebody to help you if you search for it," says Peterson.
To learn more, visit UA Adult Focus online.
---
► Story by Madeline Myers
► Media contact: Cristine Boys, 330-972-6476 or cboyd @uakron.edu.
---
Share