'Team Audrey' helps young dancer make all the right moves
03/30/2017

Summit DD honored five of our students today with its 2017 Community Impact Award for their volunteer work designing a prosthetic leg for a 5-year-old with a love of dance.

"It was such a rewarding project," said Travis Pero, a member of the biomedical engineering student team that designed the leg. "It was gratifying to see how what we have studied could improve the quality of her life."

Audrey had her left foot amputated at 15 months. Each time Audrey received a new prosthesis, it was too big by design, to allow room for growth. A loose prosthesis could be made snug by wearing layers of cloth. But that made dancing difficult. And worst, the prosthesis snagged her tights.
VIDEO: MEET AUDREY
Travis and his fellow engineers went to work. Over six months and several visits to Audrey's home, they grew attached to the happy, energetic youngster who aspires to teach dance.
Team's success has lasting effect
Their first renderings of her prosthesis had too many straps, too many movable parts for someone as active as Audrey. The team simplified the design, finally creating a soft cast or "check socket" that provided a snug fit around the ankle and more flexibility higher up, to allow for her growth. It fit well. From that, they created the final prosthesis.
The finishing touch? A pattern on the outside of Olaf from the film "Frozen." She absolutely loved it.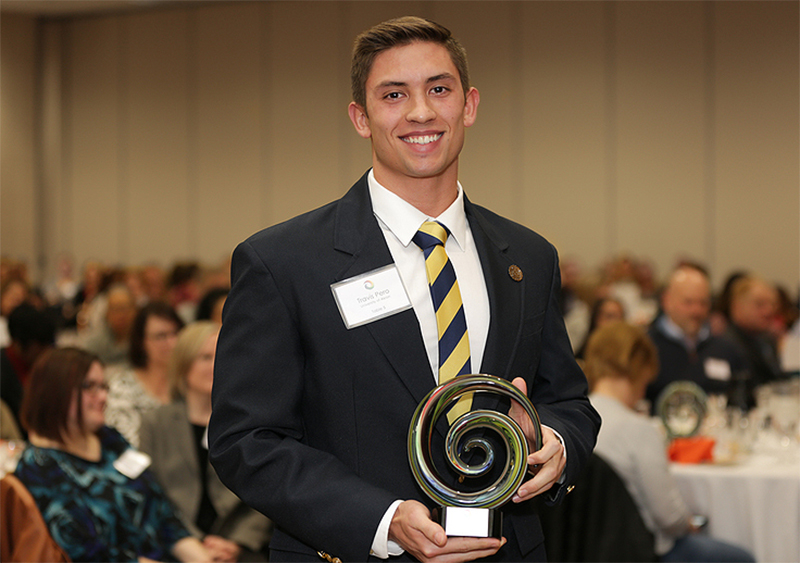 Travis Pero accepted the Community Impact Award on March 30 on behalf of his teammates.
---
The project's end was somewhat bittersweet.
The team was delighted by how they improved Audrey's life.
"We were so touched by her and her story," noted Pero. "We were really motivated to help her because she was so happy all the time. We all take for granted things like our left foot. Audrey hasn't had that since an early age, yet that's not slowing her down at all. She is inspiring."
But they were saddened to know that, with the project finished, they wouldn't see her regularly.
"Not many engineering students get to see their work pay off like this," Pero said. "I feel lucky to have come to UA, where I can get these kinds of experiences."
Meet the team:
Logan Belew is a junior from East Canton, Ohio. He is studying biomedical engineering/instrumentation, signals and imaging.
Steve Conklin is a junior from Montville, Ohio. He is studying biomedical engineering/biomechanics track.
Nolyn Martz is a junior from Hudson, Ohio. He is studying biomedical engineering/biomechanics track.
Travis Pero is a junior from Norton, Ohio. He is studying biomedical engineering/biomaterials major/tissues track.
Will Rasper is a junior from Stow, Ohio. He is studying biomedical engineering/biomechanics track.