Surveying and mapping students benefit from donated technology
03/25/2020

The University of Akron's nationally recognized Surveying and Mapping program received new technology from Leica Geosystems that will give students the opportunity to work with the latest equipment and increase their skillsets.

The Switzerland-based surveying products company recently donated a Leica C10 Laser Scanner to the program. Light Detection and Ranging (LiDAR) technology is commonly used in capturing 3D data "point clouds" from tripod-mounted scanners and different types of aircraft, including unmanned aerial vehicles. Scanners also capture 360-degree imagery to colorize the point clouds. Such laser scanners are expensive and can cost upward of $100,000.

Point clouds are sets of data points in space that are produced by 3D scanners, which measure many points on the external surfaces of objects around them. These scanners help create 3D computer-aided design models of land and architecture.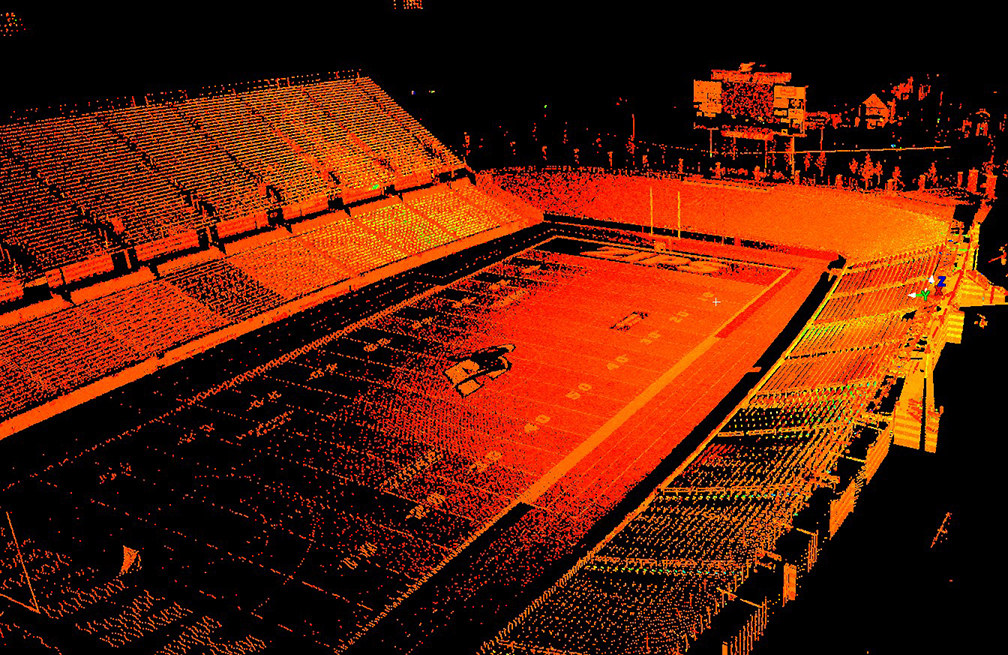 InfoCision Stadium is shown through reflected light intensity following an LiDAR scan. — Photos by Gary Schuller.
Seniors Eric Arters, Alliance; Chase Sommers, Hartville; and Ethan Straub, Westlake, have collected LiDAR data using the Leica equipment during the spring semester as part of their Surveying Project capstone course. Sommers and Straub performed a comprehensive scanning project of InfoCision Stadium with 20 vantage point scanner setups that resulted in 150 million data points. Arters captured exterior building data that is used to create a printable 3D model from imagery and scanned data. He supplemented the scanned data by capturing aerial photos from varying heights using unmanned aerial systems.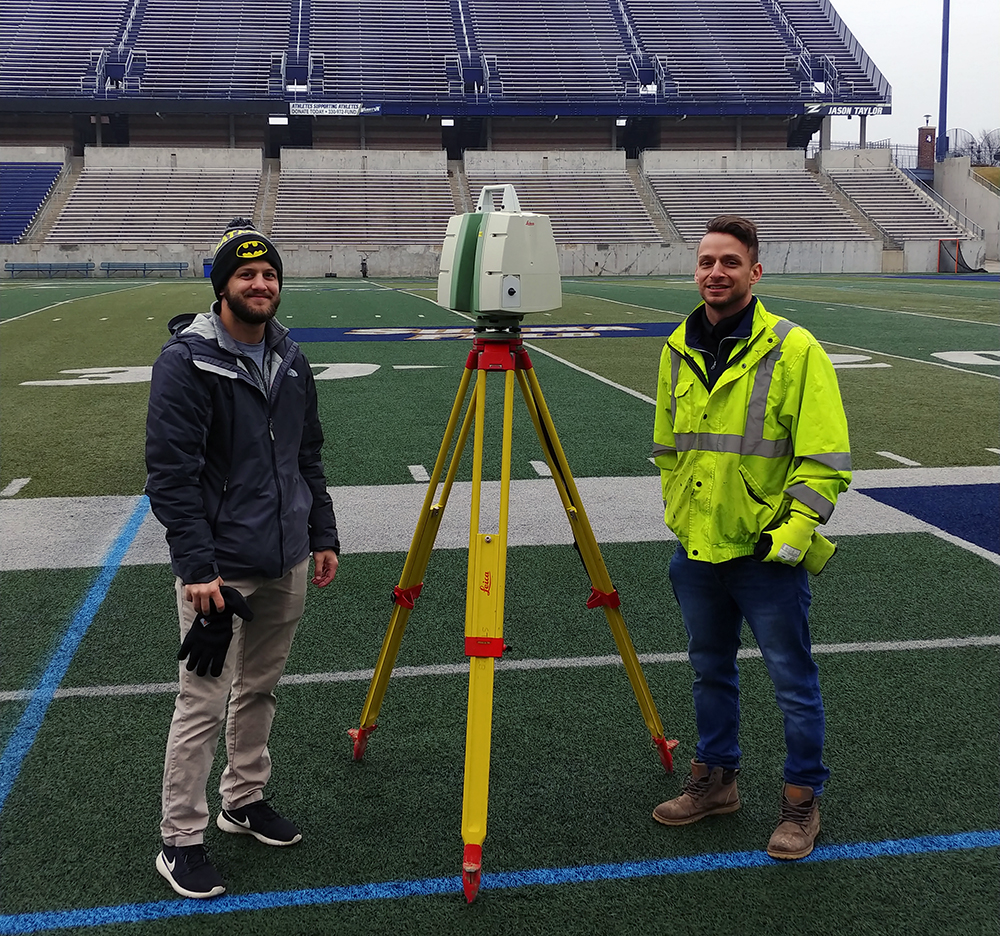 Chase Sommers (left) and Ethan Straub setting up for a LiDAR scan inside InfoCision Stadium.
"The laser scanner equipment donated recently by Leica Geosystems provides a real boost to surveying education at The University of Akron," said Professor Gary Schuller, director of the Surveying and Mapping program in the College of Applied Science and Technology. "Used by many surveyors today, LiDAR technology helps in creating digital 3D representations of a project area. Such 3D models are often used for mapping and for decision-making in engineering and architectural design. The opportunity to perform 'hands-on' study of laser scanning applications will give our students a real edge in the marketplace as they launch their professional surveying careers."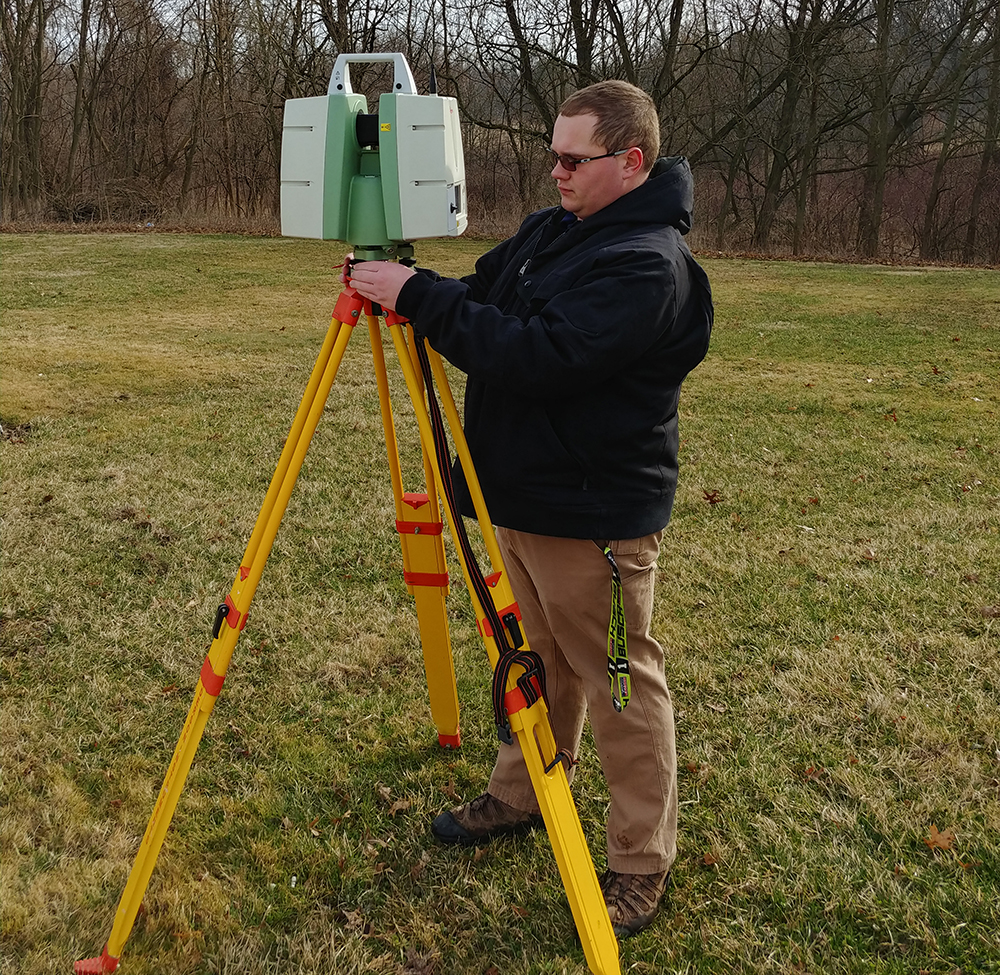 Eric Arters setting up for a LiDAR scan.
UA's Bachelor of Science in Surveying and Mapping program is the only ABET-accredited program in the state of Ohio and one of only 23 such programs in the U.S.
For more information, contact Program Director Gary Schuller at 330-972-7122 or gas1@uakron.edu.
---
Media contact: Alex Knisely, 330-972-6477 or aknisely@uakron.edu.