Students take research into their own hands
04/11/2019

The University of Akron encourages students to be entrepreneurial and enterprising. Students are encouraged to identify problems and find solutions to solve them, and UA does whatever it can to help. When doctoral students Scott Swiatek and Matt Williamson determined there were not enough opportunities to share student research across campus, they came up with an event all their own. The first-ever University of Akron Interdisciplinary Symposium" (UA-IS) was held on April 9 from 8 a.m. to 4 p.m. in the ballroom of the Jean Hower Taber Student Union.

The theme of the symposium was "Inclusion and Distinction through Scholarship." Students from every discipline were invited to apply to present their scholarly works. To encourage participation, UA-IS gave awards to students presenting the highest quality scholarly work in their respective fields, with cash prizes awarded for the best graduate and undergraduate student presentations from each college.

A total of 72 research projects were submitted from the Buchtel College of Arts and Sciences, College of Business Administration, College of Health Professions and College of Engineering.
Spotlight on student work
"Presenting research is important, but there wasn't an event dedicated to it on campus," said Swiatek. "Our mission was to advocate for student success, highlight the work of UA students, and create a lasting platform to spotlight and recognize excellence in student scholarship, creativity, community-engagement and collaboration. We feel confident that we achieved that."
"It's nice to know that we started something that can help students of all disciplines," added Williamson. "We saw the need and just went for it. That's the kind of environment UA is – if you want to make something happen, people will help you to do it. Now students can have this experience for years to come."
Swiatek (Northfield, Ohio) and Williamson (Canton, Ohio) both expect to graduate with Ph.D. degrees in sociology in 2021. Much of their studies focus on evaluating issues and finding appropriate solutions. To get started on the formation of an interdisciplinary seminar, they used their analysis skills and assembled a planning committee composed of Eric Victory, Jodi C. Noland, Katie Bullock and Matthew Walker (all graduate students in the Department of Sociology), as well as Savannah Sprankle, an undergraduate student in marketing management and graphic design.
In addition to the planning, promotion and execution of the event, Swiatek and Williamson (with assistance from former Sociology Club President Megan Delong, Psi Chi officers Michael Vale, Ian Parthemer and Sarah Pack) applied for and were awarded initial funding for UA-IS via the EX[L] Center's "Student Driven Initiative Award" competition. From there they approached the deans of each college and quickly gained financial support from the Drs. Gary B. and Pamela S. Williams Honors College, Buchtel College of Arts and Sciences, College of Engineering, College of the Health Professions, College of Business Administration, College of Applied Science and Technology and Alpha Kappa Delta Sociology Honors Society.
Welcome opportunity
"I was excited to be part of this team because I realize how valuable this experience can be for students," said Victory. "Not every student has the financial means to attend off-campus conferences to present research, but an event like this gives students the opportunity to present their works at UA while expanding their network, building self-confidence and finding potential collaborators for future projects."
In addition to research presentations, the event also featured an invited talk delivered by Dr. Mark Tausig, emeritus professor of sociology, on the value of scholarship, the role of faculty members who mentor students, and the value of student engagement with research and the community. His research covers health disparities, and he has worked with a variety of faculty members to develop community-based research projects.
Another session, "Scholarly Publishing: Some Questions and Answers for Graduate Students and Faculty," featured a panel of experts who shared key aspects in the scholarly publication system — the peer-review process, evaluating and choosing where to publish and the cost of scholarly materials. The session featured dual perspectives of the scholarly publication system — two panelists represented the publishing industry and two panelists represented academic institutions.
"The University of Akron is home to enterprising students looking for opportunities to learn and grow," said Dr. Robert Peralta, associate professor of sociology at UA. "I am proud of these students for identifying a need and taking the initiative to build something that all students can benefit from."
A number of the research submissions were featured during dedicated poster presentation sessions. Those receiving cash awards for their research included:
College of Engineering
Pradip Shahi Thakuri – graduate
Aida Shahrokhian – graduate
Madison Plaster – undergraduate
Hariharan Rangarajan – undergraduate
College of Business Administration
Sydney Bornstine – undergraduate
Sara Woika – undergraduate
Courtney Rosekelly - undergraduate
College of Health Professions
Megan Leas – graduate
Eman Tadros – graduate
Abby Perkins – undergraduate
Katherine Allensworth - undergraduate
Buchtel College of Arts and Sciences
Austin Garner – graduate
Molly Hartsough – graduate
Brynne Burgy – undergraduate
Sierra Swisher - undergraduate
The EXL Center also offered Community Engagement Award to the top three research submissions that impacted the community. Winners included:
Dipak Pukale – graduate
Eman Tadros – graduate
John Marke – undergraduate
Rachel Stevens – undergraduate
---
Media contact: Cristine Boyd, 330-972-6476 or cboyd @uakron.edu.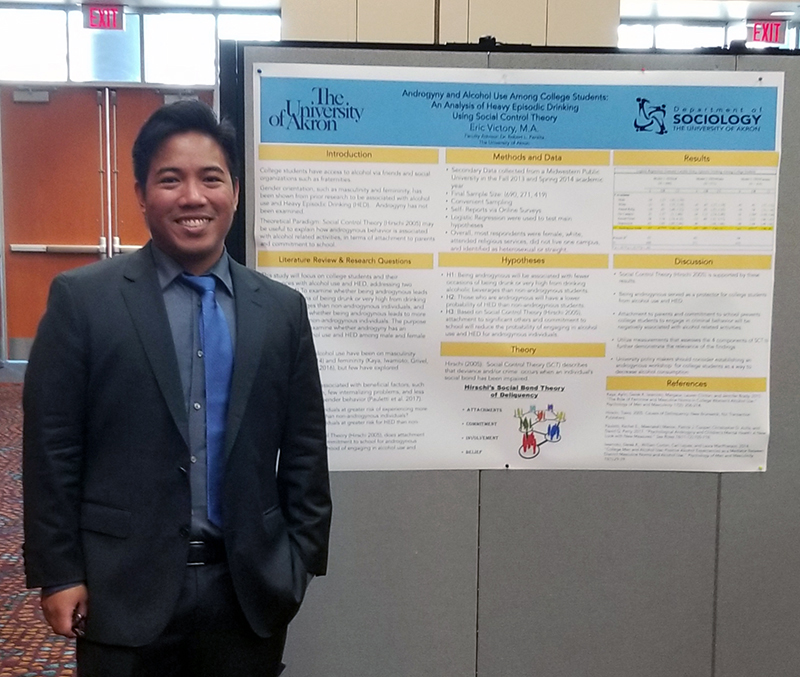 Graduate student Eric Victory presented his research on "Androgyny and Alcohol Use Among College Students."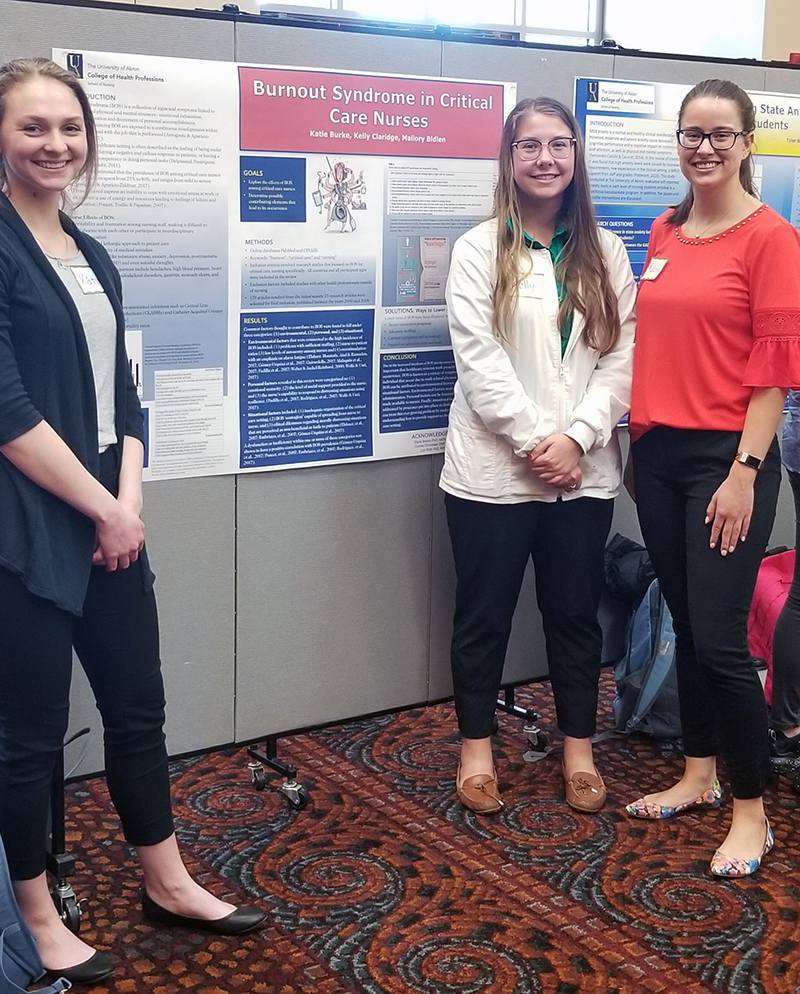 Katie Burke, Kelly Clarkridge and Mallory Bidlen discuss "Burnout Syndrome in Critical Care Nurses" during their presentation.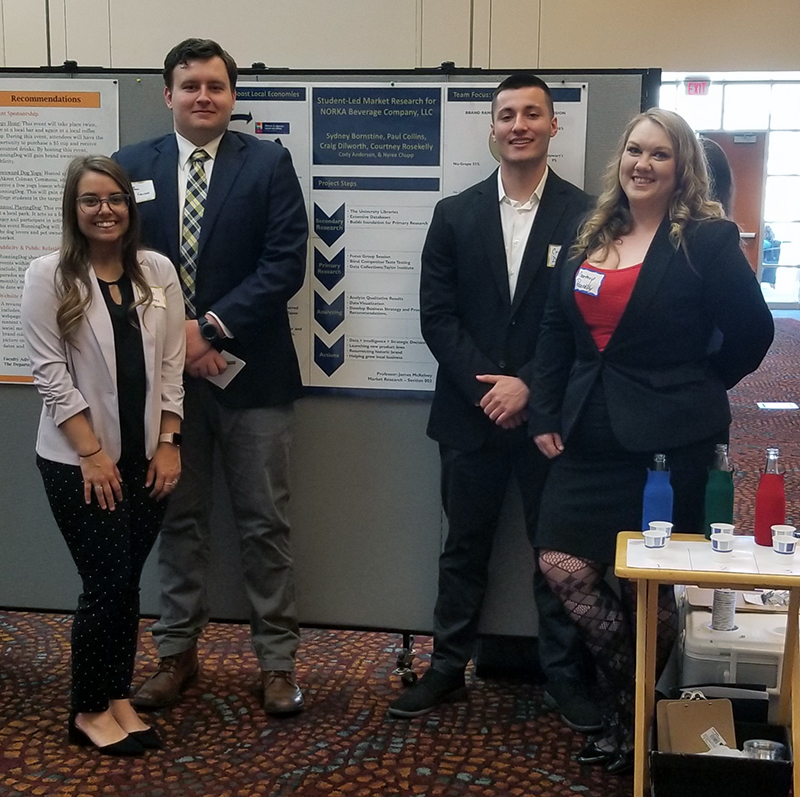 Cortney Rosekelly, Paul Collins, Craig Dilworth and Sydney Bornstine share the market research they conducted for NORKA Beverage Company, an Akron-based craft soda producer.