Students, staff work together to beautify an overlooked courtyard on campus
09/02/2021
Is there anything better than turning a corner or walking across a bridge and then voilà—an unexpected, almost hidden oasis of green space, gardens and art that takes your breath away, in part because you had no idea it was there. Or didn't appreciate it.
At UA, there was an overlooked courtyard in the middle of Schrank Hall South that sits on top of a parking deck. Very few members of the campus community even knew it was there.
In brainstorming ways to celebrate the 150th anniversary of The University of Akron and reinvigorate the space, the College of Engineering and Polymer Science enlisted the creative help of UA's Arts LIFT and Art Bomb Brigade programs to create a vibrant, open, and welcoming space for the campus community.
"Our campus partners, and in particular the very talented individuals at Myers School of Art, came together for our campus and for our students with this project," says Dr. Craig Menzemer, interim dean of the College of Engineering and Polymer Science. "I look forward to see this outdoor space full of students studying and socializing."
The artistic vision and implementation were led by Dr. Elisa Gargarella, associate professor in the Myers School of Art, and UA alumnus Dan Coffield, Arts LIFT, who welcomed 12 Akron Public School high school students to reimagine the space. Learning landscape design and new sculpture techniques, student designed and implemented local floral, lighting, hardscaping and colorful totems to create a whimsical space on campus. Art Bomb Brigade lead artist and co-director Marissa McClellan designed and painted the area with a colorful mural on the concrete floor around the gardens in the courtyard with a crew of UA students and alumni.
Gargarella believes that the Schrank Hall courtyard provided the perfect canvas to give participants in Arts LIFT and Art Bomb the chance to apply their art and design skills, much like engineers do, in a large-scale way.
"I always aim to create quality integrated arts programming for teens, college students, and alumni that put them in the charge of creative placemaking in their communities," says Gargarella. "I was so honored and excited that the College of Engineering and Polymer Science trusted us and the young people we work with to endow their special place with some high impact public art. It's my hope that the courtyard becomes a special place for faculty and students to study, eat lunch, make friends, fall in love, and create lasting memories of their time at UA!"
"The Art Bomb Brigade brings UA's presence brightly into Akron's neighborhoods, and we're thrilled they brought that inspiration to our campus," UA President Gary L. Miller says. "Our community can enjoy a wall mural completed last fall in Bierce Library and now this summer a ground mural in the Schrank Hall courtyard. Like all their work, these murals were executed by a highly successful design team of UA students and alumni experienced in working with community partners to create large-scale imagery that reflects, connects with, and enhances the physical landscapes and built environments."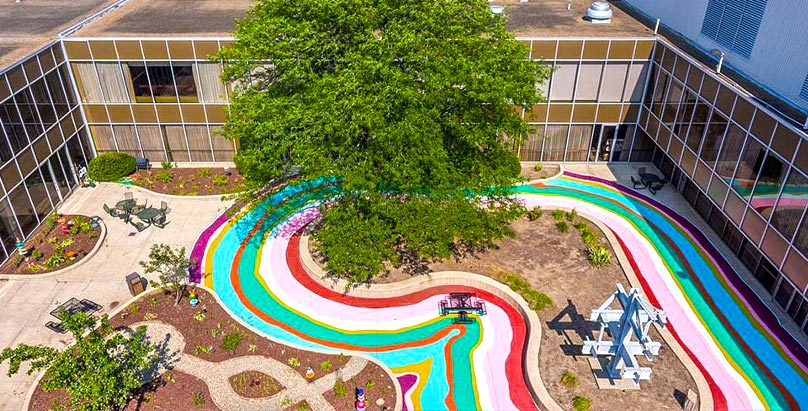 The project team within the College of Engineering and Polymer Science was made up of the following: Kelly Bray, marketing and communications director; Katey Yinger, administrative services coordinator; and Daniel Preacher, administrative assistant Dean's office. In addition to Myers School of Art's Art Bomb Brigade and Arts LIFT Programs, the team enlisted the help of UA grounds and facilities personnel, UA Capital Planning department, and even the UA Police department to ensure the doors remain unlocked during the day. The Fir Hill Garden Project transplanted herbs and Dr. Jennifer Lillard in the Department of Chemical, Biomoledular, and Corrosion Engineering created a plaque that explains an art structure in the southwest corner of the courtyard.
"The process was incredible," remarks Bray. "The arts team are pros and delivered on our vision to add color and life to the space. Coming together is so important – and your surroundings matter."
All people, especially college students, deserve to have a beautiful space to learn and connect with people, Bray continues. "There is unlimited potential with what we can do with the space in the future. We're hoping students make it their own, create an interactive space for performances, music, student events, whatever they can imagine."
The space is open to the entire campus community but will primarily be used by engineering technology, engineering, and nutrition students who take classes in Schrank and the nearby Auburn Science and Engineering Center.
---
Media contact: Lisa Craig, 330-972-7429 or lmc91@uakron.edu.
Share