'Stranger Beings: Hieronymus Objects & Other Curiosities' exhibition open
09/27/2019

The familiar becomes twisted, morphed and surreal in Emily Davis Gallery's new exhibition, "Stranger Beings: Hieronymus Objects & Other Curiosities." The exhibition has works from the regional Hieronymus collection, including pieces from Kiki Smith, Keith Haring, David Salle and Tip Toland, in conjunction with six Ohio artists. Collectively, the works create an exhibition of evocative imagery through a variety of mediums. The result is a fusion of hyperrealism with a sensual masquerade of the bizarre.

"Stranger Beings" is on view now through Nov. 22. Gallery hours are Monday through Friday from 10 a.m. to 5 p.m.

On Tuesday, Oct. 29, at 6 p.m., there will be a discussion with Rick Rogers, owner of Hieronymus, focused on collecting art.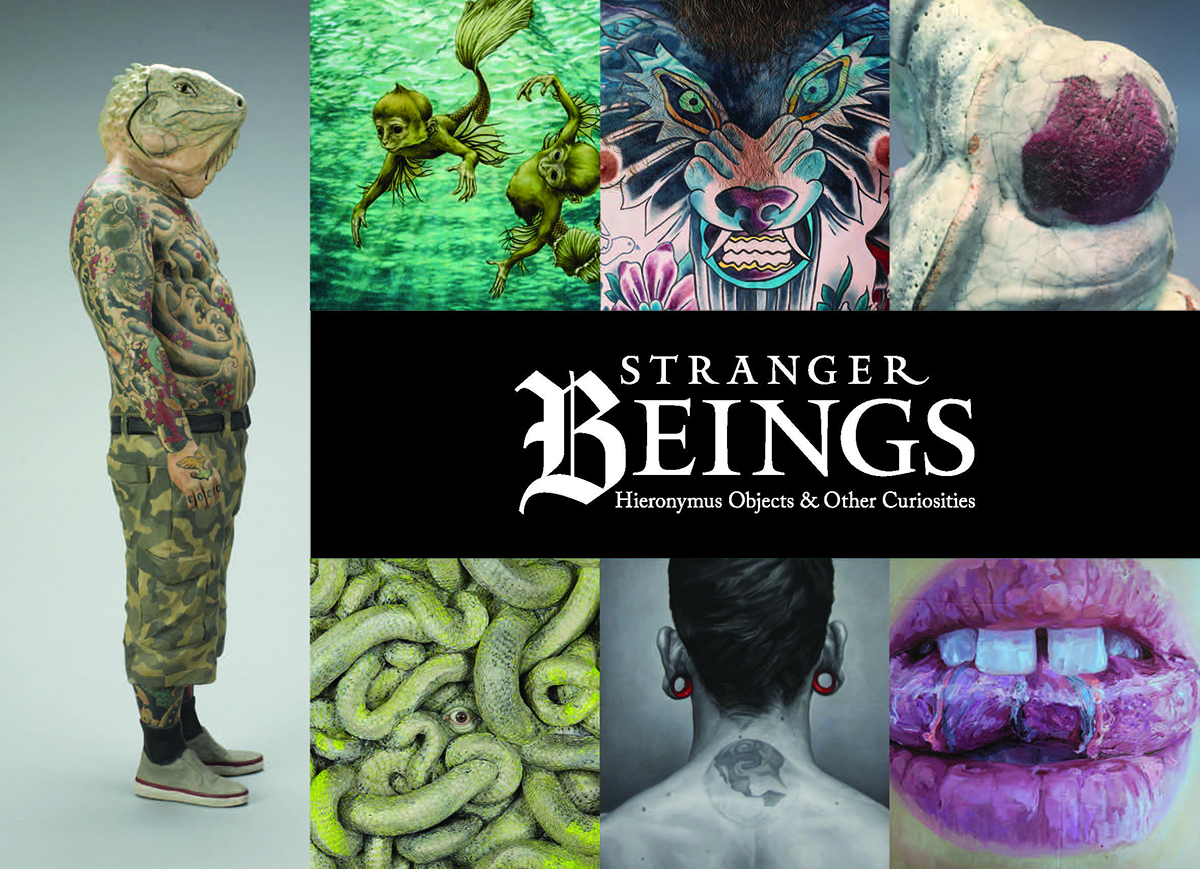 Artwork from Hieronymus has been previously displayed in "Gross Anatomies" at the Akron Art Museum in 2017 and at "Pish Posh" during Front 2018. The collection borrows its name from the artist Hieronymus Bosch, whose work subverts convention through fantastic representations of humans and the world that simultaneously inspire terror and delight. This aesthetic is mirrored by a collection composed of paintings, sculptures, ceramics, prints, decorative arts and other mediums that straddle the line between the vulgar and the sacred. Hieronymus states that the collection "is built around an appreciation for experimentation; sensuous, biomorphic forms; refined, carefully wrought materials; a sense of humor and whimsy." Masterful technique and craft are other unifying characteristics of this collection.
Exhibit includes works from around the state
Within this spirit, six Ohio artists have been selected as complementary to the collection and each other.
Mark Giangaspero's portraits are intimate representations of human strength and fragility. His subjects, some of whom are friends and family from the Akron area, challenge the viewer to bear witness to their vulnerability. Giangaspero's work has been shown at Tregoning & Company in Cleveland, the Butler Institute of American Art in Youngstown, and the National Portrait Gallery in London. Two of his pieces are part of the Butler Institute of American Art permanent collection.
Drew Ippoliti's most recent ceramic work is inspired by the economic history of Korea, where he spent the first half of 2019, an opportunity made possible by a Fulbright Scholar Fellowship award. With a wealth of new perspectives gathered from a series of interviews, he explores surfaces and forms while examining the layers of people's lives and stories shaped by internal feelings and external forces. This fall, Ippoliti returned to The University of Akron to continue his role as assistant professor in the Myers School of Art and coordinator of ceramics.
Through ceramic figures, Kelly McLaughlin explores how humans have historically interpreted the world around them and imbued their creations with their own image. McLaughlin states that her work is created "using a combination of personal experience, psychoanalysis, and anthropology ..." The viewer is drawn into a confrontation with the art "through color, scale, realism, and eye contact." McLaughlin is currently working on her MFA at Ohio University. Her art has been exhibited around the country in locations such as The Humanities Forum in Anchorage, Alaska; the Fulcrum Gallery in Tacoma, Wash.; and Majestic Galleries in Nelsonville, Ohio.
Canton native Erin Taylor Mulligan counts Hieronymus Bosch among her influences. Her paintings are a menagerie of fanciful creatures that distort the familiar, like winged ermines (ferret-like mammals) and monkeys with fish tails, and often appear both freakish and adorable. She describes herself as "an explorer with a pencil and a brush in a completely endless landscape of anything imaginable" translating the world in unique ways. Mulligan's work, created using a glaze method she learned while working with Massillon artist, Frank Dale, has shown at various locations including Canton Museum of Art, Massillon Museum, and Cyrus Custom Framing and Art Gallery.
Frank Oriti's oil paintings are faithful representations of natural and man-made textures so remarkably rife with detail they become palpably lifelike. Although Oriti works within the traditional realm of realism, his subjects are elevated from the mundane with hyperrealistic vigor. In 2013, Oriti was awarded the Cleveland Art Prize Emerging Artist Award. His work has been included in recent exhibitions at RJD Gallery in Bridgehampton, N.Y., The Bonfoey Gallery in Cleveland and The National Portrait Gallery in London.
Katy Richards's "Mouth" series abstracts the lips, teeth and the tongue to create an independent entity that conveys a carnal playfulness through lush, veiny textures. Other works explore parts of the body in a similar fashion that gives personality to and magnifies the power of skin. Richards is currently a part-time painting and drawing professor at Kent State University. She is represented by HEDGE Gallery in Cleveland and was awarded the Ohio Art Council Award of Individual Excellence in 2017.
For more information about exhibitions or events, call 330-972-5950, visit the Emily Davis Gallery online, or on Facebook.
Media contacts: Lisa Craig, UA media relations specialist, 330-972-7429 or lmc91@uakron.edu.