Second Chance: UA student to complete 23-year journey to graduation
05/07/2019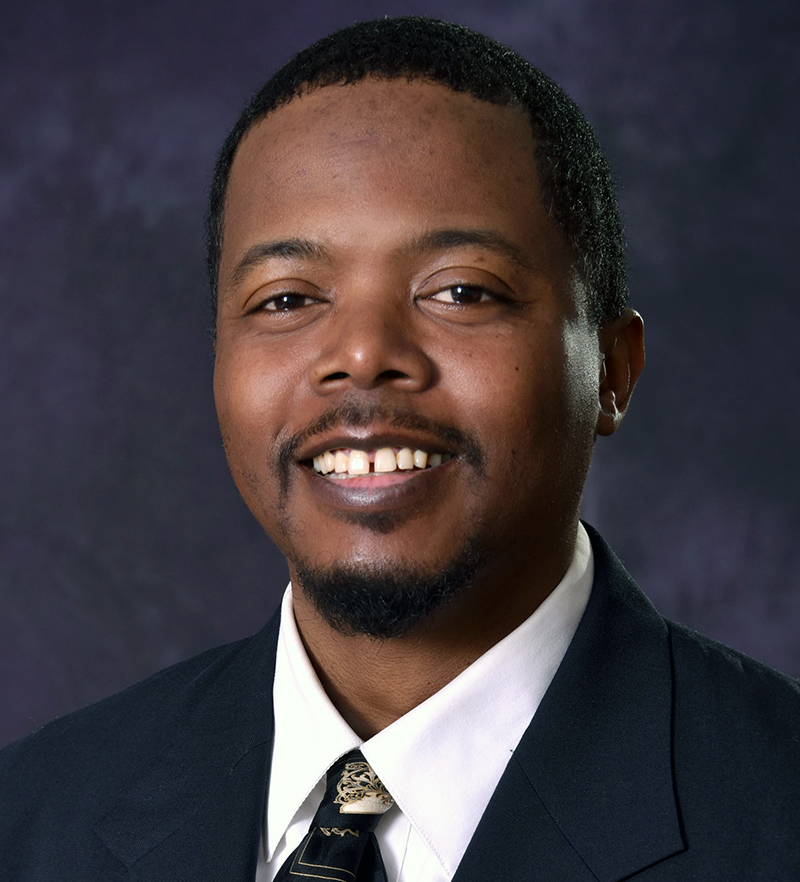 "When we wake up and our feet touch the floor, that's our opportunity to make ourselves better," says Darcius L. Linton Sr. "Every day we wake up, we're getting a second chance."
Linton, 41, will wake up on May 12 to take the last steps of a 23-year journey when he walks the stage at the 2 p.m. commencement ceremony at E.J. Thomas Performing Arts Hall to receive his diploma from The University of Akron.
He has come a long way, saying that he once doubted whether he would live to see the age of 21, let alone earn his bachelor's degree.
"I can probably count on one or two hands the number of people that made it out of my neighborhood in the north side of Cleveland," he says. "Many of them are either dead or in the penitentiary."
To Linton, who as a child wanted to be an architect – and to someday build his mother a house – higher education was the way to a better future. So, in 1996, he enrolled at UA and studied civil engineering.
His first year went well, but the following summer was the beginning of a downward spiral.
First, his close friend was murdered – on the very night, in fact, when Linton had planned, before he happened to change his mind, to hang out with that friend to watch Mike Tyson fight Evander Holyfield on TV.
Then, on the same day that he learned of his friend's death, Linton discovered that his father – with whom Linton had reunited after 10 years of separation – had cancer. Linton's grandfather had also been diagnosed with cancer earlier that year, and would die the next year.
"At this point, I was in shambles," Linton says. "How could I go back to school? How could I finish? … My mind was cloudy … I just began drinking and partying to take the pain away."
Linton returned to school in the fall, only to be dismissed for poor grades. He successfully appealed his dismissal and returned, but was dismissed again. He left in 2000 with debt from student loans and two daughters and a wife to support.
For the next decade, Linton worked any and every job he could. His father – whose cancer was in remission at this time, and who had emerged from alcohol and drug addiction to become a hardworking and respected member of the community – was able to get him various jobs with the city of Cleveland.
"I did a variety of things – water department, meter readings, streets maintenance, garbage detail, it didn't matter," Linton says. "I was just happy to be working consistently."
But Linton, who by 2012 had a third child to support, continued to struggle financially; and, working dangerous jobs, he kept getting injured. Once, when he was 20 feet down a sewer hole, a four-foot clay pipe fell on him, injuring his leg.
"So I was injured pretty good," Linton says. "And my father pretty much told me at that time, 'You might wanna think about getting up out of them holes.'"
Then his father gave him "the best and most honest advice," Linton says.
"Look, son, you are smarter than I could have ever been. I didn't graduate college – I never even finished my GED. Darcius, you need to finish what you started and get your degree. … That's how you obtain a better position, and that's how you be a man."
In March 2013, Linton received a letter from the Ohio Attorney General's office, saying he had made his final payment on his debt from student loans. Then, just after the birth of his fourth child, he enrolled at a local community college to pursue an associate degree in construction engineering technology.
"I started seeing those grades – A's, B's," Linton says. "And it wasn't that the curriculum was easy, it was just that it started coming back to me, as if I hadn't missed a beat."
But, he says, "life never stopped happening."
"We learned that my father's cancer had got worse, when we thought it was gone," Linton says. "He got cancer of the liver. … I witnessed my father take his last three breaths Feb. 19, 2014."
Only nine days later, Linton's grandmother died.
"I was hurt to the core of my soul at this point," he says. "But somehow, through it all, I stood strong. I maintained my focus. Knowing what I needed to do in order to better myself, as a man, and most importantly as a father … there was no time to grieve. I committed to channeling all the emotion, negativity around me, the late nights, early mornings, my career, and poured that energy into my school work."
In July 2015, while still attending community college, Linton was hired at Brigadier Construction Services in Twinsburg; and that December, with his family watching in the crowd, he graduated with his associate degree.
The following spring, he returned to UA to pursue his bachelor's degree in construction engineering technology.
Since March 2017, Linton has been working as a project engineer and inspector at G. Stephens Inc., a construction management firm in Akron. He hopes to get his professional engineering license and construction manager license in the near future.
Above all, as Linton celebrates the end of his 23-year journey, he hopes that his story will inspire others, including his five children. The two oldest have already earned associate degrees through the Akron Early College High School and UA.
"I know there are freshmen, sophomores, juniors, who are struggling," he says. "They don't have enough money, they don't have enough resources, they might come from a broken home, their parents might be addicts, they might have had to raise themselves … they may even be homeless. … I just want to be another person to let those people know that you can do it.
"I give thanks to God every day that he gave me a second chance. It is only through him that I have the strength, will and ability to get up every morning, kiss my children goodbye, and leave out the door."
Linton adds that while he may not have built his mother a house, he hopes the diploma will suffice for now.
"To be able to get a second chance at education, and make my family proud, and allow my children to see this, come May 12, and to hand my mother that bachelor's degree, and say, 'Mom, I did it,' man, that's priceless."
---
Media contact: Alex Knisely, 330-972-6477 or aknisely@uakron.edu.