Robert J. (R.J.) Nemer named dean of University of Akron College of Business
01/04/2022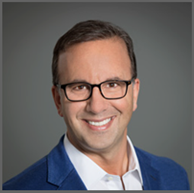 Robert J. (R.J.) Nemer
An attorney by education and entrepreneur by trade, Robert J. (R.J.) Nemer was selected as the new dean of The University of Akron (UA) College of Business. His appointment begins Jan. 31, 2022, pending approval by the University Board of Trustees.
In this role, Nemer will provide executive oversight of the day-to-day operations of the College, including increasing overall enrollment, enhancing student outcomes, improving faculty relations and attracting a diverse student body. He fills the position following the retirement of Susan Hanlon, longtime faculty member who served as interim dean.
"We are so excited to have R.J., a two-time graduate of The University of Akron, in this important leadership role as dean of the College of Business," said John Wiencek, UA's executive vice president and provost. "R.J. has the innovative spirit that is the hallmark of our Zip graduates, and we are thrilled to have him lead the College of Business at this pivotal time."
"It's an incredible honor and opportunity to be the next dean of the College of Business," said Nemer. "My time at The University of Akron was an integral part of my growth, both professionally and personally. I look forward to engaging with our students and the business community in order to continue to build on the success of our nationally ranked graduate and undergraduate programs."
After earning a Bachelor of Science in Business Administration from The University of Akron in 1990, Nemer graduated from UA's School of Law in 1995. He worked as an estate tax attorney before founding a professional sports agency in 1998, which he grew into one of the largest independently owned golf management and marketing agencies in the world. Nemer sold the firm to William Morris Endeavor/IMG in 2015 and assumed global leadership of the company's IMG Golf brand.
He most recently served as chief marketing officer for MAI Capital Management in Cleveland, where he was responsible for establishing and building a comprehensive marketing platform, while overseeing and scaling new business development, communications and public relations.
Nemer is a long-time active member of the community, having served on the boards of the Greater Cleveland Sports Commission, Rock & Roll Hall of Fame and Stan Hywet Hall & Gardens. Currently, he serves on the executive board of the Northern Ohio Section of the PGA of America, and is a newly appointed board member for the First Tee of Akron and the Summit County Sports Hall of Fame. He is also a member of the 50 Club of Cleveland and routinely co-chairs and participates in numerous charitable and philanthropic endeavors locally and nationally.
---
Media contact: Cristine Boyd, 330-972-6476 or cboyd@uakron.edu
Share