Rethinking Race series returns to spark thought, conversations
02/15/2019

"I never knew that."

"I never thought about that topic in that way before."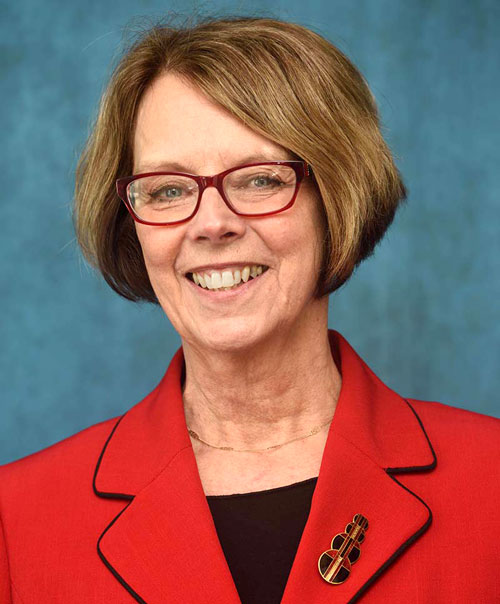 And that's the point of "Rethinking Race: Black, White and Beyond," now in its 12th year on The University of Akron campus. The two-week series of speakers, discussion panels, films and community events offers opportunities to learn, talk about and gain new perspectives on the subject of difference — not only around race — but also culture, gender, class, language, ability, age, and the many aspects of intersecting cultural identities. The schedule will run from Feb. 25 through March 8.
"Every year we have Rethinking Race is a good year — we're giving people that opportunity to rethink race," says Dr. Amy Shriver Dreussi, who has helped organize the series for many years. She often hears versions of the "I never knew that" statement from students after Rethinking Race sessions. And each time, she knows they will be going forward with "a whole new way of looking at issues of race."
Shriver Dreussi, a professor of social science, is co-chairing the series this year with Jolene Lane, UA's chief diversity officer and vice president of inclusion and equity.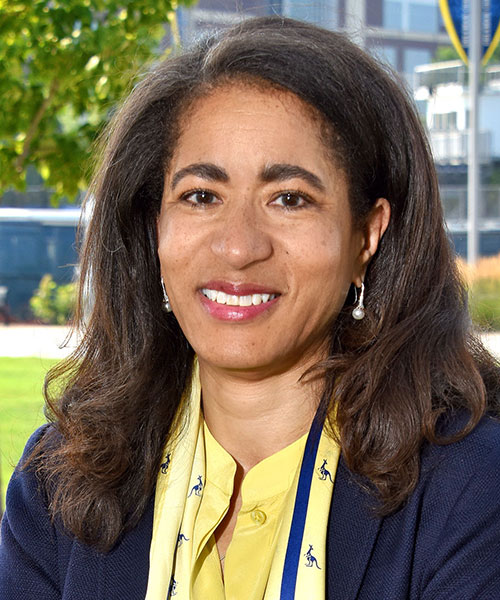 "The mission of Rethinking Race is really to just start a conversation or bring up a conversation to have in a centralized, intentional way," notes Lane. "Rethinking Race brings up important topics some people think about every day, and others don't think about as much. It's really positive that we have been able to engage our multicultural campus in an ongoing way through Rethinking Race and other events we have throughout the year."
Campus-wide support
Both co-chairs credit faculty and staff members who volunteer their time, in any number of ways, to make the Rethinking Race series a success each year. They are especially grateful to the faculty who incorporate the series into the syllabi for their courses. Some suggest students attend a session of their choosing, others require attendance at a specific session, with a writing assignment to follow.
"The education mission of Rethinking Race is so important, and so enhanced by the co-curricular piece of it," notes Shriver Dreussi. "We have a lot of faculty and staff who are really passionate about the issues of race and the importance of the series."
Some, like Dr. Edward Evans, associate professor and associate chair for education in the Department of Chemical and Biomolecular Engineering, put forward names of potential speakers every year.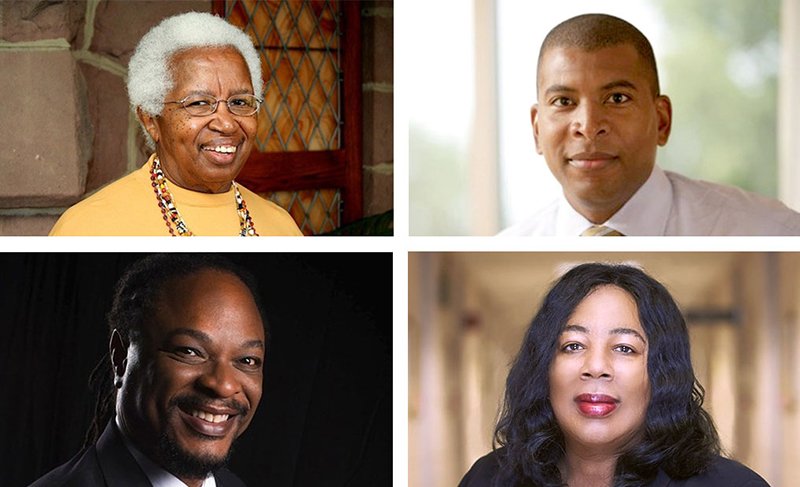 Delivering keynote talks for "Rethinking Race: Black, White and Beyond" will be, clockwise from top left, Jeanette Brown, Ray Dempsey Jr., Harriet A. Washington and Lawrence Ross.
After hearing an interview on National Public Radio with Ray Dempsey Jr., chief diversity officer for BP America and president of the BP Foundation, Evans knew he would be a good fit for the Dr. Helen K. Qammar Memorial Lecture. The lectureship honors his longtime friend and colleague, who was a professor in the Department of Chemical and Biomolecular Engineering for 23 years, and a founder of the Rethinking Race series.
"Helen was passionate about making sure that our engineers developed both their technical and affective skills while at UA," recalls Evans. "The experiences offered through Rethinking Race give our students the chance to improve their ability to work with a diverse group of people."
For a full list of events and more about the keynote speakers, visit Rethinking Race online. All events are open to the public and most are free.
Dempsey, named one of the "Most Influential Blacks in Corporate America" in 2016 and in 2018 by Savoy Magazine, will be here on Feb. 27. "Ask Me Anything about Why Diversity Makes Good Business Sense" is the title for his presentation at 7 p.m. in the Jean Hower Taber Student Union Ballroom.
Other keynote speakers include:
Lawrence Ross, who will present "Know Better/Do Better: The Blackballed Lecture on Campus Racism," on Monday, Feb. 25, at 7 p.m. in the Jean Hower Taber Student Union Ballroom. He has authored six books, including "The Divine Nine: The History of African American Fraternities and Sororities."
Jeanette Brown, the first African American woman to earn a master's degree in chemistry at the University of Minnesota, will deliver a talk titled, "African American Women Chemists" on Feb. 26 at 7 p.m. in the Jean Hower Taber Student Union Theatre. She has written two books on that subject as well.
Harriet A. Washington will present "Medical Apartheid and Beyond: Disparities in Communities of Color" on March 5 at 7 p.m. in the Jean Hower Taber Student Union Theatre. She is a renowned author, editor and ethicist. Washington received the 2007 National Book Critics Circle Award for Nonfiction for her book, "Medical Apartheid: The Dark History of Medical Experimentation on Black Americans from Colonial Times to the Present. "
Film Festival begins Feb. 22
In addition to other programs and events, Rethinking Race always features several films. This year's "Film Festival" begins on Friday, Feb. 22, with Spike Lee's "BlacKkKlansman." It will be shown at 6 p.m. in the Jean Hower Taber Student Union Theatre.
"Green Book," this year's "Best Picture" Oscar winner, will be shown on Thursday, Feb. 28, at 8 p.m. in the Jean Hower Taber Student Union Theatre. Set in 1962, it is inspired by the true story of African American classical and jazz pianist Don Shirley and Tony Vallelonga, an Italian-American bouncer who serves as his driver and bodyguard. They used the book to know where they could eat, stay, get a haircut, even buy gas in the parts of the country that were still segregated.
"The actual 'Green Book' was started in the mid-1930s by a postman in Harlem named Victor Hugo Green as Americans, including African Americans, were beginning to travel by car," says Shriver Dreussi, who found herself inspired to do some research after seeing the film. "Green actually crowdsourced the project to a lot of other postmen around the country to compile the directory, and there were many editions of it. For decades, it was a real lifeline for African Americans traveling the country."
Shriver Dreussi will share what she has learned in a presentation titled "Traveling While Black: The Real Story of The Green Book" on Friday, March 8, at 1 p.m. in Leigh Hall 214. Her presentation will be shared via a distance learning classroom with high school students taking classes through UA's Early College Program at the R.G. Drage Career Technical Center in Massillon.
It will be sure to spark some conversations — which is what Rethinking Race is all about.