Q&A with Jon Davis, aerospace systems engineering student and veteran
11/09/2019

Jonathan Davis is a sophomore in aerospace engineering systems at The University of Akron. He is also an army veteran, having served from 2012-2018 as an aircraft electrician where he was responsible for the maintenance of avionics and electrical systems on the UH60 Blackhawk and CH47 Chinook. Jon spent two tours overseas in Afghanistan and Egypt and received two Army Commendation Medals. We interviewed Jon to learn more about his fascinating journey.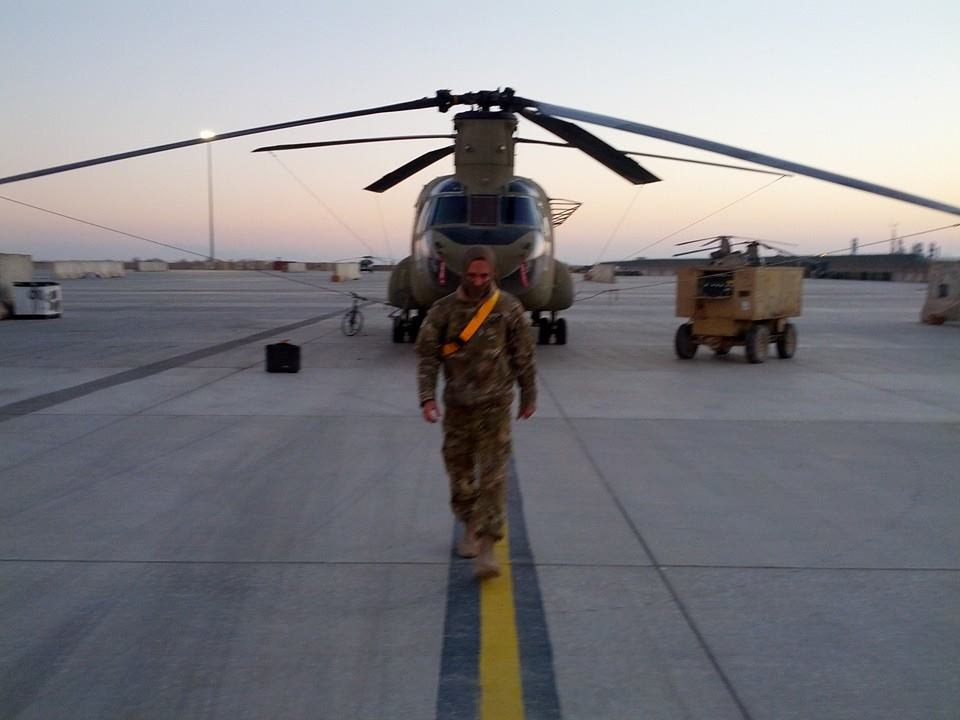 Jonathan Davis while on tour in Afghanistan.
I imagine the transition from repairing downed aircrafts in Afghanistan to a "normal" suburban life was not easy. What was that like for you?
For six years, I had a mission. Once I left the military, I felt like I had no purpose. I was miserable, so I understand what vets go through when they come out. I felt like I was going crazy.
I spent time with my little girls, worked on my house, and did a lot of thinking. I knew I wanted to have the coolest job. I wasn't tall enough for professional basketball plus I had multiple knee surgeries. That made me think through things more, and I realized the pursuit of Mars is easily the coolest thing happening right now. I enrolled in The University of Akron's aerospace engineering systems program in Fall of 2018.
Why did you choose The University of Akron?
The opportunity to be on the Akronauts sold me. Designing and building a rocket and participating in competitions sponsored by NASA sounded exciting. Many past team members have gone on to companies like Virgin Galactic, NASA, Lockheed Martin, Northrup Grumman, and many others, and I can easily get connected to these individuals.
Plus, it doesn't hurt that The University of Akron offers an undergraduate program in aerospace systems engineering. Outside of the U.S. Air Force Academy, UA is the only institution in the United States that offers this bachelor's degree.
What has being on the Akronauts taught you?
Being on the Akronauts has allowed me an opportunity to see the engineering design process in action. The NASA University Student Launch competition requires attention to detail and teamwork. Participating in that process has better prepared me for roles in the aerospace community. I have also had opportunity to become involved in the actual building of our competition rockets which has further solidified my confidence that this program and mission are right for me.
Tell me about Project 22.
Our goal with Project 22 is to raise funds and visibility for veterans causes. We chose the name to represent the approximate number of veterans who commit suicide each day. Our rocket will be painted in occupational camouflage pattern, and the team is participating in the Out of Darkness Walk which is a suicide prevent walk, plus planning to visit Freedom Farms, a local equestrian sanctuary where veterans can interact with horses. We are also committed to helping raise funds for Save22, a non-profit organization in NE Ohio that specializes in veteran suicide prevention and awareness. There is much more in the works, but this gives a quick snapshot of some of what we have unfolding this year.
For veterans who are struggling with figuring out their purpose after serving, what advice do you have for them?
The best advice I can give to another veteran regarding transition is to set time aside to redefine your mission. For me, this meant seeking out resources offered through the Veteran's Administration. By being open and honest about what I was experiencing throughout my transition, I was able to work through my challenges and get to a place where I feel good about my life path.
What have you learned about how military students approach college? Were there any surprises?
One of the biggest things I have learned about myself is that is that I am not the only student dealing with anxiety over coming to a lecture and sitting far away from an exit. As it turns out, most of the veterans I have spoken with have echoed that concern. I have grown accustomed to asking people to leave seats near exits open for me. UA's Office of Accessibility has also been a great resource during my time here.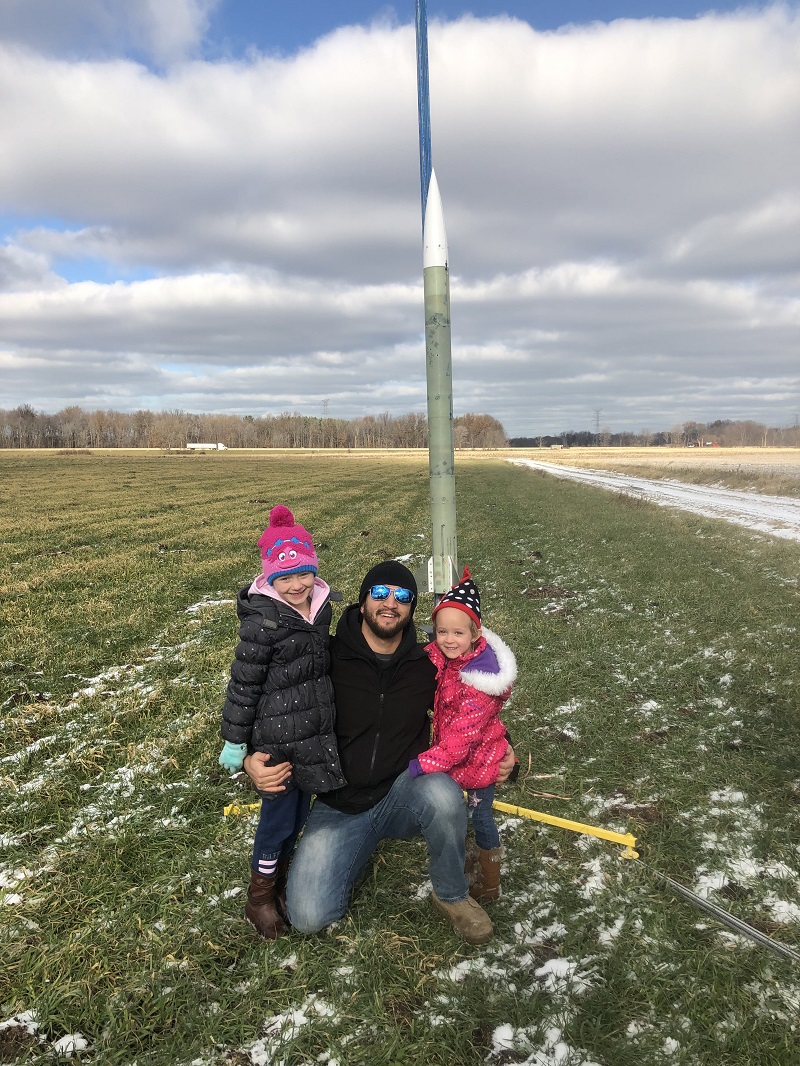 Jon shows his girls one of the rockets created by the Akronauts.
Do you have much spare time? What do you do when you are not at school?
I don't have much free time, but when I am not at school I try to spend time with my daughters. I left the military to focus on my responsibility as a single parent of two little girls. I try to fill out time with cool activities and athletics. I often joke that you can tell my girls have a father who was in the military because they both can do in excess of 50 push-ups. My oldest is actually floating around 100 right now which is amazing to me.
Is there anything else you would like to share?
I really want my fellow veterans to understand the importance of redefining their mission. In my mind, redefining my mission kept purpose in my life. That purpose is what I fall back on whenever I feel like giving up. That purpose is the thing that keeps me engaged and excited about each and every day. Without defining my mission, I am not sure where I would be today.
---
Related content: