Promoting Scientific Knowledge: Akron SPE Scholarship Program Helps UA Student Succeed
02/06/2020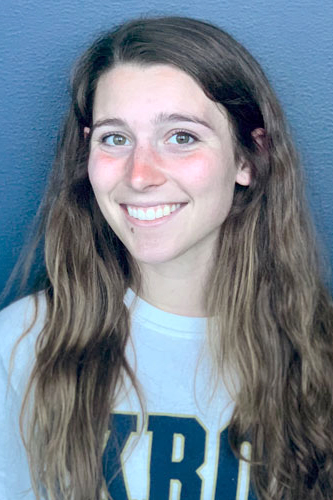 Sometimes the smallest things have the biggest impact. Although polymers are very small and impossible to see with the naked eye, they're impact is far-reaching. Without them, we wouldn't have the DNA that makes up our characteristics and protein that provides our bodies with nutrients, or rubber tires for vehicles and plastic pipes for indoor plumbing.
Just like all the polymers that affect our daily lives, the Akron Section of the Society of Plastics Engineers (Akron SPE) scholarship program is impacting the lives of college students, such as University of Akron (UA) Williams Honors student Emma Harmon.
Harmon, a third-year student from Canton, Ohio, is studying chemistry as a pre-dental major. After graduation, Harmon plans to attend dental school and ultimately pursue a career in general dentistry. She has received scholarships from Akron SPE each year of her undergraduate career so far, having recently received the Goodyear Scholarship. Harmon has even worked alongside a polymer science Ph.D. student on a project involving minerals commonly found in the material that make up teeth.
"The scholarships that I have received from the Akron Society of Plastics Engineers are allowing me to truly focus on my education and have really helped take some of the financial burden of college," says Harmon.
Akron SPE's scholarship program promotes knowledge in polymer science, engineering, and technology. Students majoring in a STEM field are eligible, with preference given to students pursuing a career in the polymer industry. The scholarship is available to students who live within the boundaries of the Akron Section, or who attend UA. Scholarships have been awarded annually since 1988, with awards totaling over $350,000.
"Akron SPE strives to encourage students to pursue careers in the polymer industry," said John Fellenstein, education chairman of the Akron SPE board and content specialist for UA's Akron Global Polymer Academy. "When reviewing scholarship applicants, we look for students who are majoring in a STEM field, preferably chemical engineering or another engineering field. We also look for experiences that could project to a career in polymers, such internships and co-ops."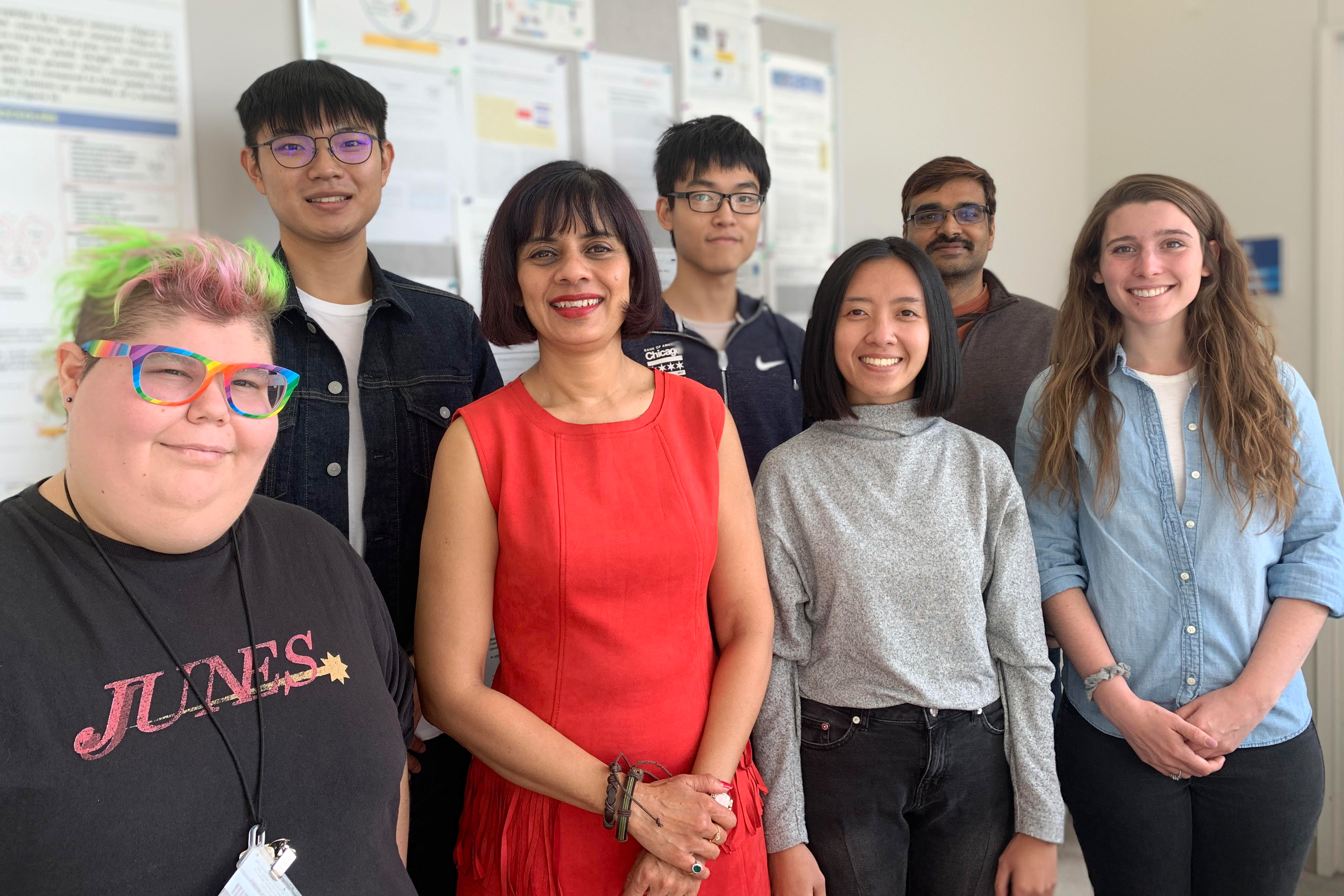 Front row, left to right: Cynthia Yoder, Ph.D candidate; Nita Sahai, Ph.D., professor of polymer science; Putu Ustriyana, Ph.D.; Emma Harmon
Back row, left to right: Ruibo Hu, graduate student; Jiadong Chen, graduate student; Trishool Namani, Ph.D., post-doctoral researcher
Currently, Harmon is assisting on a research project with Putu Ustriyana, a recent Ph.D. graduate from the Department of Polymer Science, which she got involved with over a year ago through inquiring about student-research projects that can be applied to dentistry. The project is aimed at investigating how oligo glutamic acid sequences of varying chain lengths effect the phase transformation of amorphous calcium phosphate to crystalline hydroxyapatite. It relates to Harmon's interest in dentistry because hydroxyapatite and other calcium phosphate-based minerals are very commonly found within bone and dentin, the material that make up our teeth.
Harmon has helped Ustriyana run experiments, prepare samples and solutions, and discuss results. She's gained experience in operating machines, conducting and designing experiments, writing papers, and designing posters.
"I have gotten to work on some machines that I will learn about in later labs, which means that I have basically gained a head start for some of my classes," says Harmon.
And unlike a lot of undergraduate students, Harmon will get her name on published research. Ustriyana will soon have a research paper about her project published in the Journal of Dental Research with Harmon as the second author.
"I am so grateful to be an author on Putu's paper," says Harmon. "I have learned so much through working in the lab and I am honored to be associated with such a great work of science. And with the scholarships I received from the Akron Society of Plastics Engineers, I am able to focus more on studying than having to work to pay for college. That has really improved my college experience!"
Harmon learned of Akron SPE and its available scholarships through her experience in the Junior Polymer Ambassadors, a group that explores the world of science and relevant community issues.
The ambassadors program was started in 2015 by Dori Hess, a biology teacher at GlenOak High School. Hess had participated the Research Experience for Teachers in Polymer Engineering program about five years ago and helped to connect Harmon to Akron SPE. Funded by the National Science Foundation, the RET program brings high school science teachers to campus to conduct research during summer break. The program pairs science teachers with a faculty member and graduate student-assistant in the College of Polymer Science and Polymer Engineering. Teachers work to develop curriculum materials that directly relate to their summer research project.
After her experience with the RET program, Hess and a group of students launched the ambassador program, of which Harmon later became a member.
"My experience with the Junior Polymer Ambassadors program really helped develop my love for science and investigation," said Harmon. "Students in the program had the opportunity to design a project, experiment through trial and error, and present our findings to distinguished professionals who genuinely cared about what we had to say. Ms. Hess is a passionate and involved teacher and she tailored this club to the needs of her students. She is one of those educators that has left an impact on me that I will never forget."
Applications for 2020 scholarships and other details can be found here. Applications are due March 16.
---
Media contact: Alex Knisely, 330-972-6477 or aknisely@uakron.edu.