Professor leads group in authoring first aid updates for American Heart Association and American Red Cross
11/06/2020

Anyone can find themselves in a situation where they might have to step in and help save a life, and a University of Akron (UA) professor is a leader in creating proper first aid responses. The latest procedures and guidelines for first aid written for the American Heart Association and the American Red Cross were authored in part by Dr. Jeffrey Pellegrino, assistant professor of disaster science and emergency services.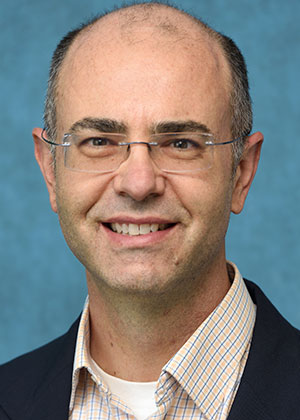 Pellegrino was the lead author of the paper "2020 American Heart Association and American Red Cross Focused Update for First Aid," which appeared last month in the American Heart Association's Circulation journal.
The article provides updates and rationale to various processes for first aid providers, including non-medical experts, most notably for immediate treatment of life-threatening bleeding, the use of aspirin for chest pain, stroke recognition and cooling techniques for hyperthermia and heatstroke. The American Heart Association and the American Red Cross will implement these updates into their first aid curriculum and guidelines and pass them down to first aid instructors and trainers. The guidelines will ultimately be integrated into courses in UA's College of Health Professions.
"We are not telling these organizations and first aid instructors how to teach," says Pellegrino. "We're sharing what their instructional content should be based on evidence. The public needs to learn these life-saving procedures when emergencies and disasters occur and, most importantly, learning the most effective ones."
Evidence-based updates
One of the major new recommendations, Pellegrino says, highlights the procedure for the control of life-threatening bleeding. The new process calls for first aid providers to immediately apply a tourniquet to the wound and then apply pressure. If a tourniquet is not available, first aid providers should use their hands or even a knee to apply pressure to the wound until emergency medical personnel arrive on scene.
The former procedure was for first aid providers to first apply pressure to stop bleeding and then make a tourniquet. Existing evidence and studies show that tourniquets can stop extremity bleeding safely and reduce mortality. The authors also noted the value of hemostatic agents, which are materials that help promote blood clotting and can result in more rapid control of bleeding and decreased blood loss than direct pressure alone.
A summary of the updates can be viewed here.
First aid procedures are updated about every five years and almost continuously since 2015, Pellegrino says. Since 2005, Pellegrino has been part of the First Aid Task Force of the International Liaison Committee on Resuscitation (ILCOR), an international body that brings together experts to develop the consensus on science and treatment recommendations, which then resuscitation and first aid organizations take to their own regions for writing protocols. The new procedures took the eight-member writing group, which Pellegrino chaired, about a year to put together.
Among his extensive first aid experience, Pellegrino is a volunteer firefighter and emergency medical technician for the city of Hudson and has been a volunteer for the American Red Cross since age 15. Last year, prior to the onset of COVID-19, he taught first aid concepts in Africa, Asia, Europe and North America.
"These updates are all evidence-based and include the involvement of experts," says Pellegrino. "The guidelines give a level playing field for everyone. If CPR or First Aid is going to be a requirement there needs to be a standard; and the American Heart Association and the American Red Cross set these standards."
Pellegrino and Nathan P. Charlton, M.D., of the University of Virginia's School of Medicine and a co-author of the paper, discussed the guideline development in a podcast with the American Heart Association.
---
Media contact: Alex Knisely, 330-972-6477 or aknisely@uakron.edu.