Polymer lectures explore luminescence and celebrate industry partnership
11/10/2021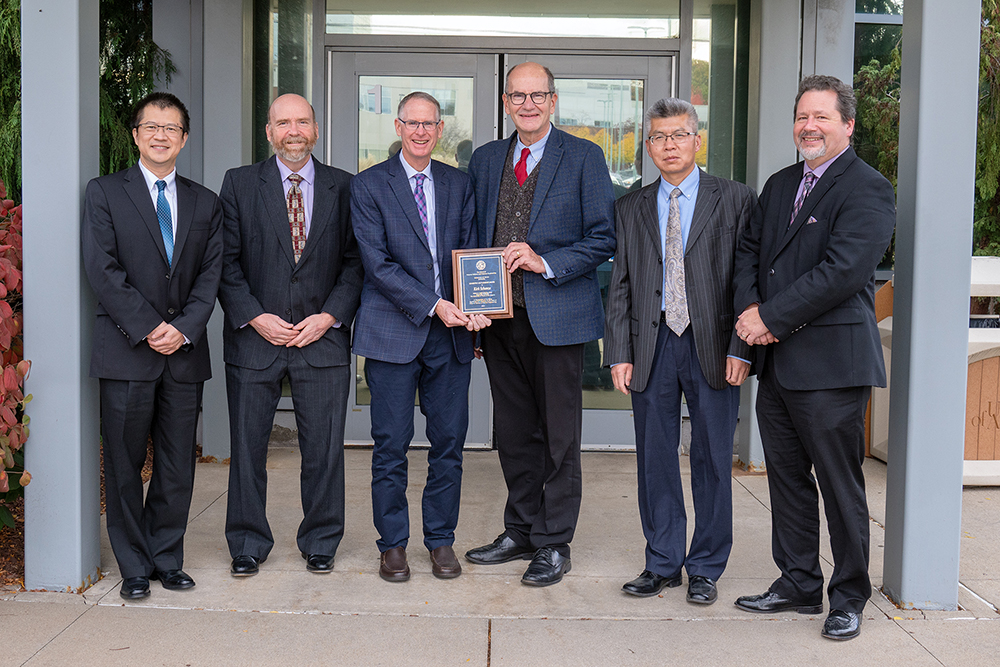 Pictured left to right: Prof. Tianbo Liu, Dr. Karl Haider, Prof. Kirk Schanze, Dr. Don Wardius, Prof. Xiong Gong, and Prof. Mark Soucek
The School of Polymer Science and Polymer Engineering presented the 2021 Covestro Lectureship with University of Texas at San Antonio Professor and Robert A. Welch Distinguished University Chair in Chemistry Kirk Schanze. This sponsored lectureship, organized by polymer engineering professor Dr. Xiong Gong, continues the 20-year tradition and partnership with Covestro, a leading supplier of high-tech polymer materials.
The lectureship, attended by polymer graduate students and faculty, featured two talks by Dr. Schanze and were held in the Polymer Engineering Academic Center and Goodyear Polymer Center.
Dr. Schanze's lectures focused on his team's research on the interaction of light with small molecules, polymers, and materials. Most of his work explores the phenomenon of luminescence (light emission). He is using the light emission process of molecules and materials to develop novel light emitting devices (polymer LEDs), and novel fluorescent sensors. Some of his sensor systems are being used by aerodynamics engineers in wind-tunnel and mechanics tests.
"Covestro's partnership brings world-class polymer researchers to The University of Akron each year to share innovative ideas and research with students and faculty, inspiring the next generation of polymer scientists and engineers," says Dr. Gong.
---
RELATED CONTENT:
---
Media contact: Cristine Boyd, 330-972-6476 or cboyd@uakron.edu.
Share