'Outlaw Ink: Hück & Hogarth' features work by contemporary artist Tom Hück
01/15/2020
"Outlaw Ink: Hück and Hogarth" — the newest exhibit in the Emily Davis Gallery in the Myers School of Art, located in Folk Hall, consists of everything from "hillbillies doing bad stuff" in Middle America to the urban dystopia of 18th century England.
This exhibition features works by American printmaker Tom Hück, accompanied by one of his major influences, 18th-century English printmaker William Hogarth. From now through Feb. 14, selections from Hück's works, such as "Electric Baloneyland," will be on display with works from the Dr. James Chisman William Hogarth collection owned by the Myers School of Art. An Artist Reception is planned Thursday, Jan. 23, from 5 to 8 p.m.
Hück has also been chosen as the spring 2020 Myers residency artist. In addition to exhibiting his work, Hück will spend a week in February with students and during that time will produce a new print edition. AN Artist Talk is scheduled Thursday, Feb. 6, at 6 p.m.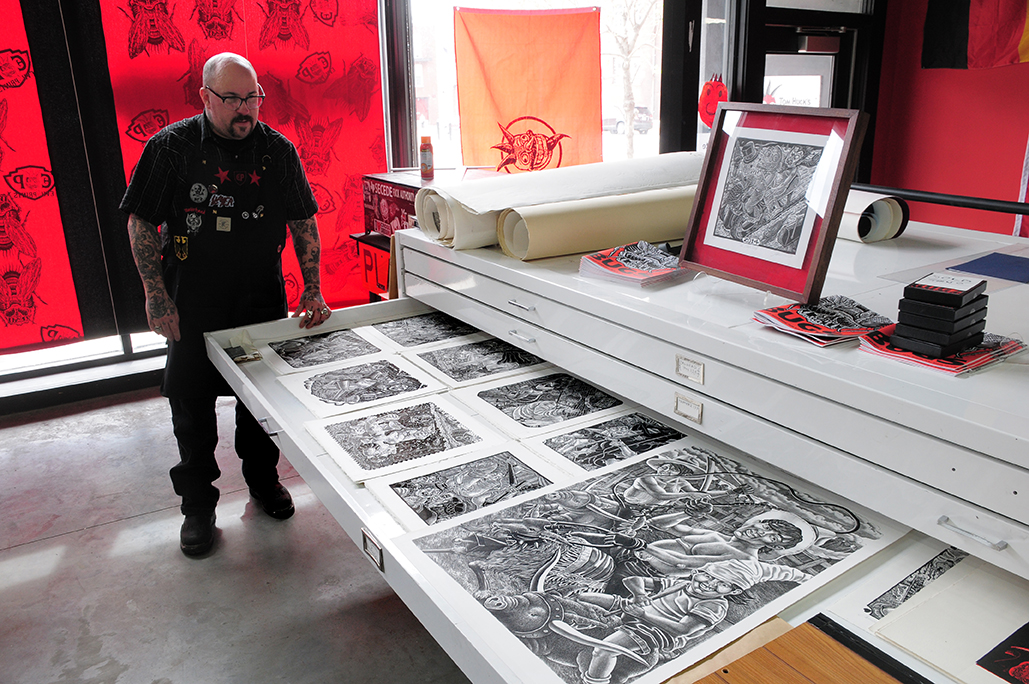 American printmaker Tom Huck with a selection of his works.
Armed with a set of Japanese woodcutting tools wrapped in hockey tape, Hück cuts into birch plywood panels to reveal images and fantastic tales from his youth in Potosi, Mo. These renderings of rural life, loaded with an abundance of detail, are rife with dark humor and symbolism that communicate his view of "the underbelly, the disgusting nature of America, the world in general." Hück's large-scale triptychs, like "The Tommy Peeperz and The Transformation of Brandy Baghead," often take two to three years to complete as he painstakingly carves out small sections of cross-hatching, a technique used to define form in drawing inspired by 15th-century painter and printmaker Albrecht Dürer and other artists.
In describing his style, Hück says, "If you take the band Motörhead, you throw in a lot of Albrecht Dürer, a little bit of Frank Zappa and some R. Crumb, that's me." Hück's practice of satire and social criticism through printmaking is steeped in a long tradition that goes back to Hogarth, Honeré Daumier, José Guadalupe Posada and others. When he picks up a wood gouge, Hück says his goal is to create art that honors the rich history of printmaking. He places himself within the lineage of those artists, calling them family.
Hück received a BFA in drawing at Southern Illinois University and an MFA in printmaking from Washington University. He lives in St. Louis, Mo., working out of his studio and print shop called Evil Prints. He has exhibited nationally in places such as the St. Louis Art Museum, Rochester Contemporary Art Center, Hogue Gallery at the University of Tulsa, Daum Museum of Contemporary Art and The Museum of Printing History. His prints are in many public and private collections, including the Whitney Museum of American Art, Library of Congress, Nelson Atkins Museum of Art, Saint Louis Art Museum, Milwaukee Art Museum, Minneapolis Institute of Art, Art Institute of Chicago and the New York Public Library. Hück is represented by C.G. Boerner in New York.
This exhibition is organized by the Emily Davis Gallery and Hui-Chu Ying, professor and printmaking coordinator at UA. Its presentation is sponsored by the Gallery Committee and the Myers Residency Fund of the Myers School of Art.
All exhibitions and events are free and open to the public. Gallery hours are Monday through Friday from 10 a.m. to 5 p.m. Learn more by visiting the Emily Davis Gallery online.
All events are located in Folk Hall, 150 East Exchange St. Akron.
---
Media contact: Lisa Craig, 330-972-7429 or lmc91@uakron.edu.
Share