Our 'Professor Polymer' entertains students with zany experiments
05/13/2019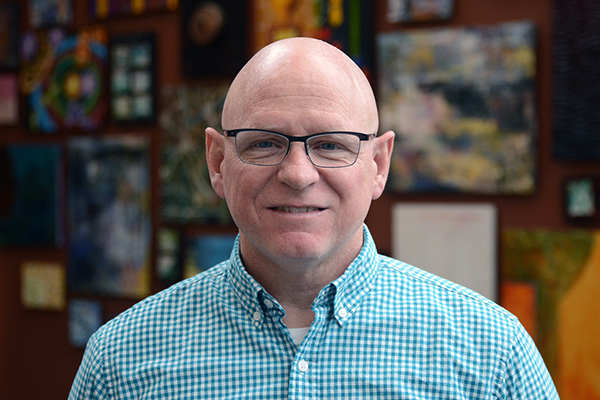 While most instructors in The University of Akron's College of Polymer Science and Polymer Engineering guide young adults on their way to earning postgraduate degrees, John Fellenstein blows fire from his mouth and explodes pumpkins to illustrate the principles of combustion to curious youngsters.
In his role as content specialist for UA's Akron Global Polymer Academy, Fellenstein dons his tie-dye lab coat and transforms into "Professor Polymer" to promote polymer education locally in the K-12 and public settings.
Fellenstein's latest venture has been "Science Fridays" at the National Inventors Hall of Fame (NIHF) STEM Middle School in Akron. There, Fellenstein and Dr. Ruel McKenzie, assistant professor of polymer engineering, host 15-30-minute interactive demonstrations to introduce students to scientific concepts and cultivate an interest in STEM. Such demonstrations include creating a "fire tornado" and "carving" a jack-o'-lantern by exploding a pumpkin. Five sessions were scheduled for this academic year, with the final one taking place on May 17.
SCIENCE FRIDAYS VIDEOS: "Combustion" and "Spooky Science"
We interact with polymers every day, though many people may not realize it. Polymers are macromolecules (very large molecules) such as DNA, protein, rubber and plastic, and are common in food and beverages.
"Younger children sometimes have difficulty understanding the science involved in polymers," said Fellenstein. "I like to use manipulatives in my presentations to help them grasp the concept. I tell the children that scientists use models to help them understand things that are too small to see."
Mardi Gras beads are an excellent visual tool for discussing the structure and concept of a polymer. Beaded pull chains and small magnets also help demonstrate crosslinking, which is the linking of one chain of polymers to another. Fellenstein typically starts his presentations with flash paper – a polymer material that bursts into flames without leaving a trace of smoke or ash.
"Flash paper grabs everyone's attention." said Fellenstein. "Students like it when unexpected things happen. For example, we use sodium polyacrylate, the super-absorbent polymer found in diapers, to show students some of the unique properties of engineered materials."
Rewards are found in teaching
Before coming to UA in 2014, Fellenstein spent 20 years as a middle and high school science teacher in the Cleveland Metropolitan School District.
"Working with students is the most rewarding part of my job," noted Fellenstein. "They love doing experiments and making things.
In addition to visiting area schools, Fellenstein organizes family science nights, field trips to campus and teacher workshops. He also participates in public events, such as the Akron-Summit County Public Library's Mini Maker Faire and Kid Scientist Day with the Akron RubberDucks. He helps to facilitate the Research Experience for Teachers program, sponsored by a grant from the National Science Foundation, and also works with UA faculty to support the educational outreach portions of grant proposals they are submitting.
Schools and organizations can request a presentation by Fellenstein by emailing him at jfellenstein@uakron.edu.
---
Media contact: Alex Knisely, 330-972-6477 or aknisely@uakron.edu.