'One Strange Rock': UA biologist featured in National Geographic documentary
04/16/2018

Dr. Hazel Barton, a microbiologist at The University of Akron, is no rookie to garnering film coverage around her world-renown cave research. It has been featured on Animal Planet, the History Channel, the "CBS Early Show," BBC TV and in the IMAX movie "Journey into Amazing Caves."

But were any of those segments directed by an Academy Award nominee and hosted by one of the most popular movie stars on the planet?

"No – this is the first," Barton exclaims.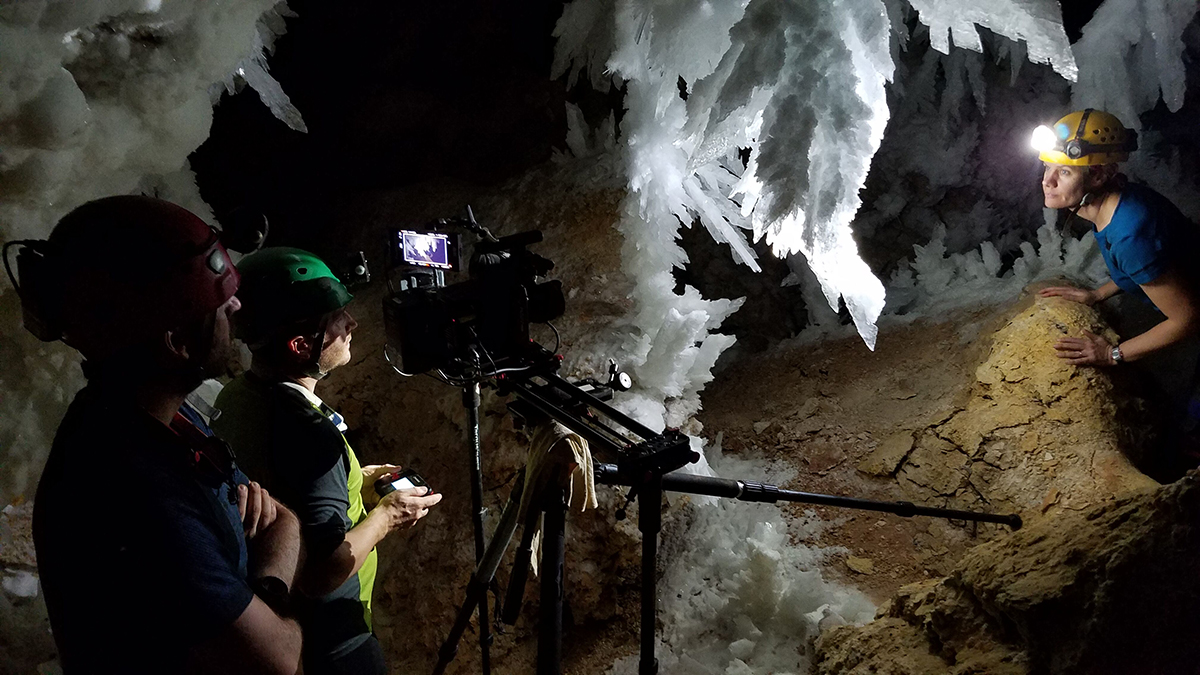 Nutopia's Chris, an associate producer, and Johnny, a cameraman, film Dr. Hazel Barton at the chandeliers.
In late October 2016, crew members from Nutopia, a London-based production company, went into New Mexico's Lechuguilla Cave to film a sequence for a National Geographic series called "One Strange Rock." This 10-episode event is directed by Darren Aronofsky ("Pi," "Requiem for a Dream," "The Wrestler" and "Black Swan," for which he was nominated for a Best Director Oscar) and hosted by Will Smith ("Independence Day," "Men in Black" and "Ali," for which he was nominated for a Best Actor Oscar).
Lechuguilla Cave has rare formations
"One Strange Rock" began airing in March and features all the many strange and unique ways life has developed on our planet. Barton's segment is part of Episode 4, titled "Genesis," and it airs tonight, April 16, at 10 p.m. on the National Geographic channel. Episodes can also be streamed online for free.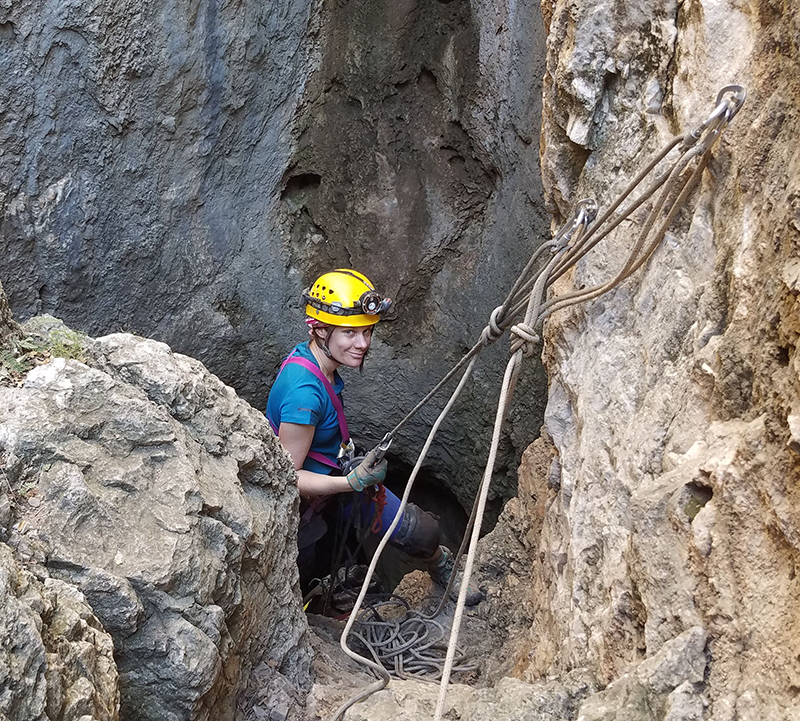 Dr. Hazel Barton, descending lower into the cave.
"The series has been described as the largest, most expensive nature documentary ever produced," explains Barton. Considering she has been a part of an IMAX movie and BBC's "Planet Earth," that is saying something.
Lechuguilla Cave is the second deepest cave in the United States — it is most famous for its unusual geology, rare formations and pristine condition. And, it's one of the most inhospitable places on Earth. The cave never sees the sun.
Barton's segment focuses on microbial life that thrives in this extreme cave environment. For filming, a team of six camped in the cave for nine days, with experienced Lechuguilla cavers working as sherpas to carry down fresh batteries and other equipment daily, then carry out used batteries and that day's shooting rushes. "It took 16 ropes for the sherpas to get up and down every day," says Barton.
A cave expert from the U.S. National Park Service, Ellen Trautner, camped out with the crew, which proved instrumental in getting the shots Araonofsky had requested.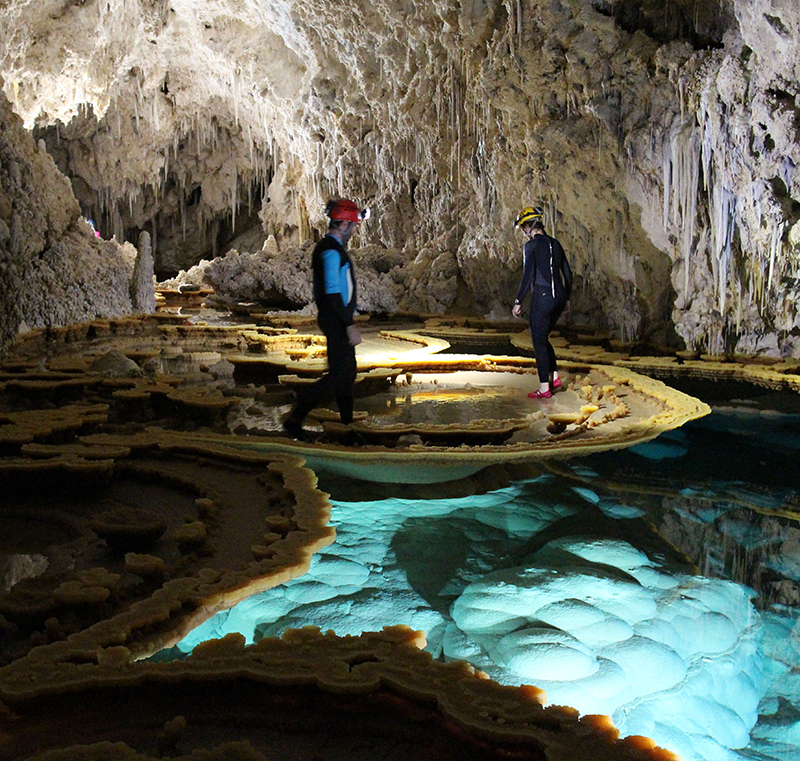 Johnny, a cameraman from Nutopia, and Dr. Hazel Barton carefully walk around Lake Chandalar.
Access aids research
"It's a learning curve for cave photography," explains Trautner. "Setting up shots, figuring out lighting and keeping the lenses from fogging all presented themselves as challenges during this time. How to get amazing shots while avoiding delicate floors and the lake necessitate creative thinking. Having great spatial awareness and being extremely conscientious about keeping the cave protected were vital for filmmakers."
With the Park Service expert as part of the crew, they could also go to places within the cave very few people have ever visited. Barton has been coming to Lechuguilla Cave for almost 20 years, but was able to explore a part of the cave she's never seen, and says it was her favorite experience. "No one has been in Lake Castrovelva since 1993," explains Barton, "so that was a highlight of the trip."
She had a research permit for this 2016 visit, and therefore was able to conduct some of her research while camera crews were setting up shots or filming in other parts of the cave. Her most recent work is based on the discovery of antibiotic resistance of a microbe found in the Lechuguilla Cave which could help modern medicine build stronger antibiotics.
Unique views
When asked if she had a chance to meet the quirky director, Barton says she did not. But she adds that Aronosky's unique directorial eye could be seen just by the type of shots the production crew was asked to capture.
When the BBC recorded "Planet Earth," the camera shots in this cave just moved left to right. "But this crew performed all sorts of camera tricks, robots moving up and down and turning upside down," notes Barton. "When you watch the final footage, you have no idea what you are looking at, and then suddenly it all becomes clear."
Don't miss "Genesis" and see for yourself.
---
Media contact: Lisa Craig, 330-972-7429 or lmc91@uakron.edu.
---