Northeast Ohio teachers pitch innovations to 'Sharks' on UA campus
08/09/2019

More than 20 area educators from 13 districts, spanning grades six through 12, came to The University of Akron campus to work with expert faculty in the LeBron James Family Foundation College of Education to learn how to blend concepts and skills in entrepreneurship and STEM education in their classrooms.

These educators were participants of the second annual Teacher Institute that took place July 22-26, hosted by the H.K. Barker Center for Economic Education. The institute focused on cultivating the next wave of financially informed citizens, with a particular interest in helping teachers better support young entrepreneurs and future small business owners in our communities. Educators selected to participate have agreed to design and implement a standards-based unit in their middle or high school classrooms this fall that advance elements of entrepreneurship and STEM education.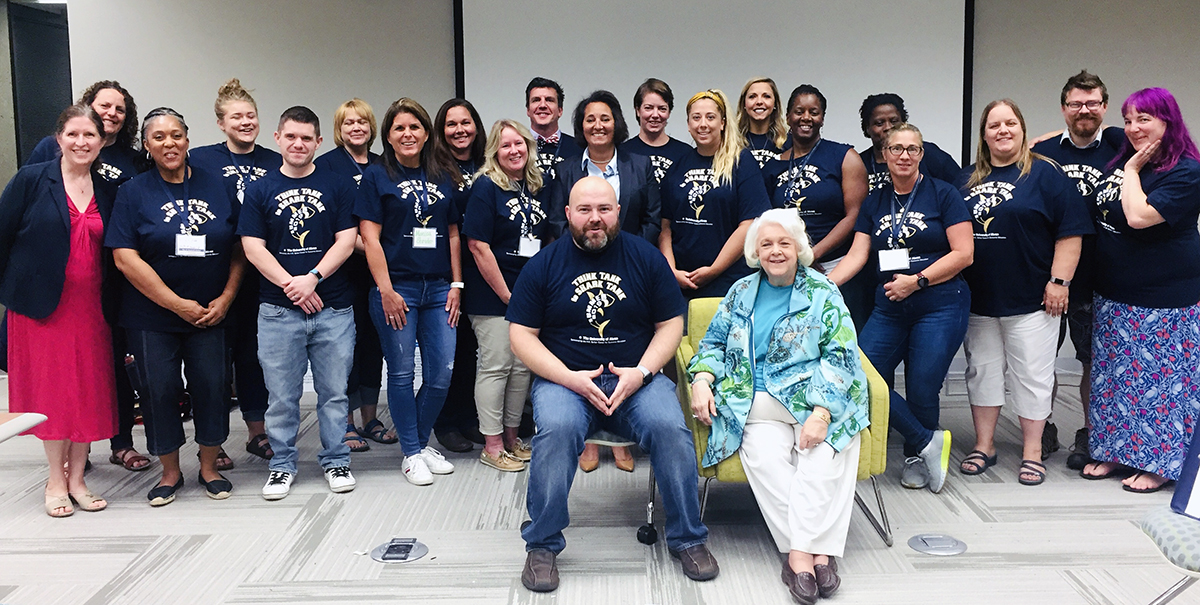 Area educators are seen here with the instructors and sharks at this year's Teacher Institute, hosted by our H.K. Barker Center for Economic Education.
While on campus for the institute, educators toured Bounce Innovation Hub and heard from the inventors of Saucemoto — they recently appeared on ABC-TV's Emmy-winning show "Shark Tank." Outside of meeting with local entrepreneurs, educators gained standards-based resources to help their students consider consumer and producer pain points, research and consider intellectual property, engage in market research, develop business canvas/plans, and promote brand awareness through strong marketing.
Throughout the week, institute instructors demonstrated a pitch competition in which teachers participated. Teachers worked in small groups to create a new product or service. This allowed them the opportunity to use CAD modeling software and 3D printers, to create a business and marketing plan. On the final day, they delivered three-minute pitchs for their innovations to judges. Television commercials designed by the teachers to help advertise their innovations are online.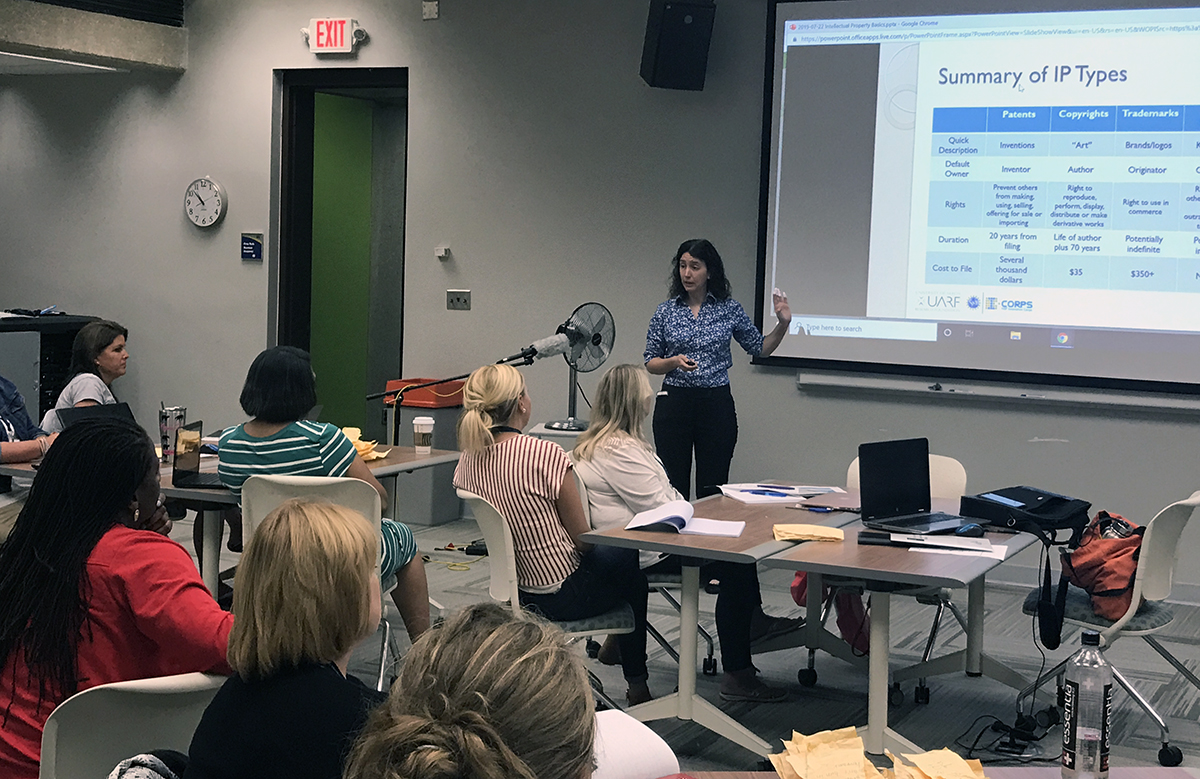 Elyse Ball, assistant counsel and project manager with the University of Akron Research Foundation, discusses intellectual property with area teachers.
"We really wanted educators to experience these problem-based units that blend entrepreneurship and STEM education before having them use it in their classrooms," noted Dr. Brad Maguth, director of the Barker Center. "Teachers will have these experiences and resources to pull from when teaching it in the fall."
Judges for this event included:
Judy Barnes, president, Judith Bartonne Skin Care, Cosmetics & More;
Caryl-Lyn Mazullo, senior vice president and branch manager, Mazullo Wealth Management; and
Lynne Pachnowski, professor of education, middle and AYA mathematics education.
The Burton D. Morgan Foundation recently provided a $20,000 gift to support the Barker Center to draw from this year's Teacher Institute to create publicly available online modules with videos, along with standards-based curriculum guides, for teachers to advance entrepreneurship and STEM education in their classrooms. The curriculum is scheduled to be piloted in the fall, with a national rollout in spring 2020.
Partners for this event included UA's Urban STEM Center, Bierce Library's Makerspace, University of Akron Research Foundation, the EX[L] Center, Akron SCORE and Bounce Innovation Hub.
---
Media contact: Alex Knisely, 330-972-6477 or aknisely@uakron.edu.