National Science Foundation awards $2 million grant to fund interdisciplinary graduate research fellowship program at The University of Akron
04/25/2022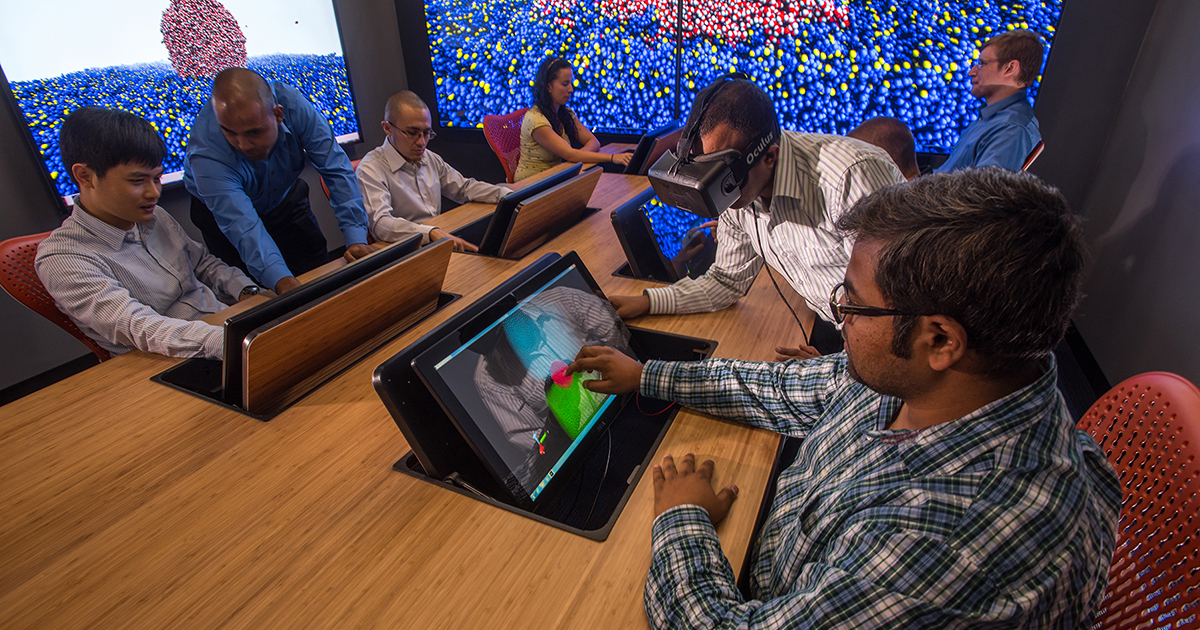 A recent $2 million award from the National Science Foundation Research Traineeship (NRT) program will fund a graduate level traineeship program for a select number of University of Akron (UA) students enrolled in mechanical engineering, computer science, polymer science, or polymer engineering graduate programs.
This program is ideal for students interested in using digital data to solve, explain and illustrate classic engineering and materials science problems. Students will incorporate engineering fundamentals with artificial intelligence (AI), and machine learning (ML) and develop insights that will help them in their research.
This initiative will be the first such pilot program in Northeast Ohio to train a new generation of engineers and scientists skilled at integrating machine learning and data analytics with materials science problems.
"Graduate coursework by nature is laser focused on a specific subject area, leading to expert level knowledge and successful careers for many," said Sadhan Jana, associate dean for research and graduate studies in UA's College of Engineering and Polymer Science and professor in the School of Polymer Science and Polymer Engineering, and principal investigator on the grant. "But what if we developed a program where students could think critically using digital data about areas that complement their work, but may fall outside the departmental course curriculum? This would be enormously beneficial to both the student and employer."
In addition to their regular graduate course load, the fellows will take four graduate courses in data science, engineering programming, and machine learning electives and also participate in a research lab rotation and a summer internship at one of UA's partner institutions, either The Air Force Research Laboratory, NASA Glenn Research Center, Eaton Corporation, Goodyear Tire and Rubber Company, Bridgestone-Firestone, or internationally at one of UA's partner universities. The goal is for students to explore career opportunities outside of academia and become familiar with different types of work environments. Fellows will also learn skills that are critical in high-functioning labs, such as communication, project management, stress management, and conflict resolution.
All fellows will receive a Data Science Engineering Graduate Certificate upon program completion without increasing the time it takes to complete their graduate education at The University of Akron.
Students currently enrolled in UA mechanical engineering, computer science, polymer science, or polymer engineering graduate programs can apply for the training program in their first or second year of graduate school. In order to be considered, applicants must meet admission criteria in their respective academic units and be a US citizen. The five-year grant covers training for 40 fellows.
This fellowship program was designed by UA faculty, including Sadhan Jana, along with KT Tan (Department of Mechanical Engineering), Junpeng Wang (School of Polymer Science and Polymer Engineering), Fardin Khabaz (School of Polymer Science and Polymer Engineering/Chemical, Biological, and Corrosion Engineering), En Cheng and Zhonghui Duan (Department of Computer Science) and Nidaa Makki (School of Education).
The first cohort of this program begins in fall 2022.
---
RELATED CONTENT:
---
Media contact: Cristine Boyd, 330-972-6476 or cboyd@uakron.edu.
Share