Meet Nathaniel Orndorf: He will focus on climate research after graduation
05/13/2020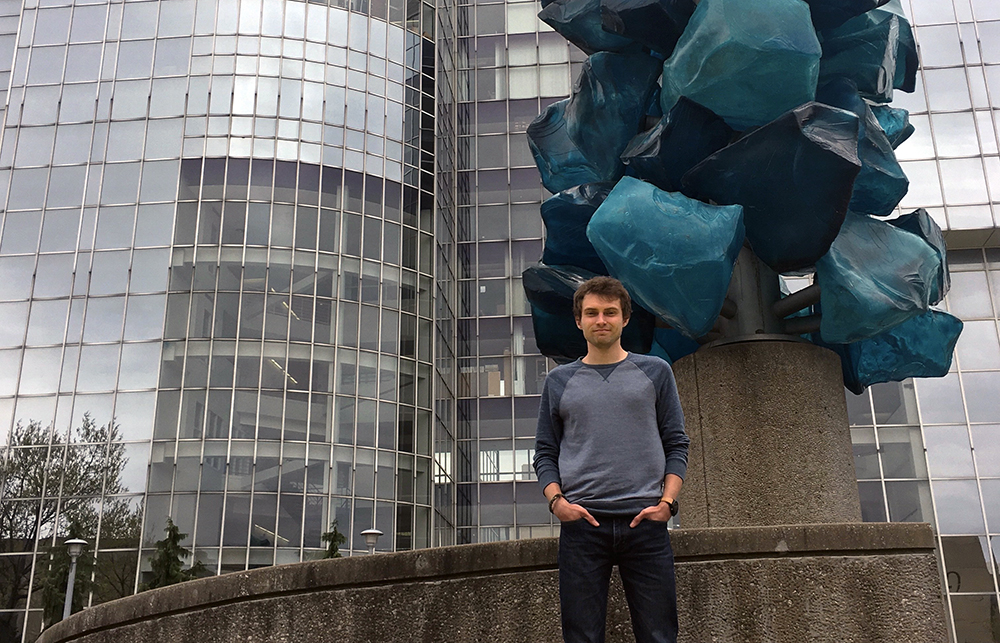 As part of its Sesquicentennial Celebration, The University of Akron is turning the spotlight on each of its colleges. In May, we are highlighting the College of Polymer Science and Polymer Engineering and its students. Here is a Q&A with Nathaniel Orndorf.
Nathaniel Orndorf
Undergraduate degrees: Sc. in Physics and B.Sc. in Mathematics, Grand Valley State University 2017
Graduate degree: D. in Polymer Science, expected 2022
Hometown: Bellefontaine, Ohio
What brought you to The University of Akron — and to the Graduate School specifically?
I was drawn to The University of Akron specifically for its world-renowned College of Polymer Science and Polymer Engineering. The CPSPE draws in the best faculty and students in the field and integrates its education and research into the surrounding city and region, which is definitely something I noticed and wanted to be a part of as I was looking at graduate schools.
What drew you to the study of polymers?
I was introduced to polymers through a research project during my undergraduate studies, and found them interesting. I then learned about another research opportunity for students to visit the UA for a summer for the National Science Foundation's Research Experiences for Undergraduates, which I participated in in 2016. During that research experience, I learned that polymers are used for much more than plastic packaging — for things such as solar cells, touch screens and the liner in your favorite can of beer. I was drawn to the exciting applications in which polymers can make a positive difference in our world.
What have you been working on in your graduate program?
Our lab focuses on understanding the fundamental framework of surfaces and interfaces. My project specifically applies this to the interface between polymers and ice, where applications include coatings to stop ice from forming on airplanes and increasing the grip of winter car tires. Another aspect of our work is looking to nature for inspiration for the materials that we make, which has led me to study the differences in the paws of polar bears and other bear species to improve the design of winter care tires and shoe soles.
What experience here at UA has contributed the most to personal growth?
In addition to research, I've been involved in some leadership roles. I served as the treasurer of the Polymer Science Students' Organization for a year and am currently serving on a standing committee under University Council as a Graduate Student Government representative. I don't naturally see myself as an outspoken leader, but, especially with the current state of the University and the pandemic, I think it is crucial for students to have a voice in University matters.
Is there anyone here, perhaps a faculty member, that you regard as a mentor?
I'm fortunate to have an amazing advisor, Dr. Ali Dhinojwala. We have a large research group, but Ali is dedicated to having a different mentoring relationship with every student on top of his duties as the dean.
In your spare time, what do you like to do on and around campus?
I spend a good amount of my spare time training for marathons. I'll often get a run in before coming to the lab, and then sneak out again during lunch or in the evening for a run around campus. During the winter months, I do a portion of my running on the treadmills in the UA Student Recreation and Wellness Center. I've cranked out up to 24 miles at a time on the treadmills in the Recreation Center, which wouldn't be possible without the state-of-the-art equipment we are fortunate to have.
What's ahead after graduation?
I plan to pursue a position as a material science researcher in either academia or private industry, where I hope to do research that helps address our current climate crisis.