Lt. Col. Samuel C. Kicker in command of UA's Army ROTC program
08/30/2021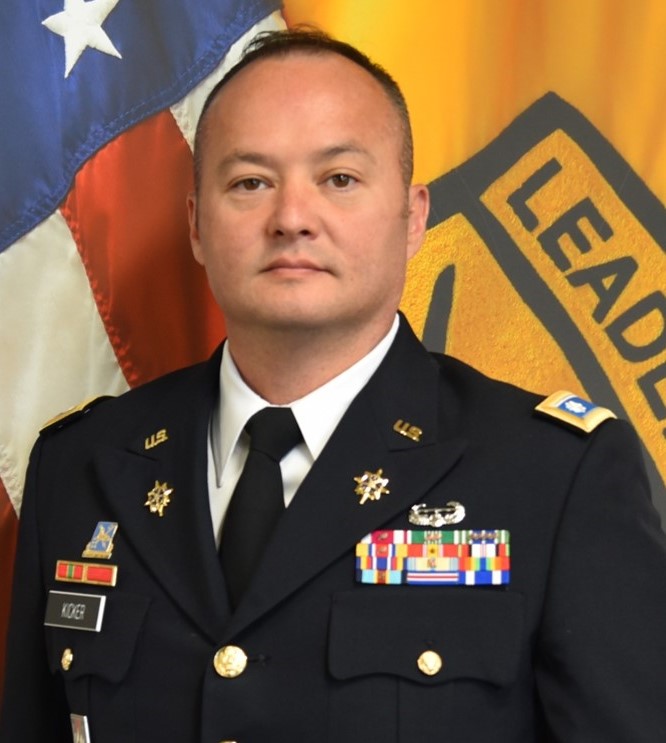 Lt. Col. Samuel C. Kicker
Lt. Col. Samuel C. Kicker has joined The University of Akron (UA) as Commander of UA's Army Reserved Officer Training Corps (ROTC) program and chair of the Military and Science Leadership Department.
Kicker began his post Aug. 9, 2021.
Prior to UA, he served as the division chief of training for the Military Intelligence Readiness Command at Fort Belvoir, Va. He has over 20 years of service in the U.S. Army, receiving his commission as a Military Intelligence Officer in May 1999 from the United States Military Academy at West Point.
Throughout his Army career, Kicker served as an electronic warfare platoon leader at Fort Polk, La.; a battalion adjutant and later a logistics officer in Darmstadt, Germany; an intelligence officer in Vicksburg, Miss; and a battalion operations officer at Joint Base Lewis-McChord in Washington.
In September 2012, Kicker deployed to Afghanistan in support of Operation Enduring Freedom as the construction equipment and mobility officer for the International Security Assistance Force at Kabul International Airport base. He later transitioned into Active Guard and Reserve program in June 2015, serving as the executive officer in Millington, Tenn.
Kicker's military education includes courses in air assault, imagery intelligence, anti-terrorism, joint engineer operations and advanced operations. As a civilian, he earned a Bachelor of Science in Economics with a minor in civil engineering from West Point, and a Master of Business Administration with a concentration in operations from the University of Phoenix.
Among his awards and decorations, he has earned the Meritorious Service Medal, Army Commendation Medal and Army Achievement Medal.
Kicker currently resides in Hinckley, Ohio with his wife Bonnie, son Brennan, and daughter Jocelyn.
Click here to learn more about Kicker.
---
Media contact: Alex Knisely, 330-972-6477 or aknisely@uakron.edu.
Share