Lt. Col. Chad V. Maynard selected as commander of University of Akron's Army ROTC program
10/16/2020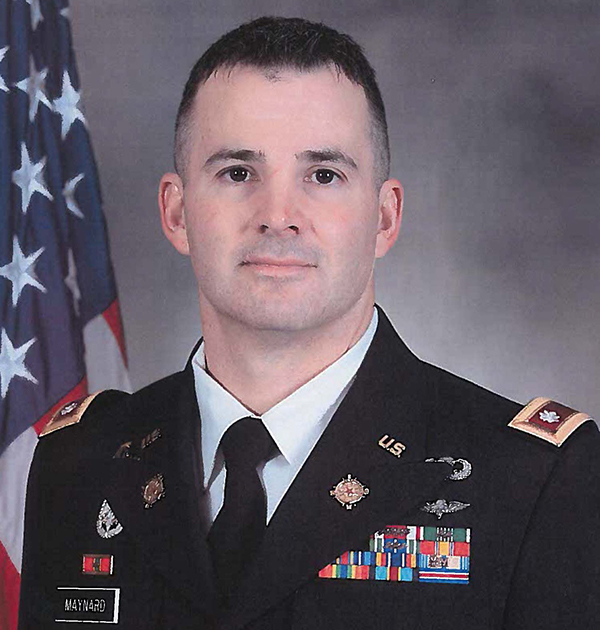 Lt. Col. Chad V. Maynard has joined The University of Akron (UA) as commander of UA's Army Reserved Officer Training Corps (ROTC) program and chair of the Military Science and Leadership Department.
Maynard began his post on July 13, 2020.
Prior to UA, Maynard commanded the U.S. Strategic Command's Army Reserve Element located at Offutt Air Force Base in Omaha, Neb.
Maynard has an extensive background with the U.S. Army. He enlisted in the U.S. Army in 2002 and completed basic training and Officer Candidate School at Fort Benning, Ga. In 2004, he deployed to Kuwait in support of Operation Iraqi Freedom as the XVIII Airborne Corps Battle Captain at the aerial port of debarkation, which is where personnel and cargo are discharged.
Breadth of experience
In the active Army and Army Reserve, Maynard served as executive officer with the 600th Quartermaster Company located at Fort Bragg, N.C.; commander of the Headquarters and Headquarters Company in Blacklick, Ohio; operations officer with the 647th Regional Support Group in El Paso, Texas; executive officer for the 321st Ordnance Battalion in Charleston, W.Va.; and logistics assignment officer of the Active Guard and Reserve program located at the U.S. Army Human Resources Command in Fort Knox, Ky.
He is the recipient of several awards and decorations, including the Defense Meritorious Service Medal, Meritorious Service Medal with four Oak Leaf Clusters, Army Accommodation Medial with two Oak Leaf Clusters and Army Achievement Medal with three Oak Leaf Clusters.
Maynard completed Officer Candidate School, Advanced Airborne Training, Command and General Staff College and the Reserve Component National Security Course. He also earned a Bachelor of Science in Business Administration from Franklin University and a Master of Business Administration with a concentration in logistics from Trident University International.
Maynard is a native of Millersport, Ohio, and currently resides in North Canton with his wife, Samantha, and two sons, Kayson and Briggs.
---
Media contact: Alex Knisely, 330-972-6477 or aknisely@uakron.edu.