Landmark Supreme Court case is focus of sixth annual Constitutional Law Conference
09/10/2018
The nature of American law matures like a living organism, in which a single development changes the course of its growth.
An interpretation of the U.S. Constitution is one of those developments. In that spirit, The University of Akron School of Law (Akron Law) will host its sixth annual Constitutional Law Conference on Friday, Sept. 14, from 8 a.m. to 5 p.m. in commemoration of Constitution Day and the 80th anniversary of "Erie Railroad Co. v. Tompkins," a hallmark United States Supreme Court case. Akron Law's Center for Constitutional Law is one of only four centers of its kind established by Congress to share research and educate both the public and professionals alike.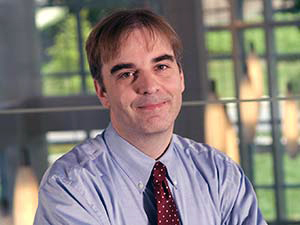 Duke Law Professor Ernest Young is the keynote speaker for the one-day conference.
"Erie at Eighty: Choice of Law Across the Disciplines," is sponsored by The Center for Constitutional Law and the Akron Law Review. All panels, forums and guest speakers will focus on the iconic case, which reached its anniversary last spring. The conference will unite scholars of law from around the country in discussion about the implications of the case still felt today in matters of civil procedure, evidence and intellectual property.
"Erie Railroad Co. v. Tompkins" marked the Supreme Court's decision to strip federal courts of their ability to establish common law (unwritten law precedents) when hearing cases from parties of different states, limiting federal lawmaking ability. This development overturned a century of previous decisions and permanently changed the way the U.S. handles "diversity jurisdiction" cases. Parties are "diverse" in citizenship or state of incorporation, which generally indicates that they differ in state and/or nationality.
This case is especially important in a political climate that grows ever more skeptical of the federal government's reach into state law.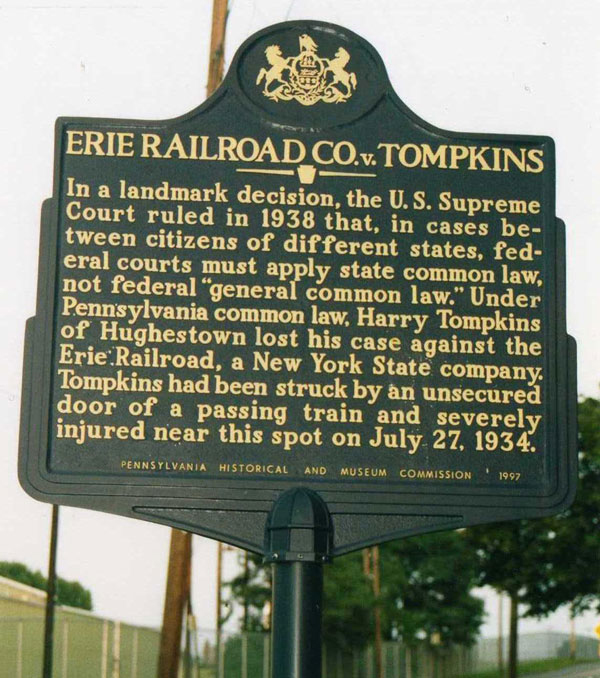 This plaque marks the spot of an accident that led to the Erie v Tompkins U.S. Supreme Court case.
"As a scholar and teacher, I am really looking forward to the Erie at Eighty Conference we are hosting here at Akron Law," said C.J. Peters, dean of the School of Law. "I'm thrilled that so many distinguished scholars from around the country will be here in person to enjoy our state-of-the-art facilities in the recently renovated C. Blake McDowell Law Center."
"The annual conference on Constitutional Law at Akron engages with the question of choosing law in federal courts by looking at an age-old problem under new light," said Tracy Thomas, the director of Akron Law's Center for Constitutional Law.
The conference's keynote speaker is Ernest A. Young, the Alston & Bird Professor of Law at Duke University Law School is a leading expert on the division between national and state authority, drawing from experience as a clerk for the U.S. Supreme Court in addition to decades of research. Other participating Akron Law faculty include Bernadette Genetin and Camilla Hrdy, as well as Danielle Schantz, editor-in-chief of Akron Law Review.
The conference will close with coffee with Intellectual Property (IP) faculty, hosted by Professor Ryan Holte, director of the nationally renowned Akron Center for IP Law and Technology.
Seven hours of CLE credit is offered at registration for a $50 charge. You can register online, and also view the full program online.
---
► Story by Karris McCollum
► Media contact: Lisa Craig, 330-972-7429 or lmc91@uakron.edu
---
Share