John MacDonald: Exercising from home isn't as hard as you think
04/06/2020

As a result of Ohio's stay-at-home order, many Ohioans are working from home or staying indoors longer than usual. And with the order extended through at least May 1, it might become more difficult to find appropriate space to exercise and maintain good physical health.

John MacDonald, director of Student Recreation and Wellness Services at UA, answered some questions and provided tips about how you can stay active while safely practicing social distancing.

Why is it important for people to remember to keep moving while they're working from home or staying home and not often leaving their residences?

"Movement should be a regular part of our lives. If we think about it, as humans for hundreds of years, our environment demanded constant physical activity. Now, so many are spending the majority of their days seated. We can combat this by incorporating intentional movement in our lives. Adding daily physical activity keeps our bodies active and muscles engaged. It's also beneficial for our mental wellbeing to experience different environments as part of this."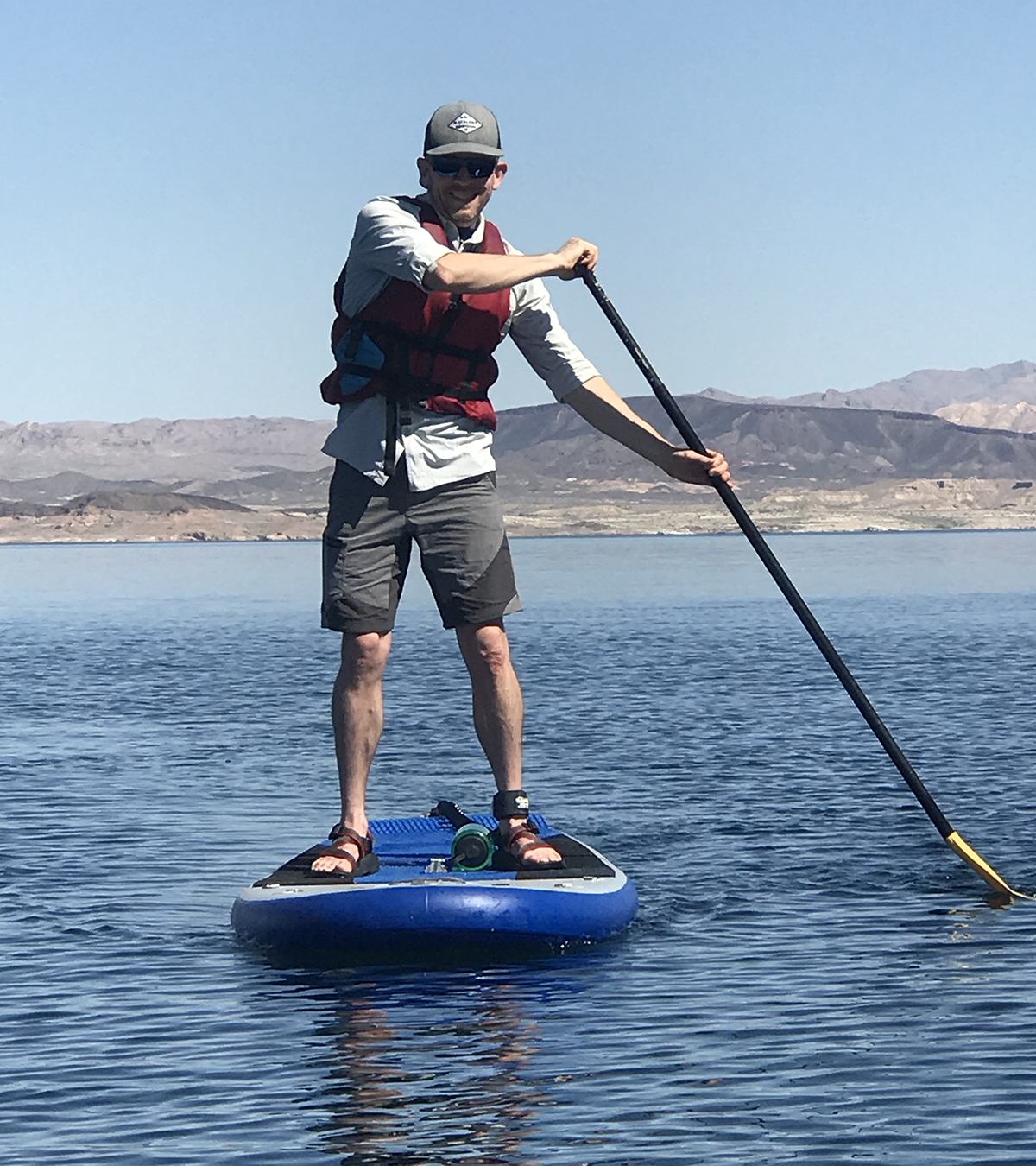 John MacDonald demonstrates stand up paddleboarding.
What negative side effects to physical health can be a result of social distancing and Ohio's stay-at-home order?
"I have started to hear social distancing being referred to as physical distancing. It's important to have social engagements in our lives but maintain physical distancing to slow the spread of the virus. It's great that we now have technology that allows us to maintain social engagements while keeping our physical distance. Video conferencing platforms can be beneficial to engage in social physical challenges with friends and family. Encourage each other to get out there and meet/exceed a challenge that you share and to pass it onto others.
"One challenge of being home is how that can affect your routine. This is a great opportunity to establish new routines! Avoid some common pitfalls:
Set work hours — and stick to them.
Stay focused in your work and set boundaries (as best as possible) with your new office mates (kids, partners, pets).
Keep to regular meals and snacks. This is a hard one. With more food around, it's easier to give into snacking. Don't do it unless it's part of your routine.
Plan to do what moves you. Work in some physical activity during your day. In my neighborhood at 5 p.m. the streets come alive with people walking, running, biking and playing in their yards (with good social distancing)."
What sort of exercises can be done in a living space? Is there anything in a typical home that can be used to help people exercise?
"Absolutely, we are posting these on the Zips Rec Instagram page (uakronrec) weekly as well as on our COVID-19 Fitness Tips webpage. And, some helpful home exercises can be viewed on our YouTube page (@TheUARec)."
"Some items that can be used are:
Milk crates for push-ups or step-ups;
Stairs for walking and running;
A wall or table for push/pull body weight exercises;
A bike innertube for resistance work; and
Books in a backpack for weightlifting.
"Note: all items should be tested for structural integrity to hold weight and position. These are just a few ideas. Finding fitness in your home, and around it, is a great way to get creative as well! If anyone wants to swing an axe, I have plenty of firewood that needs split and it provides great social distancing for all sorts of safety reasons!"
What should people do to ease into a routine, so they don't get sore as a result of exercising too much at one time, especially if working out isn't a habit for them?
"Start out slow. One of the biggest mistakes is doing too much to start and then not wanting to continue because you're sore, or worse, injured.
"'Too much' can be too many repetitions, too much weight/resistance, or too long of exercise duration. That being said, doing too little does not help either. Being a little sore, is not a bad thing."
Though gyms and rec centers are closed, many parks and trails remain open. For those who are able to venture outside, what are some outdoor activities people can do to remain physically healthy, but at a safe distance from others and groups?
"Getting outside is one of my favorite activities! Many parks are open and a great way to get into an environment outside your home.
"Some things to keep in mind:
If the park parking lot is busy, go someplace else – please! If we pack the parks, they will get closed. Many of the parks are being overrun and if we are not all careful these areas could be closed for our safety and that of the staff. There are plenty of places with less people and times to visit that will avoid the crowds.
Many of the park bathrooms are closed. Plan your visit appropriately.
Visit the parks' websites and social media profiles before planning your trip so you can get updated information. Some great park activities include walking, running, cycling, photography, and kayaking when the water levels and temperatures are safe to do so."
---
Media contact: Alex Knisely, 330-972-6477 or aknisely@uakron.edu.