Job prospects even brighter with UA's new General Education Program
08/30/2017

The members of our Class of 2021 are not only starting their first semester in college — they're also the first students to benefit from the new General Education Program being implemented this fall at The University of Akron.

Every college education starts with a core curriculum of courses in the humanities, social sciences, arts and natural sciences to help students expand their knowledge and skill set. That foundation also helps develop strong communication and critical thinking skills to prepare students for the rigorous coursework of their majors. And, for life.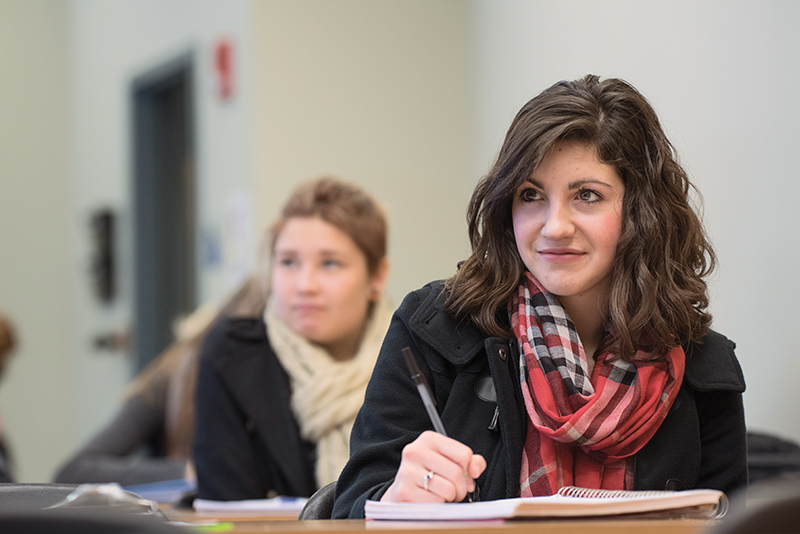 ---
"The most exciting part of this program is that it allows students to create an area of concentration outside their major," notes Dr. Janet Bean, coordinator of general education in the Office of Academic Affairs. "Imagine a marketing major with a minor in sociology, a biomedical engineering major with a minor in philosophy, or a communication major with a minor in Spanish? This option to create a secondary area of expertise is a real benefit to students."
More flexibility in course selections
Students will find the new program is structured to help them make more connections to their majors, allowing them to take multiple courses in the same discipline to develop an area of concentration or work toward a minor. It requires 37-46 credit hours, depending on how students select their coursework, and provides more flexibility than the previous 42-credit hour program.
With the new program, all students in four-year degree programs must now complete three tiers of General Education requirements, choosing from a wide variety of course selections. Tiers I and II focus on foundational skills and disciplinary knowledge. Tier III requires students to put it all together — knowledge and diverse perspectives — all while thinking critically about complex issues. Courses tagged for Tier III may also fulfill major or disciplinary area requirements without taking more credit hours.
"There's a growing trend in higher education toward learning-outcome based general education programs that emphasize integrative learning, critical thinking and civic responsibility," notes Bean, who also is an associate professor of English. "We hope that in the state of Ohio, The University of Akron will be a leader and role model for others in implementing a general education program based on learning outcomes."
Collaborative effort across campus
Developing the new General Education was a six-year process, says Bean. Faculty from all the colleges and the library as well as student affairs professionals and students participated. Once the proposal was approved by all the colleges and Faculty Senate, faculty then participated on implementation committees to review and approve the curriculum.
Going forward, Bean is eager to see how each new class will use these foundation classes to broaden their experiences here. That will only improve their job prospects at graduation.
"Faculty have developed many excellent courses for the General Education program that will help students think critically and make connections between disciplinary work and the broader world," says Bean. "I hope students will take advantage of the opportunity to work toward a minor through their General Education requirements."