Celebrate a 'Year of Jazz' with Wynton Marsalis, celebrating 40 years of Jazz Studies
06/16/2017

The Jazz at Lincoln Center Orchestra with Wynton Marsalis kicks off a yearlong celebration of the 40th anniversary of The University of Akron Jazz Studies Program on Thursday, Sept. 28, at 7:30 p.m. at E.J. Thomas Performing Arts Hall. UA also will be celebrating the 15th anniversary of our Bittle Jazz Artist-in-Residence Series.

"The finest big band in the world today," as noted by The Daily Telegraph, the Jazz at Lincoln Center Orchestra (JLCO) is comprised of 15 of jazz music's leading soloists, under the leadership of Marsalis. The musicians' repertoire draws from original compositions by Marsalis, Ted Nash and other members of the orchestra, as well as the masterworks of Duke Ellington, Charles Mingus and John Coltrane and other great jazz composers.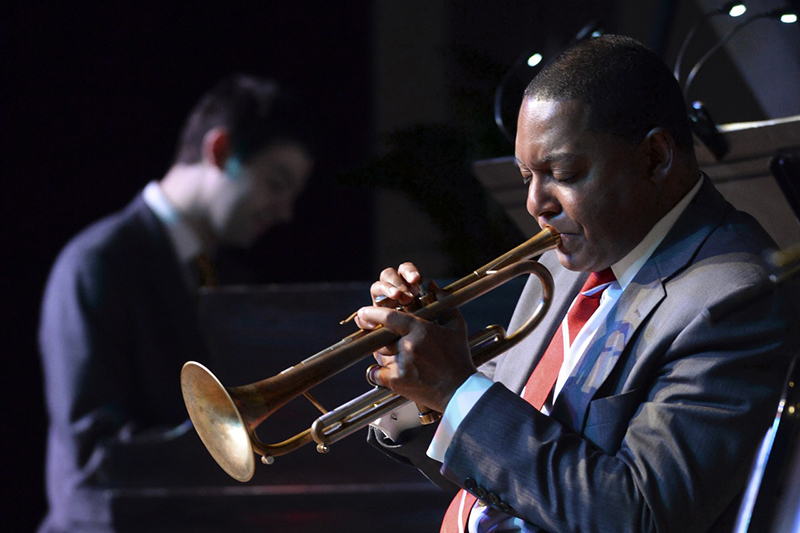 Wynton Marsalis performing in concert with his trumpet. (Photo by Frank Stewart).
Marsalis, a nine-time Grammy Award winner, is a trumpeter, composer and music educator as well as the artistic director of the JLCO. A native of New Orleans, he displayed his musical talent early in childhood. By age 14, he was performing with the New Orleans Philharmonic. At age 17, Marsalis became the youngest musician ever to be admitted to Tanglewood's Berkshire Music Center. He has gone on to perform with many of the world's leading orchestras, including the New York Philharmonic, Los Angeles Philharmonic, Toronto Symphony Orchestra and London's Royal Philharmonic. Marsalis has produced more than 80 records to date.
The concert is made possible by Frances Yates Bittle with support from UA's Kulas Concert Series, and is also part of Tuesday Musical's FUZE series.
Reserved seats are $25-$45, and free for students the day of the show with a Tuesday Musical voucher. For tickets, call 330-253-2488, purchase in person at the Thomas Hall or Akron Civic Theatre ticket offices, or visit UA Events online.
A complete list of UA Jazz Anniversary events is available online.
---
Media contact: Lisa Craig, 330-972-7429 or lmc91@uakron.edu.