Gingo endowed scholarship helps engineering students
09/05/2019

The Joseph M. and Linda L. Gingo Endowed Scholarship supports the development of tomorrow's outstanding engineers.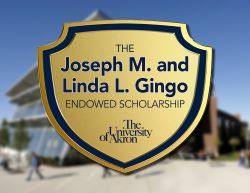 The Joseph M. & Linda L. Gingo Endowed Scholarship supports UA chemical engineering students
An Akron native, Joe served as president, CEO and chairman of The A. Schulman, Inc. from 2008 until his retirement in 2014. In 2016, he joined A. Schulman for a second term as CEO and president. Prior to A. Schulman, he worked for The Goodyear Tire & Rubber Company for 41 years, as a design and development engineer and later progressing to several key executive positions.
Mr. Gingo earned a law degree from UA in 1971 and is currently chair of The University of Akron Board of Trustees. His distinguished service also includes the UA Foundation's College-Centered Committee, the School of Law Advancement Council, the University's Foundation Board of Directors, President's Advisory Council, College of Business Administration (CBA) Institute for Global Business Advisory Board, the CBA Advancement Council, and the College of Engineering Advancement Council.
Joseph and Linda Gingo have been married for more than 50 years and have maintained stalwart commitment to the community through their support of UA. Through this scholarship, Joe and Linda wish to help students achieve their career aspirations.